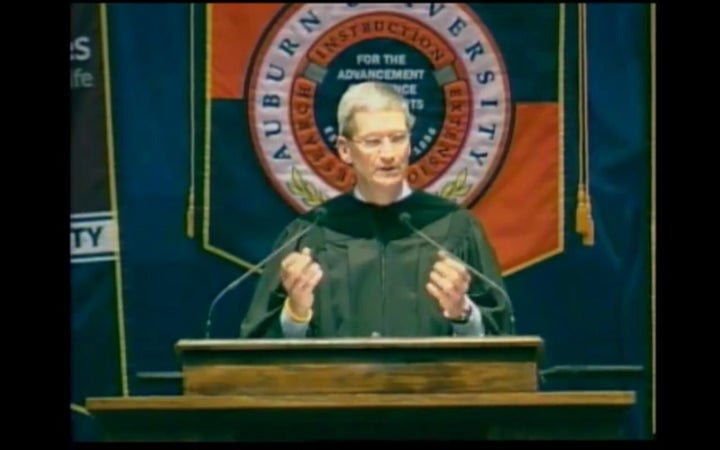 Little is known about Apple COO Tim Cook, who is taking over day to day operations while Steve Jobs is on medical leave. He has been described as "soft-spoke," "polite," and a "Southern gentleman." But there is more to learn about the Apple executive who is now helming the world's most valuable technology company.
Apple CEO Steve Jobs' Stanford commencement address , a personal speech in which the business leader described his struggle with cancer, has been watched and re-watched by hundreds of thousands, and praised as one of the most remarkable and inspiring of its kind. Cook delivered his own commencement address at his Alma Mater, Auburn University, in 2010, and the speech offers insight into the less-well-known executive's career path, drive, decision-making process, and commitment to both Apple and Steve Jobs.
"My most significant discovery so far in my life was the result of one single decision, my decision to join Apple," Cook said in the speech. "Working at Apple was never in any plan that I'd outlined for myself, but was without a doubt the best decision that I ever made."
"No more than 5 minutes into my initial interview with Steve I wanted to throw caution and logic to the wind and join Apple," explained Cook. "My intuition already knew that joining Apple was a once in a lifetime opportunity to work for the creative genius and be on the executive team that could resurrect a great American company."
He said of a 25-year plan he was made to draw up while in business school, "It wasn't worth the yellowed paper it was written on."
Watch Cook's commencement address below (he begins speaking about Apple at around the 5 minute mark.). Read the full transcript at Edible Apple.
WATCH:
Related
Popular in the Community