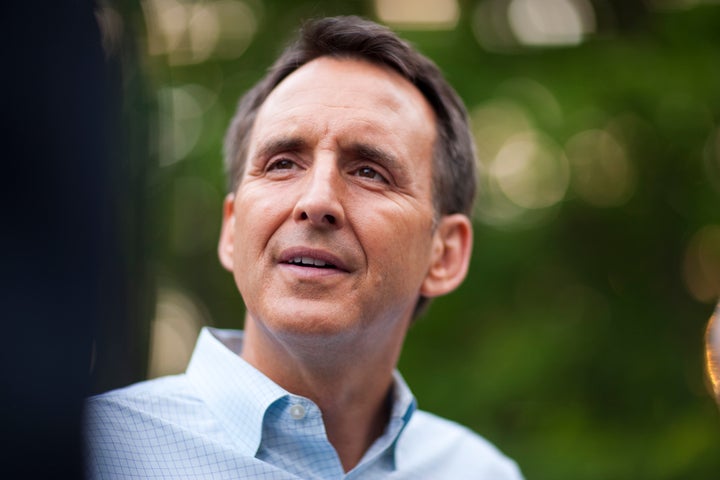 Former GOP presidential candidate Tim Pawlenty failed to restart his political career in Minnesota on Tuesday after he finished second in the state's Republican primary for governor, an open seat up for grabs following eight years of Democratic rule under Gov. Mark Dayton, who is retiring this year.
The former two-term Minnesota governor, who was first elected in 2002, had all the advantages in the race. The blue-collar conservative outspent his relatively unknown challenger, former state Rep. Jeff Johnson, by a three-to-one margin. Pawlenty also raised his profile with a brief and unsuccessful campaign for president in 2012 before spending five years lobbying for Wall Street banks in Washington.
Yet Johnson, a 51-year-old county commissioner, prevailed Tuesday, reflecting the changed nature of the electorate since Pawlenty left office a decade ago.
"He had his chance," Johnson said of Pawlenty. "Tim believes he's entitled to his old job and is running a 20-year-old campaign based on polls."
Johnson also ran for governor in 2014 but lost to Dayton in that election. He struggled to raise funds in this year's GOP primary and was seen as an underdog based on scant polling that had shown him trailing.
Pawlenty's disavowal of Trump likely hurt him with GOP voters in the state. The gubernatorial candidate called Trump "unsound, uninformed, unhinged and unfit" in 2016 after the infamous "Access Hollywood" audio recording emerged in which Trump bragged in 2005 about sexual assault. Pawlenty attempted to soften that position this year, however, by telling reporters that he still voted for Trump in the end and that he supports the president's policies but not some of his behavior.
Johnson seized on the contradiction in an ad released by his campaign:
Trump didn't endorse Pawlenty in the race. But the president did praise his lieutenant governor running mate, Michelle Fischbach, who is currently serving in the same position under Dayton. Pawlenty's campaign also touted the moment in a video earlier this year.
Republican hopes of winning back Minnesota's governorship rest in part on Donald Trump coming within less than 2 percentage points two years ago of winning the state ― which no GOP presidential candidate has carried since 1972. But a recent poll showed the president's approval rating in Minnesota at just 38 percent, with 51 percent disapproving of the job he is doing. Dayton, on the other hand, received a 53 percent approval rating earlier this year.
As in several other governor's races this year, national officials for both parties can be expected to focus on the battle in Minnesota. Most of the governors winning four-year terms in November will have the power to approve or veto the congressional and state legislative districts that emerge from fights over the new political maps after the 2020 census.
Johnson squares off in November's election against Rep. Tim Walz, who won the Democratic primary.
Support HuffPost
The Stakes Have Never Been Higher
Popular in the Community