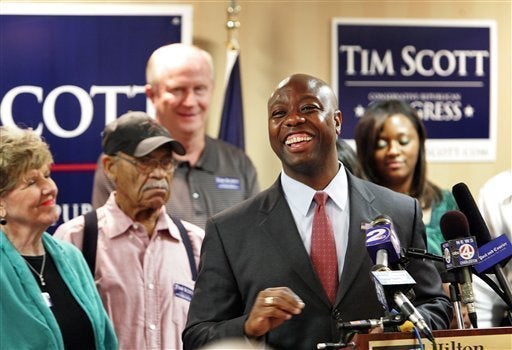 Voters in South Carolina nominated a black Republican lawmaker for an open congressional seat Tuesday, rejecting a renowned political name and potentially changing the face of the national party.
State Rep. Tim Scott defeated Paul Thurmond, an attorney who is son of the onetime segregationist U.S. Sen. Strom Thurmond. Scott, who won the runoff with 69 percent of the vote, is poised to become the nation's first black GOP congressman since 2003.
Scott, 44, owns an insurance business and became the first black Republican in the South Carolina Legislature in more than a century when elected in 2008.
He's now the favorite in the coastal First District, which has elected a Republican congressman for three decades. He would become the first black Republican congressman since Oklahoma's J.C. Watts retired in 2003.
Scott picked up key national endorsements, including one from former Alaska Gov. Sarah Palin. In November, Scott will be strongly favored over Democrat Ben Frasier, who is also black.
In other South Carolina primary runoffs Tuesday, Nikki Haley, an Indian American woman, handily won the Republican nomination for governor, and six-term Republican Rep. Bob Inglis fell to prosecutor Trey Gowdy, making him the fifth incumbent House or Senate lawmaker to lose this year.
In North Carolina, Secretary of State Elaine Marshall overcame a challenge from state Sen. Cal Cunningham, winning the Democratic nomination to challenge GOP Sen. Richard Burr in the fall.
With her victory, state Haley moved one step closer to becoming the first female governor in the conservative-leaning state. Haley handily beat Barrett, two other Republicans and allegations of infidelity two weeks ago, but she didn't earn the 50 percent needed to win the nomination outright.
She immediately became the front-runner in the race against the Democratic gubernatorial candidate, state Sen. Vincent Sheheen. The disgraced GOP Gov. Mark Sanford is leaving the post because of term limits.
In Utah, Republicans nominated attorney Mike Lee over businessman Tim Bridgewater as a successor to vanquished Sen. Bob Bennett in a state that hasn't elected a Democratic senator in four decades.
Popular in the Community