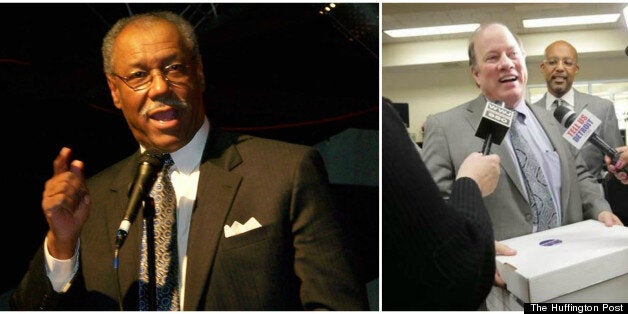 For Detroit mayoral contender Mike Duggan, who just moved to the city last year and has gained attention as a white candidate in a majority African-American city, getting called an outsider is nothing new. In January, fellow candidate Wayne County Sheriff Benny Napoleon went on the offensive, criticizing his opponent's choice to move to upscale Palmer Woods, a neighborhood he said wouldn't give Duggan an experience of city life that mirrored those of Detroit voters.
Now, another contender for the mayor's job says Duggan's residency status should get him disqualified from the race.
Tom Barrow, an accountant who has announced his fourth campaign for Detroit's mayoral office, sent a formal complaint to City Clerk Janice Winfrey Monday, alleging Duggan had failed to meet the City Charter's residency requirement and calling on the Detroit Elections Commission to not certify him. To comply with the charter, Barrow argues, Duggan would need to have registered to vote in his community a year before filing for office, which he did on April 2. Duggan did not register to vote until April 16, 2012. (Read Barrow's full letter here.)
"I would have thought everybody would have read the law," Barrow told The Huffington Post. "It's just sloppiness."
Butch Hollowell is general counsel for the Detroit NAACP and a Duggan campaign supporter. He told The Huffington Post he believes Barrow's accusations are baseless.
"This is just another a series of challenges by Tom Barrow to keep Mike and Benny Napoleon off the ballot," he said. "My views are that these challenges don't have any more merit than any of the others."
Hollowell confirmed that Duggan registered to vote on April 16, 2012. He is "very confident" that the Clerk's office will side with Duggan.
"The filing deadline was May 13. That's 13 months of residency," he said. "It's obvious from the charter and the commentary under the charter provision that the intent is to make certain that the candidate is a bonafide resident. There is no question as to whether Duggan met that one year requirement."
Detroit's 1997 charter didn't include a stated residency requirement for elected officials. The revised charter, which was approved by voters in 2011, calls for any candidate for political office to be a "resident and a qualified and registered voter of the City of Detroit for one year at the time for filing for office." The commentary notes that residency requirements make it "more likely that elected officials will be intimately familiar with the unique issues impacting their communities."
Winfrey told The Huffington Post the City Clerk's office received a copy of Barrow's letter Tuesday and forwarded it to the Law Department.
Three candidates for City Council have so far been disqualified for failing to meet residency requirements. Three mayoral candidates were disqualified after failing to submit petitions with 500 valid signatures.
Barrow's campaign made its first complaint against Duggan, last week, in addition to complaints against Napoleon and another candidate, state Rep. John Olumba. He asserts that the three candidates failed to file mandated campaign finance reports and pay late fees, and also claims Duggan violated proper procedure when he dissolved his campaign committee following his successful election as Wayne County Prosecutor in 2001.
Barrow said the two complaints points to a pattern of a lack of attention to the detail.
"I think there's just a fundamental feeling that [Duggan] is above [the law]," he said."What concerns me is there is this sense of entitlement."
But Hollowell, like Napoleon's campaign before him, questioned Barrow's motives.
"I think that he's made wild assertions before ... none of them have any merit," Hollowell said.
Detroit's primary elections take place in August. The two mayoral candidates with the most votes advance to the November general election. Current Mayor Dave Bing announced last week he would not run for re-election.
CORRECTION: A previous version of this post misidentified the General Counsel at the Detroit NAACP. His name is Butch Hollowell.
Calling all HuffPost superfans!
Sign up for membership to become a founding member and help shape HuffPost's next chapter
BEFORE YOU GO
PHOTO GALLERY
Detroit Mayor's Race 2013