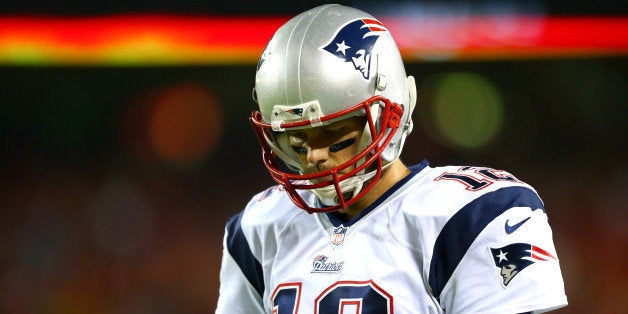 After years at the pinnacle of his career, Tom Brady's wretched play in Monday night's game confused viewers. And yet, questions about the quarterback began before the shellacking in Kansas City. With four touchdown passes through four games, Brady is off to the worst start of his professional career. Moreover, both he and the New England Patriots -- for perhaps the first time in 17 years under Bill Belichick -- appear vulnerable.
The quarterback is often considered the most important and alpha male position in pro sports, but it wouldn't be fair or accurate to place all the blame on Brady. The "re-tooled" defense -- despite ranking first passing yards against, has been thrashed by Miami and KC, and the offensive weapons have been non-existent. Aaron Dobson and Kenbrell Thompkins -- two receivers from the 2013 draft -- have been so bad that Belichick placed both on the inactive list Monday night. Fellow 2013 acquisition Danny Amendola, thought to be Wes Welker's highly touted replacement in the slot, has totaled three catches all season. And Brady's most prolific option, tight end Rob Gronkowski, is clearly not fully recovered from another massive surgery, this one on his knee.
Moreover, a reshuffled offensive line starting two rookies and desperately missing the recently dealt Logan Mankins has not been able to keep its quarterback upright.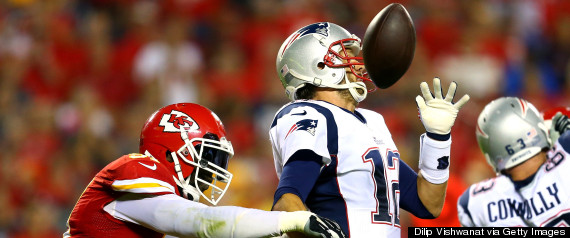 The 37-year-old completed just one of seven passes more than 10 yards down the field Monday and has now connected on a league-low 32 percent of such passes, according to ESPN's Stats & Information. In addition, his off-target percentage (25.5) is second highest among quarterbacks who have started every game this season.
Brady is a first ballot Hall of Famer with three Super Bowls and two league MVPs to his name, and we are not accustomed to seeing him and the Patriots struggle to score points. And yet, the 2-2 Pats have produced more than 300 yards of offense just one time this season with little evidence to suggest things will improve. It would however, be premature to suggest Brady's done, just as it would be to say Belichick has somehow lost his way. In fact, Brady has overcome numerous pockets of his career with a passer rating below 79 (as it currently stands), including four-game runs during the 2001, 2002, 2003, 2005, 2006, 2009 and 2013 campaigns, per Grantland.com.
"When you lose the way we lost there is not a lot [to] be gained other than the feeling that we have now and that we don't want this feeling again," Brady noted Monday night. "We've had it before. It's motivated us."
What comes next is anyone's guess.
Correction: A previous edition of this article incorrectly stated that the Patriots boasted the NFL's worst pass defense in yards against. It has not been corrected to accurately state that they have the best pass defense in that category.
Email me at jordan.schultz@huffingtonpost.com or ask me questions about anything sports-related at @Schultz_Report, and follow me on Instagram @Schultz_Report. Also, be sure to catch my NBC Sports Radio show "Kup and Schultz," which airs Sunday mornings from 9 to 12 EST and 12-1 for fantasy football, right here.
Related
Popular in the Community