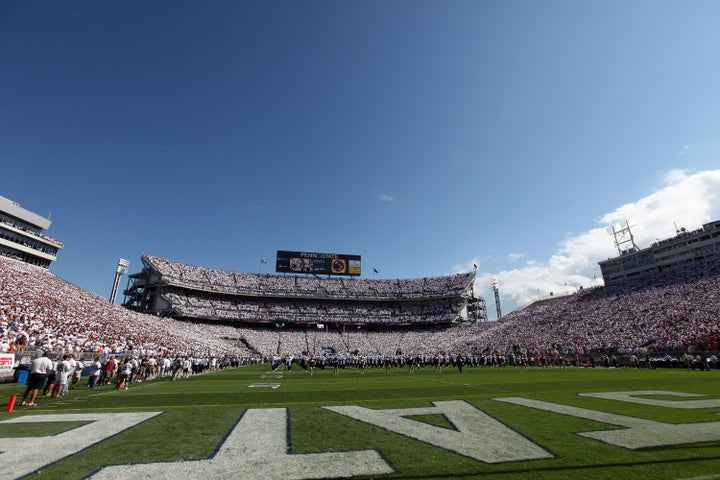 Pennsylvania Governor Tom Corbett has launched one of the most fascinating CYA campaigns in memory, in public everywhere serving as a moral compass on everything from the firing of Joe Paterno ("It was the right thing to do") to the question of whether or not to fire the graduate assistant coach who reported seeing Jerry Sandusky rape a 10-year-old, but did nothing to intervene
Sadly, Gov. Tom Corbett, who was Pennsylvania's Attorney General until last January failed to meet that higher moral obligation as well. For at least six of the 15 years Jerry Sandusky is alleged to have molested children, Corbett was the top law enforcer in his state. The case began, then stalled on his watch.
Gov. Corbett has spent much of his time since the Penn State scandal exploded getting out in front of it, all the while deflecting all personal questions in advance, saying that he isn't allowed to talk about the case because of grand jury restrictions.
"Prepare for it" relates to his dual role as Governor and member of Penn State University's board of trustees, a seat which comes with the job. Perhaps he really needed to prepare to deflect questions about his own failure to bring an indictment.
Although various Sandusky molestation reports had been kicking around for years, the case officially landed on Corbett's desk in 2009. According to the Times, officials at Clinton County high school had reported charges to the local district attorney that Mr. Sandusky had molested a boy there, but, citing a conflict of interest, the prosecutor passed it on to the attorney general's office to investigate.
Corbett did convene and grand jury in 2009. So why didn't he bring an indictment?
It's hard to say. No one has asked Tom Corbett.
Instead, surrogates have been used. The New York Times, for example, quoted Kevin Harley, who worked with Corbett during his years as Attorney General is now the Governor's press secretary .
"He knew what witnesses were going to the grand jury even though he was running for governor. So then he became governor, and he knew at some point that this day would be coming. He just didn't know when it would be."
Was running for governor too much of a distraction to bring even the most difficult of grand jury cases forward after more than a year?
On Sunday, David Gregory began his interview with Gov. Corbett with an extraordinary puppy pass.
MR. DAVID GREGORY: Governor Corbett, welcome to MEET THE PRESS.

GOV. TOM CORBETT (R-PA): Thank you, David.

MR. GREGORY: I know you're limited, because you were attorney general, in speaking about the criminal investigation, but I have to ask you more broadly, are there more victims that we don't know about?

GOV. CORBETT: I don't know the answer to that, David. When you conduct investigations like this-and in my career, I have conducted investigations like this-the more that you can get public about what has happened, the more that you can demonstrate that law enforcement and authorities are going to assist the victims of these types of crimes, it is not uncommon to see more victims come forward.

Like there rest of the country, Gregory probed to find out how Jerry Sandusky slipped through the cracks of the system for so many years?

MR. GREGORY: I just have to ask you as a trustee, as the governor of the state, as the former attorney general of the state, how did this happen? I mean, was this, was this a culture of indifference? A culture of cover-up? Did it extend throughout the university? Go beyond the university to the police, to the D.A.? Where?

Unfortunately, Gregory failed to press him about the culture of Corbett's attorney general's office and why the case stalled under his watch. This, of course, allowed the Governor a chance to filibuster and end on this:
GOV. CORBETT: I always wait for the results of investigation before I issue any opinions.

So why give the governor such softballs when there are so many pointed questions that skirt any legal restrictions in the case.
Here are just a few:

Did you assign a special task force for the Sandusky case?
Did you have to recuse any one in your office for conflict of interest?
The current attorney general has done additional investigating, so you should be able to say what was missing in your case for an indictment?
How much of the resources of your office did you dedicate to the Sandusky investigation?
When did the grand jury looking into Sandusky begin and end?
How many grand juries did you convene in your last two years as attorney general?
How many resulted in criminal indictments?
Did your criminal investigation that involved the Twitter subpoena result in an indictment?
Once you began your campaign for governor, how often did you meet with your prosecutors to discuss the road to an indictment of Jerry Sandusky?
When was your last official conversation about the Sandusky case and what was discussed?
Had you decided not to bring an indictment against Jerry Sandusky?
What, if any, was your "pass down" advice (on the Sandusky case) to the attorney general who succeeded you.
As attorney general, Tom Corbett did create a team to go after pedophiles and other assorted child abusers, although not much is publicly known about the prosecution record during his tenure. He has spoken frequently about a disturbing case he prosecuted as a young district attorney where a pedophile used a Christian charity to recruit his victims.
In the scheme of things, Corbett is not any more of the devil than the Penn State gang who did what they knew was just barely enough under legal obligations. He's also not any less of an ostrich in his failure to now say publicly what he could have done, what he should have done and what laws must be changed tomorrow.
This column was first posted on Shelley Ross' daily Xpress.
Popular in the Community