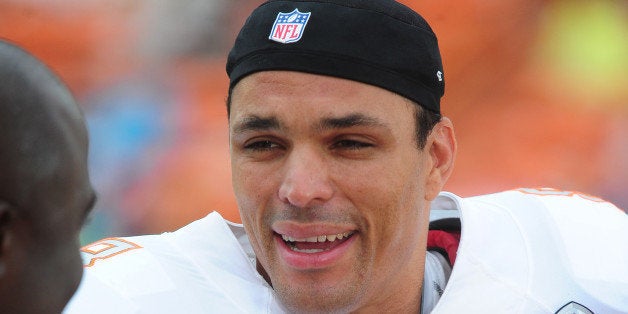 CBS is making sweeping changes to its NFL pregame show, The NFL Today. Newly retired Atlanta Falcons TE Tony Gonzalez will join CBS Sports and have an immediate seat on their Sunday pregame show. At the same time, the network has announced that both Dan Marino and Shannon Sharpe are departing the program. What's more, it appears from the CBS announcement that Marino and Sharpe are leaving the network all together as Sean McManus is quoted as wishing the pair the best as they pursue "other professional opportunities." Marino had been a part of The NFL Today since 2002 and Sharpe had been on the program since 2004.
CBS has long been rumored to be pursuing alterations for The NFL Today. Their ratings have consistently been beaten by Fox NFL Sunday and the program has been in need of some fresh blood for a long time. Gonzalez is the ideal choice for the network in that he's coming straight from the league to their New York set. The future Hall of Famer likely had his choice of any network to work for as a coveted TV free agent, and clearly CBS has rolled out the red carpet for him with a great opportunity. CBS could have promoted one of the analysts from their CBS Sports Network offering, That Other Pregame Show, but it looks like that show will remain in tact for now.
Marino and Sharpe were never in the upper echelon of NFL studio analysts so this appears on the surface to be a net improvement for CBS. The timing is ironic though because after being a punching bag for critics for over a decade, Sharpe had arguably his strongest year as an analyst in 2014. Perhaps the other takeaway is CBS making the decision to downsize their set. After seemingly every network has gone through a phase of trying to cram as many former players as possible on set, the television world is realizing that less is more. Fewer analysts and a less crowded set will allow for better discussion and hopefully a better viewing experience. Whether this shakeup moves CBS closer to Fox in the ratings will remain to be seen.
REAL LIFE. REAL NEWS. REAL VOICES.
Help us tell more of the stories that matter from voices that too often remain unheard.
BEFORE YOU GO
PHOTO GALLERY
Best 2014 Sports Photos