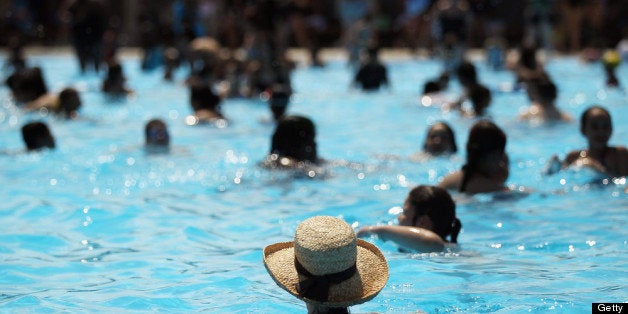 This week, New York City temperatures are topping out in the mid-90s, and finding water to cool off can become a blood sport. While many urbanites spend time plotting how to scam their way into Soho House or better befriend those with Hamptons digs, the city's municipal pools may be fairly called the "unsung heroes" of the summer.
As a Harlem resident, I enjoy twice-weekly swims at Marcus Garvey pool, located in the center of Mount Morris Park on 124th Street. As I recently sunned on the deck, watching families, couples, and groups of teenagers of every imaginable color and creed enjoy the water, the sound of a gospel choir drifted over from the nearby band shell. I recognized the song they were singing as "A Change is Gonna Come," familiar to me from the Sam Cooke recording. Before I allowed myself to drift into liberal smugness at the seemingly idyllic vision of racial and cultural harmony, I thought of Sandra Bland, and the good people of the Emmanuel AME Zion Church of Charleston, and closer to home, Eric Garner. It made me wonder if there is something about the innate joy of swimming pools that influences our comingling. It made me wonder how we might replicate the accord we experience in the near-nakedness of the pool.
As I began to read more, however, I found that municipal pools have also served as liquid microcosms, reflecting both the progress and prejudices of New York society over the past hundred-plus years. While this is one of the most diverse and progressive cities in the US, and we outwardly embrace the ethos of crossing cultural, racial, and gendered lines, every New Yorker knows that bigotry dwells here with the same potency it does South Carolina. And, as the history of the New York City pools suggest, evolution has been both slow-going and hard-won.

The genesis of the public pool in New York was over 140 years ago. Since then, they have held a pivotal place in American and NYC history, having evolved from, essentially, public baths used to combat cholera outbreaks, to today's refuge for sunbathers and school kids alike. Public pools developed out of early public health movements to attend to the "great unwashed" masses of the city. These baths were primarily in immigrant neighborhoods, and some developed to provide swimming facilities for leisure.
The public pool concept expanded in the post-Civil War era, and new floating pools in the Hudson and East Rivers served both as recreational spaces and as floating baths for the working poor of the city. They used river water to circulate through the large pontoons, and the floating pools became popular with the working class of the city. However, the pools were forced to close once the Industrial Revolution began to pollute the rivers, thus dirtying the pools and defeating their original purpose. Recently, the concept has been resurrected, and The Floating Pool at Barretto Point Park in the Bronx offers the nostalgia without a side of toxic waste (it's located on a barge).
Once the floating river pools closed, there was a 1910 proposal to open a public pool in Central Park, but surrounding wealthy residents opposed it because of the "undesirables" it might attract. The class war continued to extend into these public spaces, with upper class neighborhoods striking down attempts to offer free swimming in nearby areas for fear of lower class infiltration.
While unofficially, city swimming spaces were segregated by class, the pools were officially segregated by gender, holding separate swimming days for men and women. However, early 20th century progress in the women's rights movement and more liberal sexual attitudes prompted public pools to institute gender integration. In the 1930s and 40s, the Works Progress Administration (WPA) updated and reinvigorated the city's public pools, most notably creating McCarren Park Pool, still wildly popular today. Yet, these inter-war years also prompted racial segregation--previously not enforced--out of fear of interaction across racial and gendered lines. Jeff Wiltse, author of Contested Waters, proposes that this sprung specifically from fear of black men and white women interacting. The proximity of white and black bodies stoked old iterations of the rape myth and instances of violence and discrimination against African American bathers became routine.
While courts called upon municipal pools to desegregate after World War II, racial skirmishes predictably didn't abate. In Marshall, Texas, in 1957, a young black man backed by the NAACP sued the city for forced integration of the new public pool. The judge turned it over to a public vote, wherein the largely white citizenry voted to sell the public swimming facilities to the Lions' Club rather than allow black swimmers. The private club then, legally, opened the pool as a "whites only" swimming facility. Sadly, we see echoes of this bigotry in the recent McKinney, Texas, pool party, wherein white police officers proceeded to physically dominate, threaten, and eventually pull a gun on unarmed, swimsuit-clad black teenagers. The beat goes on.
In a Washington Post piece investigating the paradoxically volatile and intimate nature of the public pool space, Wiltse proposed:
Part of the answer has to do with the uniqueness of swimming pools as physical spaces. They are visually and socially intimate. Swimmers gaze upon one another's nearly naked bodies, lie in the sun next to one another, navigate through crowded water and flirt. This type of contact and interaction piques social anxieties and exposes the lack of trust and understanding between people of different social classes.
This analysis makes me believe that the public pool actually has the capacity to be an ideal place to interact outside of the categorical limitations we place on ourselves. We are enjoying a social benefit offered to all Americans, equally, without charge, and without the trappings of our social classes. We are vulnerable--exposed and nearly naked. What might happen if we allowed ourselves to be buoyantly disarmed in that state? What might happen if we were open to the interactions this unique space offers?
This week, the city offered a little extra relief from the sweltering heat by keeping the municipal pools open an extra hour. In some small way, this renewed my faith in the city's consideration of its non-wealthy citizens. This summer, we find ourselves in a moment of great social and cultural upheaval. While this is an apex in the continuing GLBT rights movement, our racial progress is proving to be painfully slow, bloody, and oft backward. On both of these fronts, our work is unfinished, as hate crimes continue to be perpetuated on our streets, our schools, and yes, in our pools. With that in mind, instead of seeking out the exclusivity offered by elitist private clubs and luxury hotels, consider checking out one of the city's many municipal pools, which are both rich with history and free to all of us. Not only do we share the right to use the pools, we share a cultural memory, punctuated by an all-too-American legacy of progress and violence, joy and fear.
In fact, the famous swimming montage in Raging Bull was filmed at the Tony Dapolito municipal pool in the West Village, still open to swimmers today, and boasting a huge Keith Haring mural and one of the few diving wells in the city. Take the 1 train down for a swim. You may even surprise yourself and meet someone unexpected.
REAL LIFE. REAL NEWS. REAL VOICES.
Help us tell more of the stories that matter from voices that too often remain unheard.