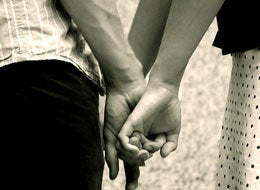 We all know the saying, "Lucky in cards; unlucky in love." But I got to thinking, good game in poker could translate into good game in love. As Valentine's Day approaches, I went to top poker pros including, 2005 World Series of Poker, Main Event winner, Joseph Hachem, and poker superstars Chad Brown, Isabelle Mercier, and Hevad Kahn to see how they use poker strategy to win the dating game.
I'm partial to Hachem's strategy myself. Who's "game of love" advice would you bet on? Here they are in there own words...
What Poker Strategy Can Be Used on Dates?
Hachem
"Betting your hand straight up is very important in dating because then you can maximize your profits e.g. You're a steak and potatoes guy, make it clear... At the same time don't put all your cards on the table. Keep some things close to your heart to reveal at a later date. You don't need to let her know about your fungus infested big toe on your first date."
Mercier
"Being impossible to read would be the ideal strategy in dating, leaving your partner in doubt, making him want more of because he is uncertain of where you stand and what you think about him."
Did "The Game" of Dating Make You a Better Poker Player, or Did Poker Make you Better at "The Game"?
Hachem
"I was a much better dater than I was a poker player back in 'my day.' I think in dating like in poker and most of life, a lot is learnt from trial and error."
Brown
"Poker makes you better with reading situations whether it be in a relationship, business or just with friends. It allows you to be one step ahead of them."
Khan
"Dating and 'the game of dating' did not make me better at poker. I spent the last year of my life evaluating what I needed to do to become better at poker and better at picking up women, and in the process I discovered that the two only really have one thing in common -- confidence. So, although I may be confident with women, it certainly will not make me the best poker player or give me a significant edge. A lot of my friends, who are very affluent people with females, are in fact big fishes in the poker scene. There is just way too many variables that factor into poker, such as math, discipline and patience that a lot of my friends who are good with women just don't grasp."
What's the Biggest "Tell" People Give on Dates?
Brown
"A tell to pick up on is whether or not she is testing you. Many women whether it be subconscious or conscious will do something to test you right away. You have to decide if you want to pass and what is passing. For example, are they using their cell phone at dinner with you and it's not business? They may be testing you to see if you're the type of guy they can walk all over."
Khan
"The biggest tells people give off during dates are body posture related." In Seoul, South Korea where Khan vacationed, he said, "The nightlife is everywhere and it's also very engaging. When you go out to clubs here if you are an American, it's common to experience problems with language barriers between you not speaking Korean, and the females not speaking enough English to hold a decent conversation. That being said, I found myself attempting to hold a conversation with a pretty girl who didn't speak much English at all, but seemed interested in me. So, instead of talking to her in English to figure out whether or not she continued to be interested, I watched her body posture and body tells in order to determine her interest levels."

Related