This season Toronto Fashion Week kicked off late, trailing behind a smattering of shows thrown independently by designers who didn't need (nor want) the Fashion Design Council of Canada's runway.
As temperatures began heating up in Toronto this March, designers started showing their cold weather wares at various spots around the city with considerable success. Greta Constantine and Philip Sparks were just two presentations that snubbed the catwalk this season, and invites were hot. Hotter it seems than the desire to actually attend LGFW. There was a noticeable lack of frisson in the air and an undeniable absence of fashion folk in the seats for Fall 2010, due in large part to the later date, its falling on Passover and the understandable exhaustion felt by beleaguered industry insiders who had already been criss-crossing around town for various sartorial offerings.
With most of Canada's great design talent absent from the runway, it was no surprise that the week suffered from a shortage of creativity and innovation, though kudos to the FDCC for embracing technology and live streaming the shows for the first time in Canada. So why do some designers continue to show at fashion week? There are certainly benefits, such as guaranteed media exposure, but the answer tends to differ depending on which designer you ask (check back each day this week for exclusive interviews with designers, models and photographers).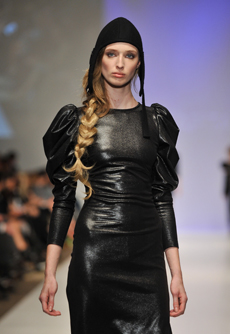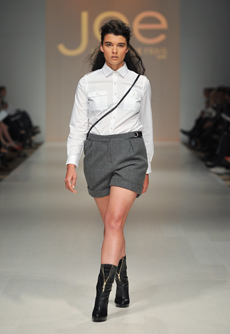 Amelia Earhart meets Alexander Wang at the Pink Tartan show (left); famous plus-size model walks the Joe Fresh Style runway. Photos courtesy of George Pimentel.
Despite the damper, there were a few shows that stood out of the tepid mélange. One can always rely on the Pink Tartan/Joe Fresh Style double feature to turn the runway room into a madhouse, with shows that are safe and predictable but consistently well-styled and frankly, a good time. The stand out show this season was for me, hands down, Lucian Matis. Matis and Associate Director Arline Malakian envisaged a sophisticated spin on the Romanian countryside, a restrained yet oh-so-sexy austerity executed with perfect precision. The equestrian-themed DmitriChris show felt rather homoerotic and was also very well presented; Chris' models stomped down the runway as handsome stable boys, jockeys and polo players. It was a relief to see some fun, sex and style on this generally uninspired runway -- all ingredients in a recipe for success that the FDCC and designers will hopefully be cooking next season.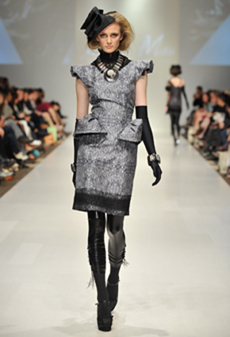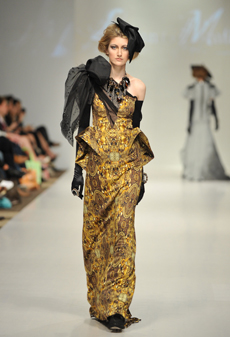 Two gorgeous looks from Lucian Matis. Photos courtesy of George Pimentel.
It's a tumultuous time for the fashion industry, not just in Canada but in every seemingly glamorous corner of the globe, and designers must fight not only to create, but to innovate -- as the world watches in real time. New demands and fierce competition means no rest for the weary -- only the toughest will survive in this game for glamorous garb.
How will the game play out in Canada? Venerable industry insiders and fresh online voices alike appear to be fixated on stars that have no intention of staying at home -- because they can't possibly survive in the great white north without wooing the rest of the world and they're doing it in every way they can.
Check this space for your daily dose of exclusive industry interviews. From the gorgeous, larger than life plus-size model Crystal Renn to the online photographing phenom that is Tommy Ton of Jak&Jil, designers, models and photographers have shared their thoughts on fashion and its future as they see it. Stay tuned!
The Queen Bee of Canadian Fashion: Fashion Television's Jeanne Beker Talks Tavi, Tweets and the Future of Fashion
Despite only being a couple days into fashion week, a handful of designers have already shown their collections at different venues, with significant success. What's your impression of this fragmented season of shows?
Don't you think it would be a great idea if the FDCC [Fashion Design Council of Canada] really did represent all the Canadian designers? And I'm not quite sure right now who the FDCC is, how it is run and what its raison d'être is. I would really like to see this week run like what the CFDA does, at least that seems like a pretty cohesive organization, designers have a say and they're really being listened to. You'll never be able to please all people, but I don't understand who the FDCC is because I was with some of the best designers in the country earlier this week at the Holt's breakfast and they certainly have nothing to do with it and many of the other designers that I talked to don't either.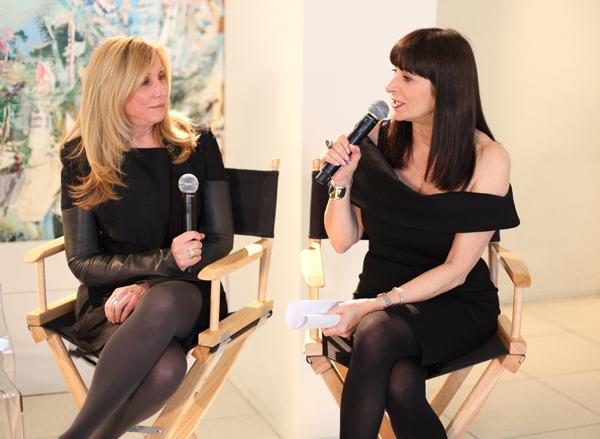 Jeanne Beker (right) chats with Barbara Atkin, Vice President of Fashion Direction at Holt Renfrew. Photos courtesy of George Pimentel.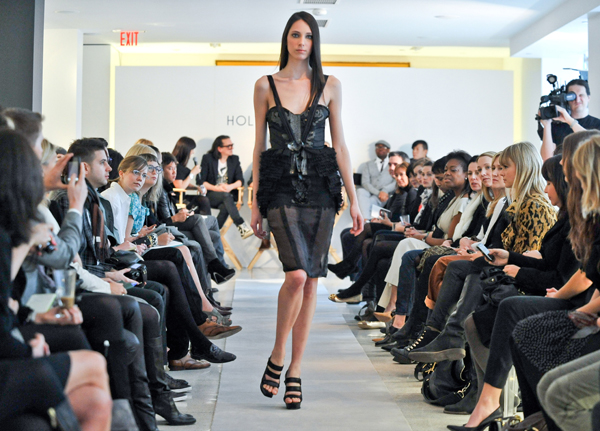 Holt's breakfast fashion presentation. Photos courtesy of George Pimentel.
Why aren't these designers a part of Fashion Week?
The designers see this as a very commercial kind of week that is more about sponsors and feels more like a trade show. For instance, Paul Hardy, who showed on his own without the help of any sponsors, quite admirably said he just wants to get back to the art of fashion and I think there are a lot of people like him. Listen, everyone loves fashion and I certainly believe in the democratization of fashion and I think its great that we can all enjoy it, take part in it, but if this is that kind of a show -- a consumer show, which is not a bad idea -- then let it be a consumer show. But it hasn't really made up its mind what it is. Some designers just don't think that this kind of a presentation or this kind of a group showing is representative of them. They'd rather go off and do their own thing and apparently it's not that hard to get sponsorship for something to do with fashion these days. Everyone wants to jump on that bandwagon.
How can Canadian fashion as a whole be promoted when so many designers are forgoing fashion week?
I don't think it's that necessarily to promote Canadian fashion as a whole, I think its up to us as journalists to raise awareness that there is a Candian fashion scene. Other than the fact that I think it might be a smart idea for designers to band together and try and have a common voice -- it would serve them in certain instances -- everyone is fending for themselves, and everyone is looking out for themselves. Its very competitive out there, its very competitive. Everyone wants to give everyone else a pat on the back but this market is so ridiculously small -- so ridiculously small -- and it's up to everyone to go out there and make their own individual voices heard and try to get sales outside our border or how else are they ever going to have any kind of lucrative business? I don't know how you can survive by just selling within our borders.
Besides Vogue writer Mark Holgate being at the Holt's breakfast and IZMA show, and Tommy Ton having shot the Pink Tartan Fall 2010 lookbook, do you see any signs that a promotion of Candian fashion abroad is improving?
No. Well, only in that some designers have the nerve now -- the tenacity and the courage -- to take their wares outside. Jeremy Laing is going to Paris, Calla is in Paris, Todd Lynn left quite a while ago and has his business in London. Mark fast, working out of London, Erdem just won a wonderful award today, he's doing so well! [Erdem Moralioglu is the winner of the first BFC/Vogue Designer Fashion Fund Award] ...there are a few designers that are really taking the bull by the horns and going out there and trying to do that business. Greta Constantine has made some inroads as well, but its still a pretty tough road to hoe and it takes a long time but I think they're certainly strong enough. They're on par with any design talent ive seen anywhere in the world and some are even better. I never would have said this maybe 5 years ago -- I mean there's always been strong designers in Canada but not designers that were necessarily saying anything that new. I didn't see as much innovation as what I'm seeing now, they're really pushing it now.
The shows are being live streamed this season, you're on Twitter, everything seems to be viral and immediate -- whats your take on the Internet's influence on fashion?
I think it's fabulous! The more information, the better. It makes for a very, very educated, savvy consumer and I think that's what pushing the level of design forward too. You're out there for everybody to judge and you're really being exposed and you can even see it for yourself and you can compare -- people can compare. I think its fantastic, it's going to take it much further.
Some people are upset about the new authority being given to fashion bloggers...
Again, I'm for the democratization of fashion. I can see people getting their noses out of joint -- the whole scandal with Tavi and 'how can a 13 year old get a front row at a seat when I'm sitting 4th row.' Me! I've been covering fashion for 25 years, and I don't always get a front row seat and sure enough there she is, getting a better seat than me at some shows and getting to spend time with John Galliano after the show when I couldn't get to him this season. It's a novelty to some degree but we can't be threatened by it. I think we have to applaud the fact that we live at a time when different voices are being listened to and being heard and new voice are being welcomed and its all very fresh. I still think there has to be a very studied approach to fashion as well but I think that's just one take -- some people want to hear from people who have a huge frame of reference and can really analyze and give a very solid, intellectual critique. Some people don't want that -- they want to hear out of the mouths of babes. An honest 'like it or not like it' -- I mean, it's only fashion at the end of the day! I think we've taken this a little too seriously sometimes and it's really sucked a lot of the fun out of it. It's reminding us all not to take ourselves so seriously and that's a good thing.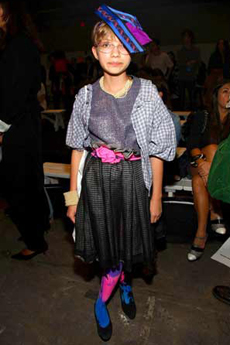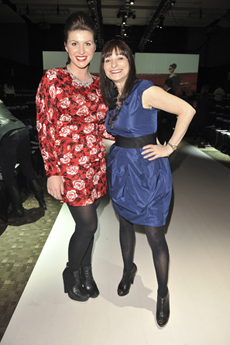 Tavi; Marissa Bronfman and Jeanne Beker. Photos courtesy of Harper's Bazaar and George Pimentel.
Related