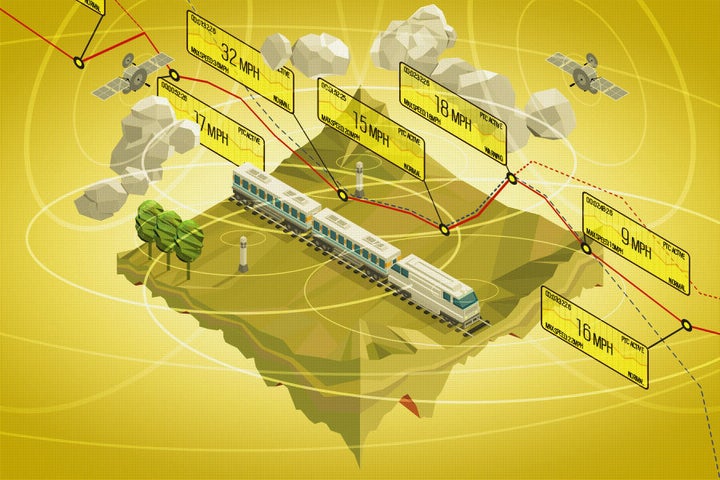 WASHINGTON -- In 2008, a Metrolink train slammed head-on into a Union Pacific freight train in southern California, killing 25 people and injuring 135. The Metrolink train's engineer, distracted by a text, had failed to stop at a red light. In 2013, a Metro-North commuter train operated by a sleep-deprived engineer rounded a curve in southern New York at 82 mph when it was supposed to be going 30 mph. It derailed, killing four and injuring dozens. And in May, an Amtrak derailment near Philadelphia killed eight people and injured scores more.
Technology called positive train control (PTC), which uses digital radio communications, global positioning satellites and fixed trackside signal systems to track trains' speed and location in real time, could have prevented all three tragedies. It also could have prevented 25 other train accidents that killed more than 34 people and injured about 600 between 2001 and 2008, according to the Federal Railroad Administration.
PTC can stop train-to-train collisions, prevent trains from going too fast and keep a train from moving in the wrong direction. The National Transportation Safety Board, which investigates transportation disasters, has been recommending railroads install PTC since 1969. The technology is the "one thing we keep coming back to" after each fatal accident, said NTSB spokesman Peter Knudson.
After the 2008 collision in California, lawmakers in the nation's capital set the first-ever federal mandate for freight and commuter railroads, requiring them to install the technology by the end of 2015.
Amtrak installed PTC technology along its Northeast Corridor track and a number of other lines by the deadline, but didn't finish the job. Metrolink in California has installed PTC on roughly 80 percent of its tracks. Most other commuter railroads are even further behind, and haven't installed PTC at all. 
In October, Congress effectively gave railroad companies until 2020 to get PTC installed and activated on their tracks and locomotives.
"[That] would be 50 years after NTSB first recommended that railroads install PTC," said Sen. Richard Blumenthal (D-Conn.), who says he uses Amtrak at least once a week. "But a five-year extension seems way too long, with way too little assurance that it in fact will even be installed by then."
The railroads have provided a variety of reasons as to why they needed more time to get PTC up and running, Blumenthal said, but he considers them "pretty thin excuses."
"The focus must remain on getting PTC up and running as soon as possible," FRA Administrator Sarah Feinberg told railroads at an industry safety meeting in November. "The Amtrak accident in Philadelphia remains a stark reminder of both what can happen without PTC, and the sense of urgency required to prevent a similar accident in the future. Do not make it your goal, please, to be the last one to cross the finish line. ... The public deserves it."
But railroads say Congress demanded too much while offering little help to install complex technology that only a handful of engineers know how to set up.
When Congress first set the end of 2015 as the deadline for railroads to install PTC, companies took it as an "artificial date," said Mike Noland, CEO of Northern Indiana Commuter Transportation District.
Noland, who manages the 90 miles of South Shore Line railroad between South Bend, Indiana, and Chicago, said the industry told Congress at the time that it couldn't reach lawmakers' goal until 2018.
"There were no companies doing it," Noland said. "This was brand-new technology."
Part of the holdup is that railroads are having trouble getting authorization from the Federal Communication Commission to access the radio frequencies they need for PTC's communications. There aren't many engineering firms capable of supplying PTC, which is also causing a backlog, and railroads have sent the FRA only three of the 38 PTC implementation safety plans regulators need to certify installations.
"These are complex issues that sometimes folks in Washington just don't want to get in the weeds on," Noland said. "But they are the realities for those of us who live this and working on this in the industry."
On top of that, the technology is expensive. When implementation is all said and done, it will cost Noland's railroad roughly $90 million, he says -- five times his annual capital spending. The total cost of implementing PTC nationally for the commuter rail industry will be $3.5 billion, according to a conservative estimate from the American Public Transportation Association.
The FRA has approved millions of dollars in grants to help railroads install PTC, but that doesn't go to every commuter or freight railroad.
"We didn't get a single dollar, not one dollar -- not one dollar has come from the federal government from this mandate," Noland said. "So we're having trouble maintaining infrastructure as it is and then they layer on this mandate."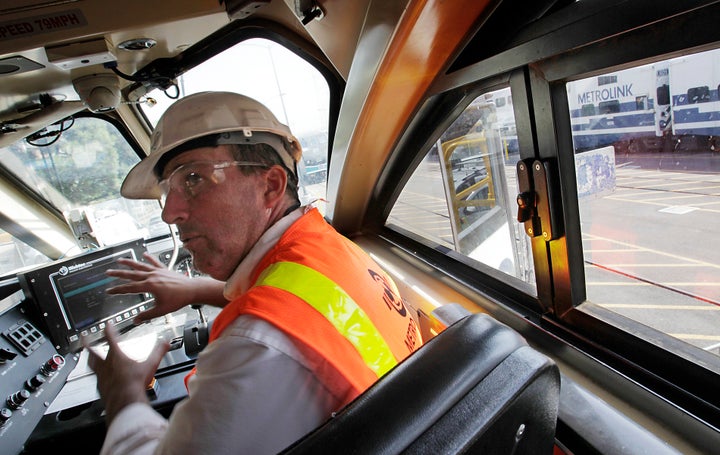 Commuter rail isn't alone.The law requires freight rail carrying materials that are poisonous or toxic when inhaled to install PTC as well, and it hasn't been easy.
Ed Greenberg, spokesman for the American Association of Railroads, said freight railroads are currently experiencing failure rates on their PTC tests of up to 40 percent.
"Positive train control is unprecedented technology that had to be developed from scratch," Greenberg said. "PTC isn't just about plugging in or turning on components. It is a complex process, both in terms of safety engineering and implementation. It is not off-the-shelf technology."
By the end of 2015, PTC had been installed on only 14 percent of the more than 60,000 miles on which freight operates. Final implementation of the technology, Greenberg said, will cost freight railroads somewhere between $9 billion and $10 billion.
Congress passed a sweeping surface transportation bill in December, the first in nearly a decade. In it, lawmakers directed $8 billion in funding to Amtrak, $3 billion of which is intended specifically for the Northeast Corridor. The bill also included $199 million for PTC installation. 
That lack of funding for PTC will only continue to make implementation of the needed technology slow going. It's something that has frustrated Democrats like Del. Eleanor Holmes Norton (D-D.C.), who pointed to the issue as characteristic of larger problems within the country's transportation sector.
"To talk about increases in this country is already to talk language that has almost disappeared," she said. "As long as Congress doesn't think that you can spend money on infrastructure anymore, I guess we'll be stuck on stupid."
Calling all HuffPost superfans!
Sign up for membership to become a founding member and help shape HuffPost's next chapter