Having a food allergy can be a pretty annoying. From the fear of an allergic reaction to the longing for that granola bar that "may contain tree nuts," there are countless reasons having a food allergy is a hindrance to you and those around you, especially when traveling.
So imagine the delight when you stumble upon a destination that is practically 100% allergy-friendly. In this case, that place would be the resorts of Walt Disney World in Orlando, FL. The cast members at virtually every eatery in every park were so prepared and so accommodating.
Alerting the wait staff to a tree nut allergy was not met with blank stares and a stammering waitress, but rather a calm, cool and collected response of, "Not a problem at all, the chef will be out to speak with you shortly." Seems a little unnecessary, no?
As an adult who developed an allergy to tree nuts in my late twenties, it's been a rather challenging adjustment to remember that I don't have free will when it comes to eating food I haven't prepared. In a bizarre twist, my 5-year-old niece also is plagued with the same tree nut allergy but--lucky for her--she has parents and countless family members who are completely on top of it. So let me take you now on our journey through Walt Disney World and why a food allergy can't even slow those cast members down.
My compliments to the chef.
At any sit-down dining experience we had at any Disney resort or park, the chef came out of the kitchen to speak with us. He or she informed us of the foods that would cause no issue and which foods they could not speak for. For example, the breads served were often made off site and therefore they couldn't confirm how safe they were to eat. Everyone knows that Disney employees are generally the most pleasant people on earth, but these chefs were more than willing to stop what they were doing to come out and speak with worried parents (or twenty-somethings.)
Show me the ingredients!
There are food stands practically every twenty feet in virtually every park. One will never go hungry on a Disney property, that's for sure. Pre-packaged ice creams or hot pretzels are usually off limits for a food allergy person, even if they don't contain nuts. The factories these treats are made in often produce products that do contain tree nuts and will bear the warning "may contain tree nuts." At every food cart, the cast members were happy to hand over the product before purchase to allow me (or any parent) the option of checking the label with their own eyes. Some stands were even equipped with a book that contained the labels and ingredients for all of the products. This may seem like no big deal, but not everyone is always so willing to accommodate. It can certainly be a hassle and slow down the line, but the alternative is not really something most people are interested in witnessing.
Going to infinity and beyond.
I'm a grown adult and I should carry a package of sprinkles in my purse. Not all the time, but if I want ice cream I should. Dipping that cone of vanilla ice cream in the big tub of rainbow sprinkles that they just dipped the chocolate macadamia nut ice cream in could cause a reaction in tree nut allergy people. In Downtown Disney's Ghiradelli Ice Cream shop, they opened a completely new container of ice cream and sprinkles right in front of us and let us watch as they made the cup, handing it directly to my sister so she could be 100% sure it was fine to give to my niece. That may seem a little excessive, but my niece hasn't had sprinkles from an ice cream store just like everyone else in over two years. For a 5-year-old, that "normal" thing is a pretty big deal.
A little something for everyone.
On my last day in Disney World, my family and I were dining at the food court in The Land of Epcot.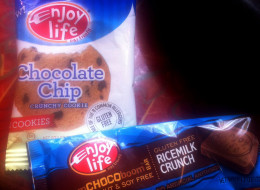 There were plenty of options and again, accommodating staff all around, but the greatest treat of all was the bin of pre-packaged treats that were labeled and marketed to us allergy folk. Cookies, candies, ice cream, you name it, they had it and it was all allergy free. This was a rather grand moment, but the real cherry on top was the taste of these allergy-friendly treats. They. Were. Good. Not just good-for-allergy-free good, actually good. And if you're taking notes, similar kiosks can be
as well.
For those people who do have a food allergy of any kind, dining out and traveling can be incredibly stressful, especially those whose children are the ones with the issue. There are a ton of factors and scenarios that those who aren't affected by a food allergy never even think of, but in true Disney-fashion, they are one step ahead of their guests. The cast members in Disney World made it seem like it was no hassle and no hindrance to give us some assurance and peace of mind.
It really boils down to this: the cast members are very well-trained and incredibly accommodating. Perhaps it's done me a bit of disservice because as we all know, life in the real world is a far cry from Disney World.