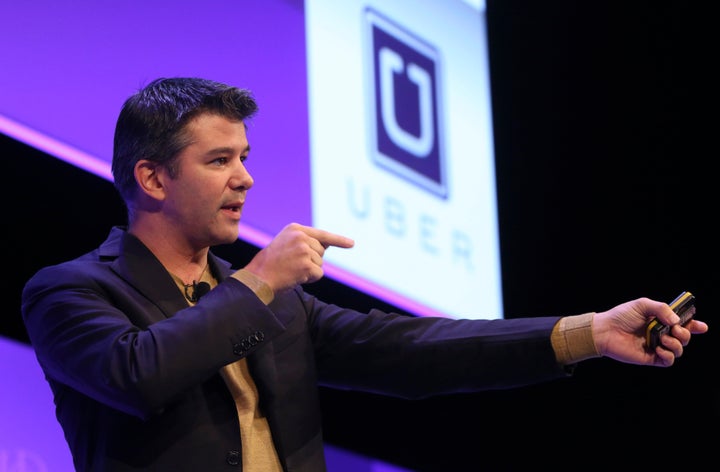 SAN FRANCISCO -- Uber founder and chief executive Travis Kalanick envisions a future where he looks out the window of his San Francisco office and sees only Ubers on the streets.
That may be a pipe dream in California, where car culture (and the status of having a Tesla in your garage) still reigns, but the head of the ride-hailing service claims his vision would vastly improve life in one of the United State's most congested regions.
"If every car in San Francisco was an Uber, there'd be no traffic," Kalanick said.
Speaking Wednesday at Dreamforce, Salesforce's annual tech confab in downtown San Francisco, Kalanick didn't give specifics on how he plans to make the city an Uber-dominated zone. But throughout his conversation with Salesforce CEO Marc Benioff, Kalanick hinted at what's to come for the rapidly expanding company: growing its UberPool service, recruiting drivers in anticipation of big events, staking its claim in the delivery space and, eventually, incorporating driverless cars and other robotics innovations.
"If something's moving from somewhere to somewhere else in a city, that's our jam," he said.
Benioff, and Salesforce by extension, is known for championing philanthropy as well as taking a public stand on issues like Indiana's anti-LGBT law. The company often touts its "1-1-1" model, under which the company donates 1 percent of its equity, time and resources to helping communities in need.
Uber, in contrast, is often portrayed as cold and capitalistic. Kalanick, however, touted many of the company's philanthropic programs on Wednesday, highlighting the company's "Ride for a Cause" campaign, which donates $1 to a charity of the rider's choice, as well as its collection of donations for refugees in Europe and efforts to recruit military veterans.
He also defended his company against criticism from the taxi industry, arguing that Uber provides drivers both better flexibility and higher paychecks. Taxi drivers, Kalanick said, spend tens of thousands of dollars every year to lease their cars, only to work long hours for little profit.
"For that privilege, they get to be impoverished," he said.
But Uber is also facing fierce criticism for classifying its drivers as independent contractors rather than employees, meaning the company doesn't have to pay for cars or gas, cover workers' compensation or provide unemployment insurance and other key services. The company argues that since its drivers set their own hours and can work as much or as little as they like, they're more business partners than employees -- Kalanick referred to drivers as such during his talk on Wednesday.
Courts, however, have disagreed. In June, an official at the California Labor Commission ruled that the company owed a driver expenses incurred on the job, arguing that the driver in question is an employee because Uber retains "all necessary control over the operation as a whole." And earlier this month, a court ruled that Uber drivers in California can file a class-action lawsuit against the company in a case over whether they are contractors or employees. Uber is appealing the ruling. One analysis found that drivers could earn benefits worth up to $5,500 annually if these challenges are successful.
That debate has bled into other problem areas for Uber, including its background check system for drivers. Lawmakers in many states are pushing for Uber (and rival services like Lyft) to beef up its background checks in the wake of alarming accusations that drivers have assaulted passengers. In California, prosecutors have filed a complaint against ride-hailing companies for letting individuals previously convicted of sex offenses, kidnapping and murder slip through their background check system.
The company's claims about how much drivers can make -- it cites figures as high as $90,000 a year -- have also faced scrutiny and criticism, with many drivers saying they're making minimum wage.
The contract battle was absent from Wednesday's conversation, and Benioff largely glossed over Uber's other PR problems. The closest he came was asking if Uber "has a heart." But the Salesforce executive did question Kalanick on the company eventually using a fleet of self-driving cars, hinting at the ethical problems that may pose.
Kalanick, without mentioning Uber's own attempts at getting into the robotics business, said he'd address those challenges as they come up -- and wouldn't fall into the same trap his predecessors in transportation have.
"Am I going to be part of the future or am I going to resist it?" Kalanick said. "We don't want to be like the taxi guys that came before us."
Support HuffPost
The Stakes Have Never Been Higher
Related
Popular in the Community