"The Daily Show" wasn't even on the air the week protests broke out following the death of George Floyd. That didn't matter to host Trevor Noah.
"Trevor was like, 'I have to say something,'" Jen Flanz, "The Daily Show" showrunner, told HuffPost in an interview this week. "He said I'm going to try and get you something later to look at."
Flanz and a few others from "The Daily Show" then received a video Noah shot himself on an iPhone (originally around 25 minutes and edited down to 18), in which the comedian powerfully discussed the death of Floyd, the outburst of protests, police brutality and how the coronavirus pandemic brought everything to the forefront.
"Sometimes we do things to get eyes on it or, you know, this will be really cool for our audience. But this is not that," Flanz said. "This was Trevor really just wanting to have his feelings out there and be involved in the conversation."
In the video, Noah explained that "Black people in America are still facing the battle against racism and coronavirus" and that "society is a contract" that those in power aren't honoring.
"When you watch Ahmaud Arbery being shot and you hear that those men have been released and, were it not for the video and the outrage, those people would be living their lives, what part of the contract is that in society? When you see George Floyd on the ground and you see a man losing his life in a way that no person should ever have to lose their life at the hands of someone who is supposed to enforce the law, what part of the contract is that?" Noah asked. "There is no contract if law and people in power don't uphold their end of it."
"It's all his raw thoughts. We weren't on the air that week and just put it up on all of our digital feeds," Flanz said. "And it went all over."
"All over" is heavy lifting here. The video has more than 48 million views across all of its platforms since it was uploaded on May 29, according to data from "The Daily Show." It was covered far and wide by news outlets and partly influenced activist Kimberly Jones' poignant and viral "How Can We Win" video.
"When I watched it, when he sent the raw footage, I was like, 'This is pretty amazing.' But I'm not surprised because this is how Trevor is," Flanz said.
In many ways, Noah's "Daily Show" is setting the benchmark for late night TV. It was among the first to come back on-air during the pandemic and has become a destination for high-profile interviewees, such as Dr. Anthony Fauci and Joe Biden. Noah has covered police brutality on the show for years, and the host has stepped up those efforts even more since his Floyd video, providing a platform for Black activists and authors to discuss social issues.
"I had every confidence that this is where we would get with" Trevor, said Flanz, who helped bring in Noah as Jon Stewart's replacement in 2015. "I hated that in the beginning that people really doubted the decision. I was in awe and had some conversations with him where I was like this person has such an interesting perspective on the world. I was just hoping that would eventually be what fans started to see, and I think that that's what's happening now."
As for the increased recognition, Flanz said, "He deserves it, and he's taking the show to a place where it has never been before."
During our chat, Flanz opened up about the challenges with the show coming back on air so quickly during the pandemic, how the show saved Noah's interview with Fauci from being a technical disaster and whether "The Daily Show" will look different after the pandemic.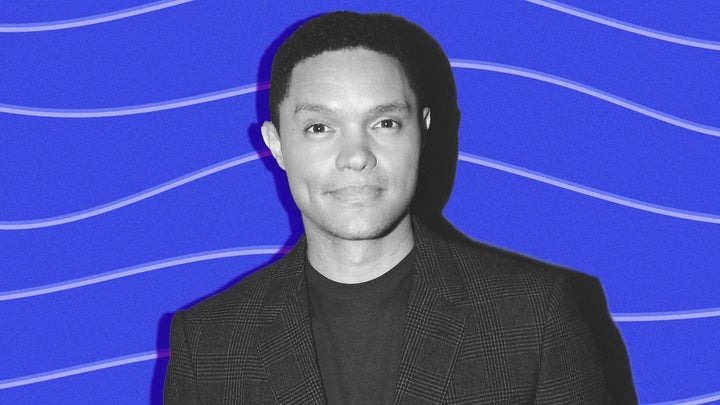 "The Daily Show" was the first late night show to have Dr. Fauci. His people even sought you out as a way for him to speak to a younger audience. But you said recently that it was almost a disaster behind the scenes?
We taped the interview, and it was a long interview, so it was going to take a while to edit anyway, and then the editors ... they all of a sudden were just like the sync's off. And they had to check like every frame by frame by frame. There were just lengthy parts of the interview where the sync was off. And listen, not everybody is going to be critical of it. We don't like to put something up on the air that we know is not really broadcast quality, and our editors are perfectionists. They take pride in their work, so they don't want it to look bad because it is a reflection of them. But they were working right up until the last minute.
What would've happened if it couldn't be fixed?
I don't think there was a world where we would have decided that it wasn't going to air. At some point, I was like, "Guys, I know you want it to look good but it also can't not air." And I have to say, every night there's been compromises like that where we just have to make the decision of is this the best version of this? Could it use another graphic? Is the audio a little bit off? Had we listened to it again, would we have put some background noise on that spot? But at some point, you just have to get it out. It's never necessarily a perfect show, so you have to relinquish yourself. But are we saying what we want to say? Are the jokes good? And getting that on the air. Ideally it's the best version you can do in the time you have.
Jon Stewart recently talked about how paying interns on "The Daily Show" led to a more diverse group of people working there. What are other behind-the-scenes ways the show influences its perspective?
Trevor had a giant initiative when he got there to make sure that the staff was inclusive and had many, many voices represented. And I think the world was starting to move in that direction, but we were now a show with a Black host and we needed to make sure that we were writing for his point of view. But not only his point of view. He's like ... you guys, half of the world is women. So we have to make sure we have female voices in the room. If we're going to be appealing to all these different audiences, let's make sure we're representing all of them. That isn't just race or sex, it translates to schools of thought. We have people who are libertarian; we have hard core right people in the room. And by the room, I mean the morning meeting really is where we have like 40 to 50 people usually sitting around watching video clips of the news overnight and kind of just throwing out opinions, jokes and ideas. Having different voices in the room is what gets the show to be a final product that people feel is relatable. And I think that it's relatable because it's such a melding of so many different points of view and obviously led by Trevor's.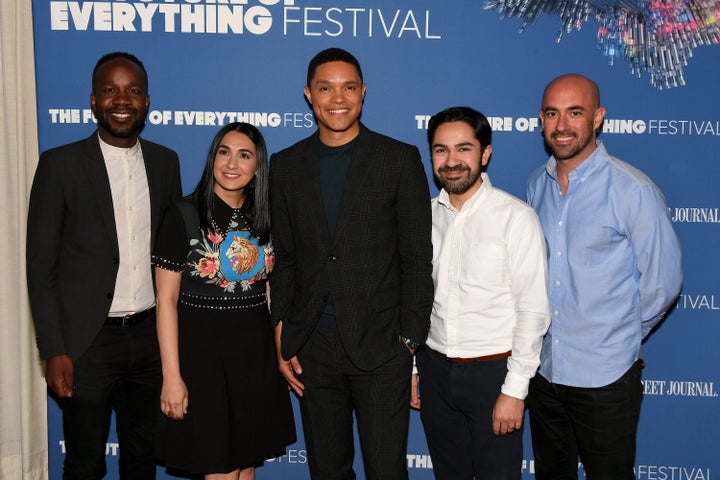 Yes. He would've been gone. You want this whole staff to leave? Get rid of the dogs. He really has done a great job of keeping the great things about "The Daily Show" and then adding his own Trevor-ness to it both on the show and in the office. I think what you see on the air is a reflection of what's happening behind the scenes.
Is there anything you see the show implementing in the future that you've learned during this time, once you're back in the studio?
I don't think any of us are going to be sharing bagel baskets that much anymore [Laugh]. I think some of the editing and some of the jokes that are being written are more for an audience-less taping. The likelihood is that we will go back and not have an audience right away, so I think those tricks will stay in our repertoire. Having people work from home when they need to, like for their family ... working parents. I think people always feel guilty when they can't be at the show for whatever reason, and I hope this eases that stress a little bit.
Oh my god. No. I don't remember the guest appearance, but I mean, I grew up in New York, and he's just been a person that's been around for my whole life ... I don't particularly remember the 2004 interview. But I'm sure that it would be a very different interview now.
This interview has been edited and condensed for clarity.
Popular in the Community