LAS VEGAS ― Hillary Clinton questioned Donald Trump's ability to close a deal during Wednesday night's presidential debate here.
"When it comes to the wall that Donald talked about building, he went to Mexico, he had a meeting with the Mexican president, didn't even raise it," Clinton said, referencing a meeting between Trump and Mexican President Enrique Peña Nieto in August. Peña Nieto said afterward that he told Trump Mexico wouldn't pay for the wall as Trump had repeatedly promised his supporters.
Clinton dissed Trump's visit with Peña Nieto in the course of an answer in which she portrayed herself as the much more humane candidate on immigration.
"I don't want to rip families apart," she said. "I don't want to be sending parents away from children. I don't want to see the deportation force that Donald has talked about in action in our country. We have 11 million undocumented people. They have four million American citizen children."
Trump, for his part, initially seemed to confirm that he wanted to focus on deportation, saying that Mexican drug lords had to be rounded up, which has been a core theme of his campaign.
"We have some bad hombres here and we're going to get them out," Trump said.
But he glossed over his plans to deport as many other undocumented immigrants as possible. He also veered between arguing Clinton wants amnesty and an open border and insisting she wanted a wall along the southwest border and tying her to President Barack Obama's deportation numbers. He was referring to Clinton's vote for the Secure Fence Act of 2006, which mandated the creation of hundreds of miles of border fencing that is still unfinished. Trump has said his border wall would be different from the fencing that currently exists ― in suggesting Clinton's position was the same as his, he was really just arguing against his own claims that she opposes border security.
"Hillary Clinton fought for the wall in 2006 or thereabouts," he said. "Now, she never gets anything done, so naturally the wall wasn't built. But Hillary Clinton wanted the wall."
Each of the candidates brought guests to call out while they discussed immigration. Trump invited four people whose family members were killed by undocumented immigrants, while Clinton called out 11-year-old Karla Ortiz, a U.S. citizen whose parents are undocumented.
Immigration is a huge issue in Nevada ― undocumented immigrants make up 7 percent of the state's population, a higher share than any other state, according to the most recent estimates from Pew Research Center.
The fates of those undocumented immigrants and their families would be vastly different under Trump or Clinton.
Trump launched his campaign by vowing to build a wall between the U.S. and Mexico ― that Mexico would pay for ― to prevent what he painted as a scourge of criminals crossing the border without authorization. He repeatedly promised over the ensuing year that all undocumented immigrants would have to leave the country should he become president, although some might be able to return legally. In August, Trump encouraged speculation that he was reconsidering his hardline stance on deportations, before confirming in early September that he would ramp up enforcement and attempt to drive out other undocumented immigrants by making it harder for them to live in the country.
Clinton supports legislation to grant legal status to many of the undocumented immigrants with longstanding ties to the country, and eventually allow them to gain citizenship. In the meantime, she has said she would use her executive powers to protect some from deportation ― going beyond what President Barack Obama attempted. She also made a spate of other immigration reform promises, such as shutting down private detention centers and expanding access to lawyers for people in deportation proceedings.
Immigration isn't typically the top issue for Latino voters, but does rank higher among them than the overall population. And Trump appears poised for a bigger loss with Latino voters than failed 2012 Republican presidential nominee Mitt Romney, who infamously called for undocumented immigrants to "self-deport" and then received only 27 percent of the Latino vote.
Latino voters heavily favor Clinton to Trump: An NBC News/Wall Street Journal/Telemundo poll released this week found that 70 percent would choose Clinton and 17 percent would choose Trump in a head-to-head matchup.
Before You Go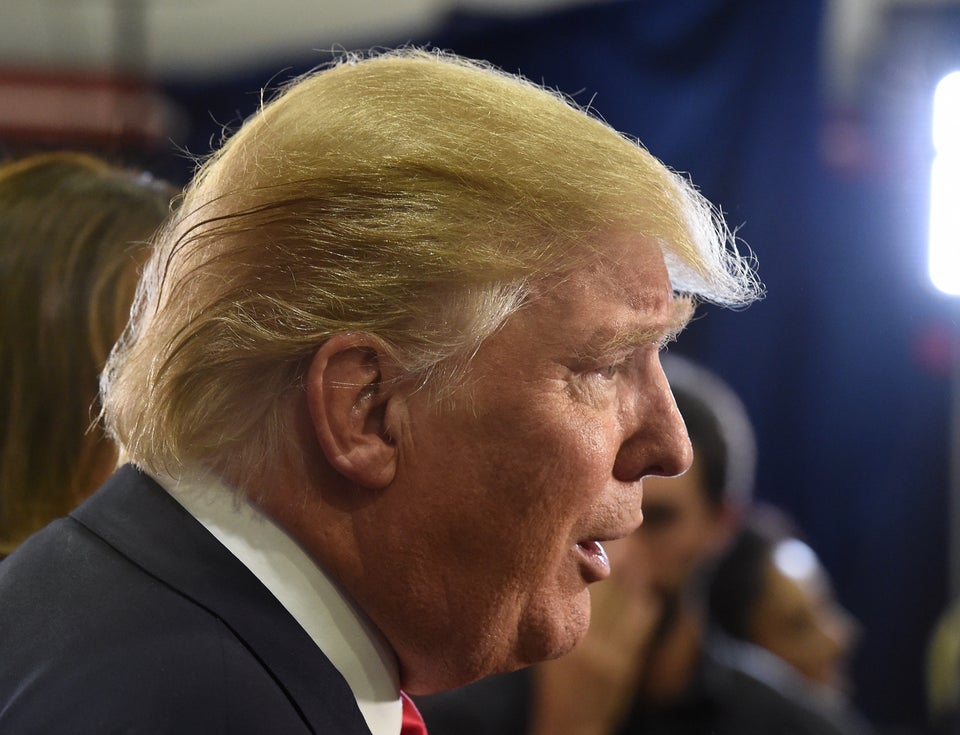 How Donald Trump Talks About Undocumented Immigrants
Popular in the Community