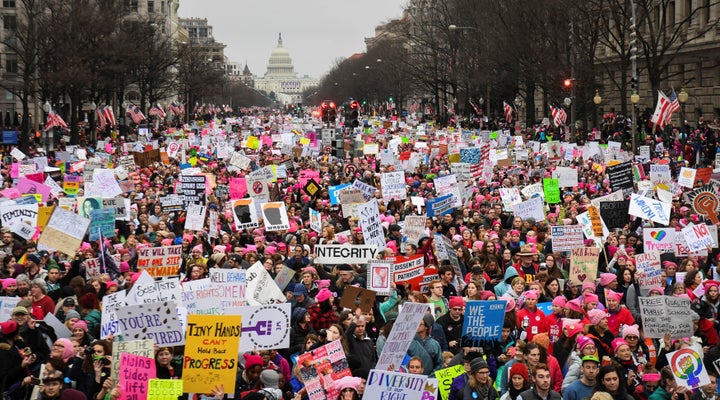 WASHINGTON ― More than 1,000 progressives signed up to run for office this weekend following President Donald Trump's executive action targeting immigrants and refugees.
And that's just through one organization.
Run for Something, a new grass-roots group that helps young Democrats run for local and state office, announced Monday that it nearly doubled its total number of recruits ― from 1,200 to 2,200 ― in the last three days. The organization, which launched on Jan. 20, the day of Trump's inauguration, was already surging with interest before Trump signed an executive order Friday that bans Syrians from taking refuge in the United States, halts the U.S. refugee resettlement program for four months and temporarily blocks people from seven Muslim-majority countries from entering the U.S. at all.
The president's action, which comes amid a wave of nationwide protests against him, sparked chaos at U.S. airports over the weekend as refugees and immigrants arrived only to be detained or told they couldn't enter the country. Thousands of protesters showed up at airports to speak out against the Muslim ban and demand that arriving immigrants be let through.
Amanda Litman, co-founder of Run for Something, said Trump is doing a great job of driving furious Democrats into public service.
"Anyone leading a protest or organizing friends to get to a local airport should think about running for office," Litman said. "Trump's presidency is already inspiring an incredible wave of energy and re-engagement in civic life ― running and winning is how we capture that and make it last."
A number of progressive grass-roots groups have cropped up since Trump's win in November, and they, too, have seen huge interest. Swing Left, which links volunteers with progressive House candidates in nearby swing districts, has drawn more than 220,000 people since it launched two weeks ago. Daily Action, which launched in mid-December and makes progressive activism as easy as a daily text, already sends 75,000 texts per day and has more than 40,000 Facebook members.
The organizers of the massive Women's March on Washington started a campaign, too: 10 actions for the first 100 days, which calls on its broad base of supporters to take action on a specific issue every 10 days.
Sign up for the HuffPost Must Reads newsletter. Each Sunday, we will bring you the best original reporting, long form writing and breaking news from The Huffington Post and around the web, plus behind-the-scenes looks at how it's all made. Click here to sign up!
Popular in the Community