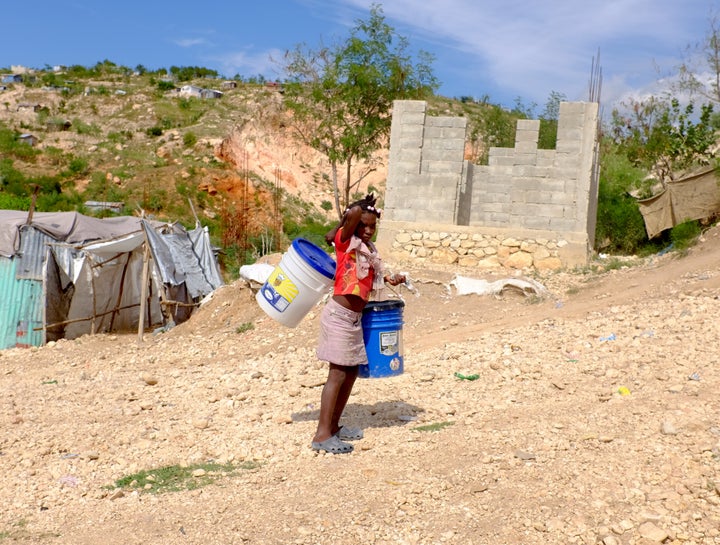 Over 50,000 Haitians currently residing in the United States under Temporary Protected Status (TPS) are anxiously watching the Trump administration for word on whether TPS will be extended. The status affects Haitians who entered the U.S. before or within a year after the January 2010 7.0 earthquake that killed up to 350,000 and left parts of the country in ruins. Under the Obama administration, Secretary of Homeland Security Jeh Johnson extended Haiti's TPS designation for an additional 18 months.
The extended designation is effective Jan. 23, 2016, through July 22, 2017. The deadline is fast approaching and the decision rests squarely with President Trump who promised Haitians that he would look after their interests during a 2016 campaign stop in Miami's Little Haiti. Some analysts suggest that Haitians helped to turn the tide in Florida for the President.
In an April memo sent by the Director of U.S. Citizenship and Immigration Services James McCament to Homeland Security head John F. Kelly, McCament recommended that Kelly not extend the designation for Haitians living in America because "conditions have significantly improved since the earthquake." The letter enumerates the miseries still facing Haiti, from 800,000 sickened by the ongoing cholera epidemic to a government unable or unwilling to provide basic services to the population. Surprisingly, McCament still recommends that TPS be terminated, but suggests extending a grace period to January 2018. One has to wonder how conditions have "improved."
The McCament memo references a USCIS RAIO study completed in December 2016 that explains Haiti's "recovery." We reached out to USCIS for a copy and were informed that the report is only available by a FOIA request. However, that is not exactly true, since we were able to find the document after an extensive web search. Read it for yourself, but the December study enumerates extensive problems involving infrastructure to gender based violence.
"While Haiti continues to make progress in a variety of fields, the pace and scope of the recovery has been uneven, and the country remains vulnerable to external shocks and internal vulnerability."
This hardly reads like recovery.
Adding to the misery inflicted by natural disaster, the United Nations contingent from Nepal introduced cholera into the water system, leaving up to 10,000 dead and hundreds of thousands sickened. The numbers are still rising and cholera is in Haiti to stay. In the first five weeks of 2017 a total of 1,897 cholera cases were reported in Haiti, including 28 deaths. McCament needs to ask himself whether he would want to send his family into that situation.
The earthquake directly affected nearly 3,000,000 people, and hospitals, government buildings and schools were destroyed. Hurricane Matthew hit in 2016, causing up to $1 billion in damages and $360 million in crop losses. These and other reasons to extend TPS are itemized in a letter sent to Homeland Security Director Kelly by Florida Senators Marco Rubio and Bill Nelson, Congresswoman Ileana Ros-Lehtinen and seven other bi-partisan lawmakers.
And what does the Government of Haiti say about this? The response by the newly-elected President speaks volumes about Haiti's failed state. In an interview with Lenouvelliste, Jovenel Moïse said he wants Haiti to reduce its vulnerability, respond to disasters and channel international assistance before embracing the displaced.
"We believe that this is not the time to welcome our brothers and sisters who are there (in USA) because it will aggravate our already precarious situation," Moise said.
Moïse is under a cloud of corruption accusations for his association with former President Michel Martelly, who somehow managed to squander millions if not billions of foreign aid while dealing in drug smuggling. When questioned by reporters Moïse said he did not know how much money had been spent on earthquake relief prior to his administration.
Again, McCament needs to ask himself if he would send his family back to a country that has no interest in helping its displaced citizens.
President Trump needs to keep his promises to the Haitian community. This is not a criticism of the Presidency. I, for one, have grown weary of the negative drumbeats. The President needs to be accurately informed about the situation in Haiti. The McCament memo is a disservice to him and displaced Haitians. TPS has been renewed three times since 2010. Until conditions actually improve in Haiti, it would be a punitive move to send beneficiaries back to face cholera, potential food shortages, lack of housing and an uncertain future.
REAL LIFE. REAL NEWS. REAL VOICES.
Help us tell more of the stories that matter from voices that too often remain unheard.