Even before he decided to run for president, few things angered Donald Trump like former President Barack Obama's penchant for golf. Now that he finds himself in the same shoes, however, Trump is seemingly no longer troubled by a commander in chief who takes a load off once in awhile.
After an intense first two weeks in office in which he signed 18 executive orders and memos, a dizzying pace that topped his most recent predecessors, the president flew to his private club in Florida to attend several private events, including a charity ball. In between meetings and phone calls with the leaders of Italy and Ukraine, he took some time for R&R.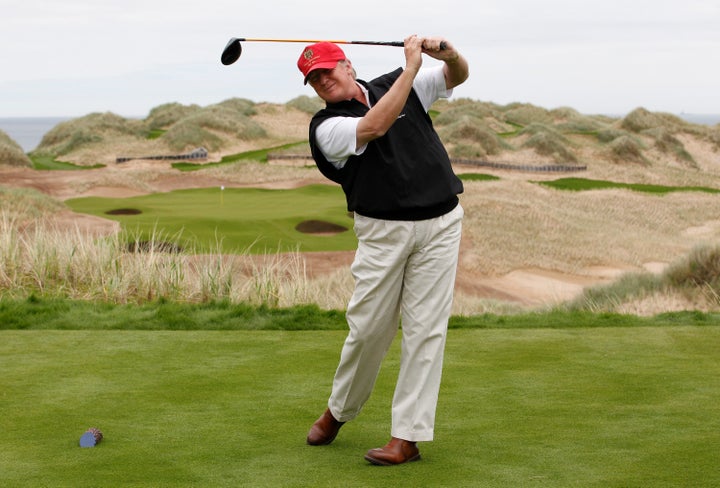 The White House refused to give details about the president's activities at his Trump International Golf Club in Palm Beach, where he spent roughly eight hours on Saturday and Sunday. Nor did it provide the names of the president's golf partners ― as the Obama White House routinely did.
"At this hour, pool still does not have the names of POTUS' golf partners (if he played golf) or the details of his activities at the golf club," The New York Times' Mark Landler said in a pool report on Saturday.
"WH official tells the pool that they do not have information on POTUS'
golf partners," he added.
Trump returned to the golf club early Sunday. A White House spokesperson reportedly said that in addition to some meetings, the president "may play a few holes of golf."
New York Times reporter Glenn Thrush offered a theory as to why the White House was being so coy about the outing: It included former House Speaker John Boehner.
Since Trump repeatedly slammed Obama for his golf habits and promised that he would never stop working for the American people as president, it makes sense the White House would be reluctant to share that he's gone back on his word.
"I would rarely leave the White House because there's so much work to be done," Trump said in 2015. "I would not be a president who took vacations. I would not be a president that takes time off."
Trump added he would make time for golf but that he would "always play with leaders of countries and people that can help us."
During a campaign rally in 2015, Trump blasted Obama for playing more golf than Tiger Woods. "I love golf, I think it's one of the greats, but I don't have time," he said.
In 2014, he attacked Obama for spending taxpayer money on travel that included rounds of golf. (Trump did the same this weekend.)
Here's a sampling of some more of Trump's tweets:
How will Trump's first 100 days impact you?Sign up for our weekly newsletter and get breakingupdates on Trump's presidency by messaging ushere.
Popular in the Community