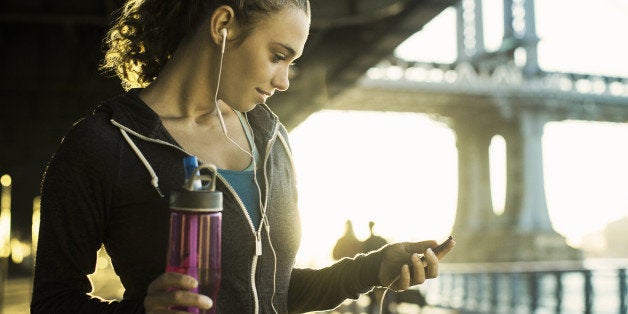 You might think Twitter is just a place to complain about the news and impress your friends with pithy jokes, but if you're looking to lose weight, it could also be a source of support and drive.
According to the analytics team at Twitter, an average of 15,000 tweets about weight loss alone are posted each day. And the majority of these tweets focus on support delivered via information like tips and tricks and inspiration like mantras, according to Brie Turner-McGrievy, a health researcher at the University of South Carolina. While posts regarding health and weight loss peak at the new year and drop off in March, the online fitness fire ignites again in June as everyone looks forward to spend increasing amounts of time outdoors -- typically in more revealing clothing. These sunny summer months prompt us to prioritize our health, and it turns out Twitter can help us do so.
"I think there's that accountability -- that's a lot of what group support provides," she said. "It also is something that keeps weight loss at the forefront of your mind. And we chose Twitter because of how in the moment it is -- it allows you to have instant support when, for example, you go to a new restaurant and don't know what to order."
As folks take to Twitter to talk about their latest fitness activities, some workouts are noticeably more popular than others: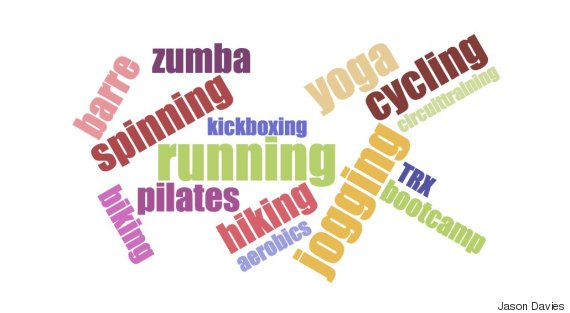 This word cloud, based on data from Twitter's list of the top 15 fitness activities discussed by their users, reveals that running and jogging (in the largest typeface) consistently hold the top spot as the most-tweeted-about workouts. Yoga took second place, followed by spinning and cycling in third place. Aerobics and circuit training (displayed in the smallest fonts) rounded out the bottom of the list.
The new Twitter statistics also revealed that the time of day at which people most commonly exercise fluctuates depending on their locations. On the west coast, users in San Francisco and Los Angeles typically log their sweat sessions between 6 and 7 a.m., while those in Dallas and Chicago finish their days with exercise between 8 and 9 p.m.. The majority of New Yorkers squeeze it in between 4 and 5 p.m.
When it comes to the day of the week that people are most excited and vocal about getting their sweat on, Tuesday surprisingly came out on top, especially in January and February, followed by Wednesday and Monday.
The consensus seems to be that few people are excited to work out on the weekends, despite the fact that it's when we have the most down time to enjoy such things. January, unsurprisingly, was the month with the highest fitness-based tweeting, according to another study conducted by Turner-McGrievy in 2014. And many Twitter users maintained that momentum through February and March.
So if you're looking for an extra boost of motivation and support to achieve your fitness goals -- whether it be toning a little for those summer shorts, training for your next race, or striving for a heart-healthy body fat percentage -- don't underestimate the ability of social media in helping you get there. Those tweets can be a pretty powerful thing.