Did the past year make you feel 😀, 😱 or 😤? Twitter's 2015 retrospective may refresh your memory.
The social media giant on Monday unveiled its annual year-end review to commemorate the defining moments and biggest trends of the last 12 months. It also included a list of the most popular emojis by usage.
Take a look at this year's most-beloved pictographs: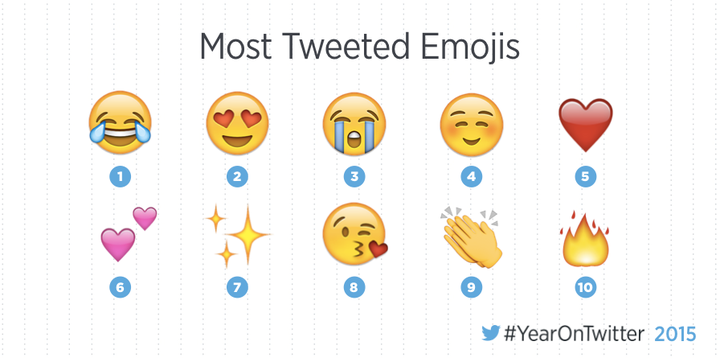 The "face with tears of joy" character, better known as 😂, topped Twitter's charts, followed by 😍 ("smiling face with heart-shaped eyes) and 😭 ("loudly crying face").
In a statement about the choice, President of Oxford Dictionaries Casper Grathwohl wrote: "You can see how traditional alphabet scripts have been struggling to meet the rapid-fire, visually focused demands of 21st-century communication. It's not surprising that a pictographic script like emoji has stepped in to fill those gaps -- it's flexible, immediate, and infuses tone beautifully."
Earlier this year, mobile technology business SwiftKey found that 😂 made up 20 percent of all the emojis used in the United Kingdom in 2015, and 17 percent of those in the United States -- a rapid increase from 4 percent and 9 percent, respectively, in 2014.
To see the rest of Twitter's 2015 trends, head to the site's year-in-review page. We hope those memories will make you 😂, for the most part.
Related
Popular in the Community