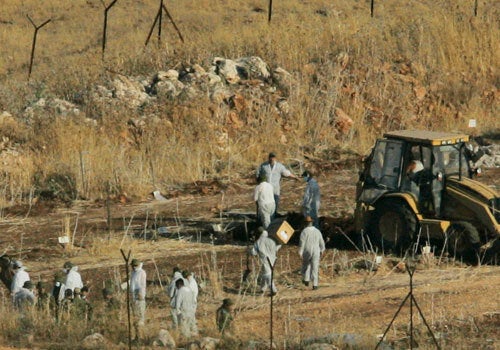 It happened again, just slightly different this time.
Two men were captured by Israeli soldiers near the town of Blida on Lebanon's southern border with Israel on Friday. The two brothers, Tarraf Tarraf and Hassan Tarraf, claim they were beaten and interrogated by soldiers asking them about possible links with Hezbollah.
Rewind to three summers ago when Hezbollah snatched two Israeli soldiers near the border with Israel, triggering an Israeli attack on Beirut's Airport and the eventual start of Lebanon and Israel's summer war of 2006. So, should we expect a more violence to come? Maybe, but not just yet.
This happens often enough on the Israeli-Lebanese border to quell any fears of an immediate escalation of violence. This past July a shepherd from Lebanon was arrested and eventually handed over to United Nations Interim Force in Lebanon without serious repercussions. But this development is likely to embolden support for Hezbollah domestically, and somewhat surprisingly, in Latin America too (I'll be getting to that).
Hezbollah released a strong statement challenging the United Nations Security Council after the incident, asking what their response to the "flagrant" violation of Resolution 1701 would be and calling on the Lebanese government to take appropriate and firm action against the "aggressive act."
The resolution, which demanded Israel to withdraw all its forces from Lebanon, also demanded the disarmament of Hezbollah. Israel's army claims the men were simply arrested for "crossing the border," but the specific circumstances of the capture and release haven't been finalized.
Still, Israel's stance is firm. Brigadier General Michael Ben-Baruch told The Jerusalem Post just a few days before the event, "No village will be immune. We will give [Hezbollah] about a 12-hour warning and then strike back," referring to a possible large-scale confrontation with Hezbollah.

Lebanon's President Michel Sleiman announced his plans to send a letter of protest to the United Nations once he learned more about the incident.
Whatever the reason, the episode occurred just one day before Lebanon announced the appointment of an ambassador to Syria, a country that has held an influential role in Lebanon ever since winning independence from France.
Hezbollah, financially supported by Syria, has been able to keep their weapons and buy more following Lebanon's civil war; and the "Party of God", which is a direct translation of its name, is known to maintain close and direct relations with Syria's leadership, invoking interest as to the timing of the historic ambassadorial development.
Many in Lebanon and across the Arab world believe, whether happily or not, that Hezbollah was able to fight Israel better than previous Arab attempts, possibly justifying their refusal to disarm. In fact, so does a study recently completed by the U.S. Army Strategic Studies Institute, an impressive accomplishment for Hezbollah.
Hezbollah in Latin America
The report by the army's strategic studies institute highlights Hezbollah's growing strength in Latin America, where it is purported millions from Arab descent live and thrive. Back in October, following the 2006 war with Israel, two small bombs were found outside the U.S. Embassy in Caracas. The two bombs were meant to detonate and scatter small fliers with information referring to Hezbollah featured on them. Two Venezuelans were arrested, but to this day Hezbollah has denied any involvement.
Then there are the reports that Venezuelan minister of the interior, Tayek al-Ayssami, has been recruiting young Venezuelans of Arab descent for training missions in Lebanon with Hezbollah. If in fact these reports are true, the active coordination of U.S. enemies may be a growing trend with more serious and dangerous prospective threats to American global interests than already exist.
During the Israel-Hezbollah War in 2006, Chavez removed Venezuela's ambassador to Israel and called the U.S. a terrorist nation for supporting Israel. Several months ago Colombian authorities broke up an international drug and money-laundering ring that included three men suspected of shipping funds to Hezbollah guerrillas, confirming American fears that the group is active in Arab communities on the South American continent.
New Tang Dynasty Television, a nonprofit Chinese language television broadcaster based in New York City, covered the story in a report posted on YouTube here.
Last fall, I remember being in a cab in New York City driven by an Argentinian immigrant who spoke to me in broken Arabic about the history of Arab immigrants in South American countries. With boastful banter, he listed famous Arab-Argentinians such as Argentina's former president, Carlos Menem, whose parents immigrated from Syria and many other regional leaders. The Former President of Colombia Julio Cesar Turbay's grandparents were also Arabs who arrived to trade following the fall of the Ottoman empire. In Ecuador, both Presidents Jami Mahuad, and Abdala Bucaram were of Arab descent.
The powerful group of business and political leaders of Arab descent is championed by Carlos Slim, the son of a Lebanese immigrant and the richest man in South America. Both of Slim's parents are Lebanese, arriving in Mexico City at the beginning of the 20th century. His father's name was Youssef Salim (not to be confused with Cat Stevens new name Youssef Islam) until he dropped the "a" in his last name and changed his first name to Julian. Slim, who is Mexico's most famous businessman, ranks as the second-richest person in the world and owns a 6.4% common-stock stake in The New York Times Company.
The success and influence of Latin Americans of Arab descent is not limited to the political and business spheres. Even Salma Hayek, who became one of Hollywood's leading Latinas, was born in Mexico to a Lebanese Father and Mexican mother. Then there is Shakira, whose full name is Isabel Mebarak (the same last name as Egyptian president Hosni Mubarak). Showing her Arab roots at a concert in Dubai, she sang the famous Lebanese songstress Fairuz's hit , demonstrating her likely inheritance of gyrating hips from her father's Lebanese side.
In light of Russia's recent donation of ten fighter jets to Lebanon, closer ties between Iran, Russia and Venezuela, and America's dependence on Venezuelan oil, it is likely that the fight against what the U.S. deems "terrorist organizations" may involve areas other than Baghdad, Beirut or Balkh.
Jeffrey Goldberg wrote a piece in 2002 for the New Yorker that chronicled the substantial minority of Arab Muslims living in Ciudad del Este, a city in an area known as Triple Frontier, where Paraguay, Brazil, and Argentina meet. He suggests that the terrorists, associated with Hezbollah and Hamas, hold celebrations on September 11th, weekend training camps in the rain forest that include weapons training and rely on both illicit and legitimate activities for fund raising.
His report, published six years ago, suggests that a base for terrorism in South America is likely to grow as Hezbollah stands to earn international recognition after being acknowledged domestically as a legitimate political entity. Poised to strengthen its standing even further following the parliamentary elections in May, Hezbollah's apparent growing presence in the West, particularly in South America, a region that the U.S. government and media has generally neglected since Iraq, Terrorism and the Near East entered center stage, may be demonstrative of their growing support globally.
Support HuffPost
The Stakes Have Never Been Higher
Related
Popular in the Community