The narrative coming out of the 104-89 Warriors' victory over the Cavaliers in Game 1 is that the supporting cast (particularly Livingston) was hugely important -- and they were. Livingston scored 20 and the Warriors' bench outscored the Cavs' bench 45-10. Especially with Curry and Thompson combining to score only 20 points -- the easy narrative is that the Cavs' D shut down the Warriors and now they simply have to make adjustments to tighten their D against the Warriors' bench and they'll be good to go. That's wrong. The reality is the Warriors' had open looks all night long.
The problem for the Cavs is that their personnel can't match up defensively with the Warriors because they insist on playing Kyrie (38 min) and Kevin Love (37 min) -- heavy minutes. And the Warriors are incredibly disciplined about punishing bad defenders.
Remember in the Thunder series when people kept talking about the defense of Adams or Ibaka or Durant on Curry 1:1? They're obviously not supposed to be on Curry -- they got switched onto him and had enough length, quickness and defensive smarts to bother Curry's arsenal of weapons. Love and Kyrie are nowhere in their class defensively.
Take a look at this play in the first quarter. Curry brings up the ball and has Kyrie on him. They run a pick and roll with Ezeli because that's who Love is covering.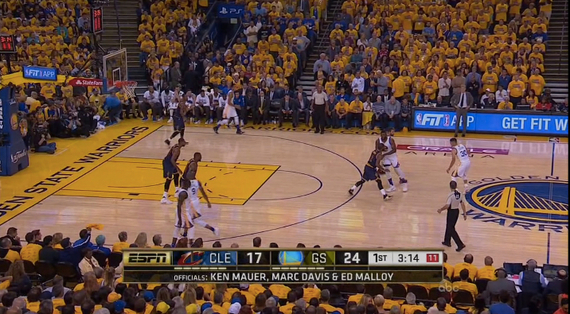 Because Love can't stay with Curry, the Cavs' response is to double Curry -- so here you see Kyrie and Love on Curry. Notice Draymond with both hands in the air because he's wide open.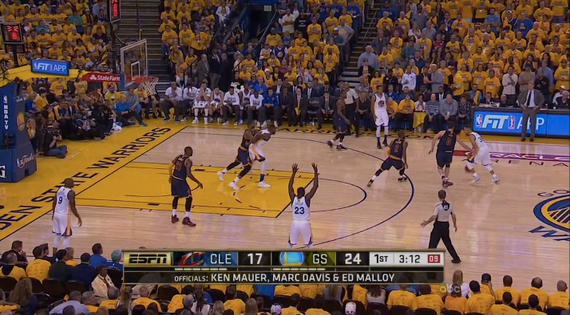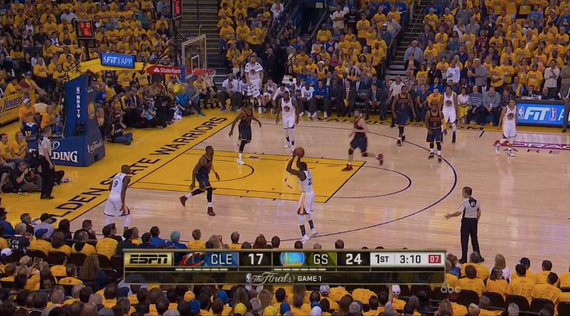 Here's an example of how the Warriors attack Irving. In this play, Barnes is bringing up the ball and you can see Kyrie shadowing Curry.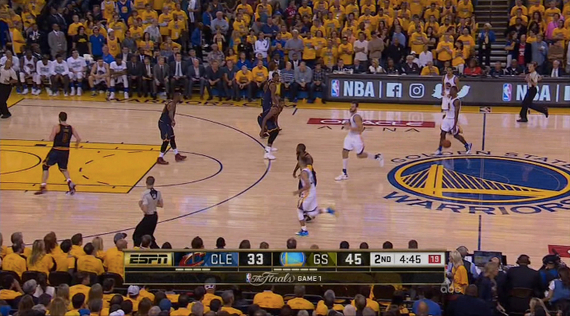 Bogut sets a screen for Curry -- you can see how open he already is. Remember this in the Thunder series? Oh wait, you don't? That's right -- because this wasn't happening.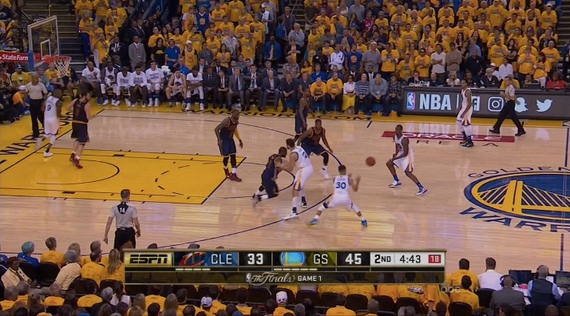 That leads to an open Curry 3. I wonder what LeBron is thinking seeing him that open.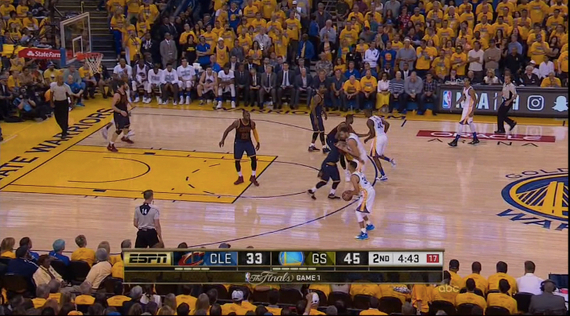 By the way, Draymond and Curry both missed these wide open 3s -- that's why I think the narrative of the Warriors' bench winning this game to be overly simplistic. Everyone was getting these open looks -- it just so happened that their bench knocked down these shots while their starters missed them (don't expect that to happen again).
Here's another example of how the Warriors attacked Love. In this play, Klay has the ball, and they're running a pick-and-roll with Bogut to attack Love.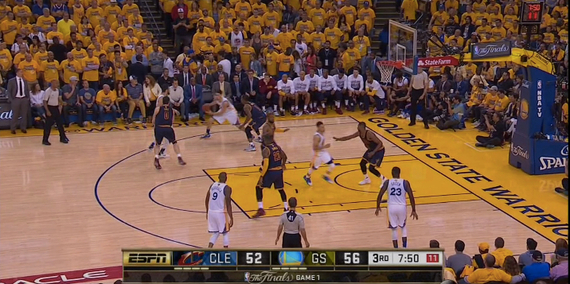 Here, the Cavs switch! (Terrible idea.) So Love is now singled up on Klay.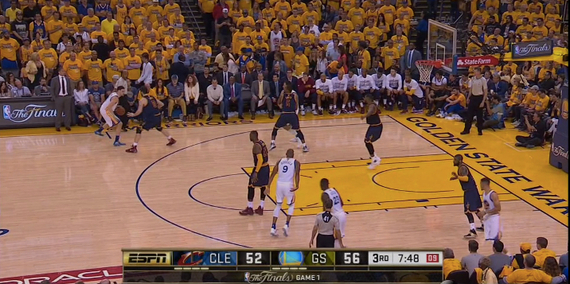 Klay drives on Love, who can't stay in front of him, forcing the Cavs' defense to collapse and three (!) defenders are now helping.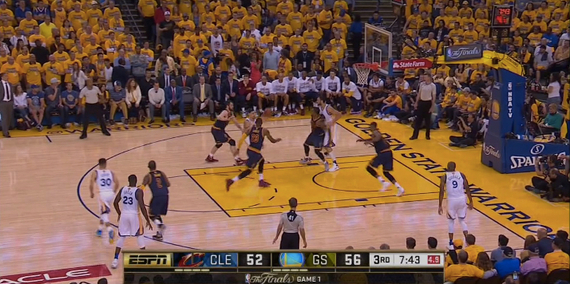 That led to a wide open Iguodala 3. (Notice how open Draymond is here as well.)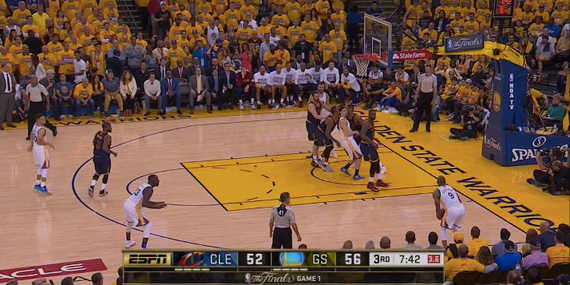 In his post game press conference, Coach Lue said in referring to their defense on Steph and Klay, "our guys did a great job of locking into those guys." No they didn't. Steph and Klay had plenty of open looks and just because they're not shooting doesn't mean that their defensive scheme isn't leading to wide open looks for other guys -- guys who are capable of knocking shots down. The Warriors could've easily won by 30.
So what can the Cavs do? I'm not really sure. The obvious answer to me is to play a more defensive oriented lineup of Delly/Shumpert/LBJ/Frye/Thompson -- which is similar to what they had to play last Finals out of necessity -- and then run a variant of the bully ball offense they ran with James last time. It's ugly (and the Warriors eventually solved it) -- but it gave the Cavs a legitimate chance of winning the series. Here, the Cavs' scheme is playing right into the Warriors' strengths and they're destroying them. It's hard to know if they're playing Kyrie and Love so much because they think it gives them the best chance to win or because of their stature. But one thing's for sure, if the Cavs continue to do so -- the Warriors will relentlessly attack it and this should be a short series.