University of California Davis spent an exorbitant amount of money to make you forget that one of its officers pepper-sprayed a bunch of students for protesting tuition hikes.
Then the school spent even more to whitewash negative search results about the 2011 incident and the lawsuits and resignations that followed.
Well, Internet, here's what started it all: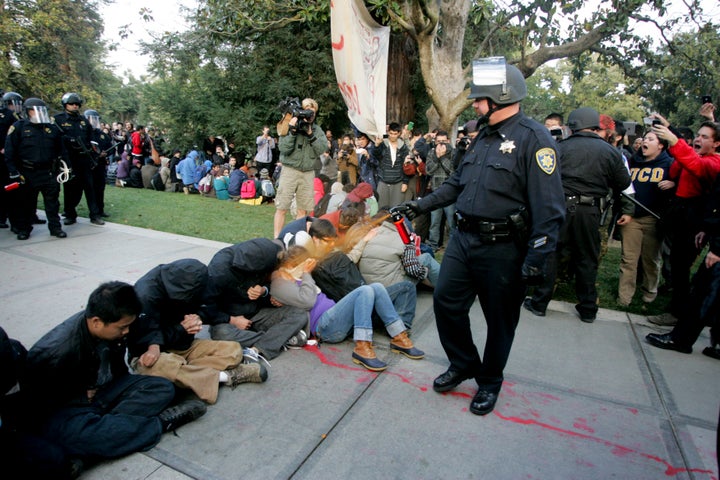 The video, photos and memes that resulted were such a public relations nightmare for the school that it paid $175,000 for consultants to scrub its negative search results and improve the reputation of university Chancellor Linda P. B. Katehi, according to expenditure documents obtained by The Sacramento Bee this week.
But that's just a fraction of the millions that UC Davis either paid out or set aside for future problems.
On Nov. 18, 2011, Lt. John Pike and another officer doused seated, unarmed student protesters with military-grade pepper spray for about 15 seconds at point blank range. Pike received 17,000 threatening emails, 10,000 texts and hundreds of letters after the incident, while many called for Katehi's resignation, according to SF Gate. His nonchalance during the incident sparked the "Casually Pepper Spray Everything Cop" meme, with images showing Pike spraying students alongside phrases like, "Don't Mind Me, Just Watering My Hippies."
UC Davis would pay almost $1 million in settlement money to 21 students and their lawyers. It put Pike and former UC Davis Police Chief Annette Spicuzza on paid administrative leave for an undisclosed amount of money and time. Then, the university awarded Pike more than $38,000 in workers compensation for "psychiatric injury" he sustained during the fallout.
In all, UC Davis has funneled millions toward its problem. Here's a breakdown:
$980,000 — In 2012, a settlement was reached to pay 21 students $30,000 each, pay $250,000 to their lawyers, and set aside an extra $100,000 in case more plaintiffs joined the class action.

$175,000 — In 2013, UC Davis hired various consultants to improve the university's search results online and boost its image.

$38,055 — Two years after the incident, Lt. Pike was awarded workers compensation for psychiatric damage.

$2,540,000 — The Bee found that the university increased its strategic communications budget from $2.93 million in 2009 to $5.47 million in 2015, in part so that the "reputation of the university is fairly portrayed," a spokeswoman told the paper.

An unknown amount of money spent while Pike and former police Chief Annette Spicuzza were on paid administrative leave.
A spokeswoman told The Huffington Post: "Most of the growth in the communications budget is tied to raising the visibility of our College of Agricultural and Environmental Sciences and the School of Veterinary Medicine, both rated the best in the nation.
"As part of this overall communications strategy, it is important that the excellent work underway at UC Davis with respect to educating the next generation of students, pursuing groundbreaking research, and providing important services to the State is not lost during a campus crisis, including the crisis that ensued following the extremely regrettable incident when police pepper-sprayed student protesters in 2011."
It continues to spend money today on consulting firms to try and erase the incident and keep Katehi under the radar. Its most recent expenditures include a consultant paid for on March 1, according to The Bee.
Popular in the Community