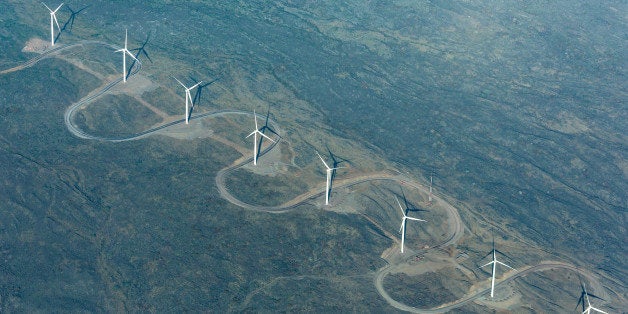 In a major change that could effectively nix plans for the long-debated industrial-scale wind farm proposed for Lanai, state policymakers have in recent months shifted their interest toward connecting the Oahu and Maui electric grids.
If the grid-link comes to fruition, it should allow more renewable energy to be brought online, help the state toward the goal of energy independence and potentially bring down electricity rates, say officials.
Mark Glick, who heads the state energy office, told Civil Beat that it's highly unlikely that Hawaii would simultaneously pursue both the Lanai wind project and the Oahu-Maui grid connection. For now, it looks like it will be one or the other.
The energy office administrator restated his view that the controversial Lanai project, which proposes to bring wind energy to Oahu via an undersea cable, is not essential to meeting Hawaii's mid-term renewable energy goals.
Both projects are currently being debated before the Public Utilities Commission as developers make their case for each.
Glick argues that the benefits of connecting Maui are far greater than for the cables proposed for Lanai and Molokai under the Big Wind project. And he thinks the Maui project can be executed in a way that prevents the sort of community opposition that has plagued Lanai and Molokai. (The Molokai portion of the project has since fallen apart.)
"This isn't Oahu-centric," Glick said of the Maui-Oahu cable. "This is a statewide project. There are winners throughout and that's a different thing."
With the Lanai and Molokai wind farms, he noted, there were definite losers. On both islands, residents complained, among other things, that they were sacrificing their land and environment for wind farms that fed Oahu's huge hunger for energy.
Glick says that connecting the Oahu and Maui grids is fundamentally different from the other projects. The cables from Molokai and Lanai have been described as extension cords that transport energy to Oahu. The Maui cable would actually link the two electric grids, allowing electricity to — if everything worked out right — be transferred back and forth seamlessly.
This would be good for many reasons, he says. By connecting the individual island grids, both islands would be able to bring more renewable energy online. Currently, the grids can only handle a relatively small penetration of wind and solar energy before engineers become concerned that the energy will harm their power systems.
"This helps eliminate or at least reduce the bottlenecks in a long-term way," said Glick.
Linking the grids would also allow the utility to absorb wind energy that is being dumped because there is currently no way to absorb it. About 30 percent to 50 percent of the energy from Maui's three wind farms is being wasted, said Bob Kendall, a managing director for Navigant, an international energy consulting firm that has produced voluminous studies on Hawaii's renewable energy options.
The connected grids would also allow the electric utility to reduce its spinning reserves, which consist of backup power that the utility keeps idling in the event of a major power outage, said Kendall. (He noted that such reserve energy results in "massive costs.") It could even allow Maui to retire its 53-megawatt oil-powered generator because it could rely on Oahu as a backup.
Ultimately, connecting the grids would result in an estimated $1 billion in fuel savings, he said, allowing HECO to further retire old oil-powered generators.
The cable's price tag is estimated at $700 million, which would be paid off by ratepayers over the course of its 30 to 50 year lifetime. Even if no new renewable energy sources are brought online, Kendall says, the cable would save ratepayers $10 million just from increased efficiency — and that's after subtracting the estimated cost of the cable.
As Hawaii seeks to advance toward energy independence, satisfying Oahu's large appetite for electricity, where 75 percent of the state's population lives, has been one of the greatest obstacles.
HECO and energy policymakers have long argued that Oahu doesn't have the renewable energy resources to serve its population, at least not in any affordable way, and that it must rely on energy from the neighbor islands.
But recently, HECO announced long-term energy plans that conclude that it is possible for Oahu to meet the state's renewable energy goals without breaking the bank.
This sparked skepticism in the state energy office where officials said that none of their energy analyses supported such a conclusion. (Glick said he has asked for HECO's analysis, but has yet to receive it.)
But while developers might be able to place wind turbines and solar farms around Oahu, one of the biggest questions is whether they can do so at a price that makes sense.
Navigant's analysis compared the cost of implanting 200 megawatts of wind energy — about 70 wind turbines — on Oahu versus Maui. A conservative estimate, according to Kendall, is that it would be $423 million cheaper on Maui. The savings come, in part, from stronger wind resources.
Glick said that if the grids are connected, electricity rates on Oahu and Maui would be equalized, which would mean electric bill savings for Maui residents. The rates they pay have traditionally been higher than those on Oahu.
But questions remain as to whether Maui residents will accept or perhaps even support the Maui-Oahu cable. Unlike on Molokai and Lanai, Glick said he hadn't heard of protests from Maui residents.
"It's a different environment today and I'm not going to dig back in the past," he said. "I'm going to walk forward very confidently, and hopefully we can resolve issues to make it a positive thing for everybody."
But Doug McLeod, Maui's energy commissioner, was less confident that the connected grids would go over well there.
The county wants the cable, McLeod said, but he expects residents to argue that Oahu should do more to satisfy its own energy needs internally rather than rely on Maui or other islands to serve as a sort of "energy colony."
"I'm one hundred percent sure that is going to be a live issue," he said.
And Maui residents aren't particularly amenable to more wind farms for aesthetic reasons and due to the underlying sense, whether perceived or real, that current wind farms haven't brought the promised benefits to ratepayers, said McLeod.
He said that there is more support for solar farms.
But while Navigant's report found greater incentives to install wind energy on Maui than on Oahu, they are less obvious with solar.
McLeod also raised concerns about the economic benefits of the cable and said he expected the county to deal with the wind curtailment problem way before any cable is online. There are other technologies such as battery storage or pumped hydro that could also reduce curtailment, he said.
"We are really, really nervous about how you calculate the financial benefit of a cable," said McLeod. He added that changes in the industry between now and 2020, when the cable would start to have an impact, could be as important as what happens in the years after the cable becomes functional.
In other words, given that Navigant's estimated savings rely on projected electricity costs, a lot could change in the energy world between now and the end of the decade.
McLeod said that the state, along with energy developers, will need to find a convincing explanation about the cable's benefits for Maui residents because he thinks that simply arguing that the grid-link will bring down electricity rates on the island won't be sufficient.
"It's an illusory promise," he said. "They made the same claim on Lanai that the cable will level out rates. After a couple of years, what we found was that Oahu rates had risen so much that the majority of the supposed economic benefit was gone. The same thing could apply between Oahu and Maui."
And given that he believes that technical arguments in favor of the cable are "incomprehensible to average people," McLeod said it remains to be seen which of the good arguments in favor of the cable might win over the residents of Maui.
"I can't finish the sentence so that the average person nods their head and says that makes sense," said McLeod.
If he finds the answer, it could be empowering.
Related
Before You Go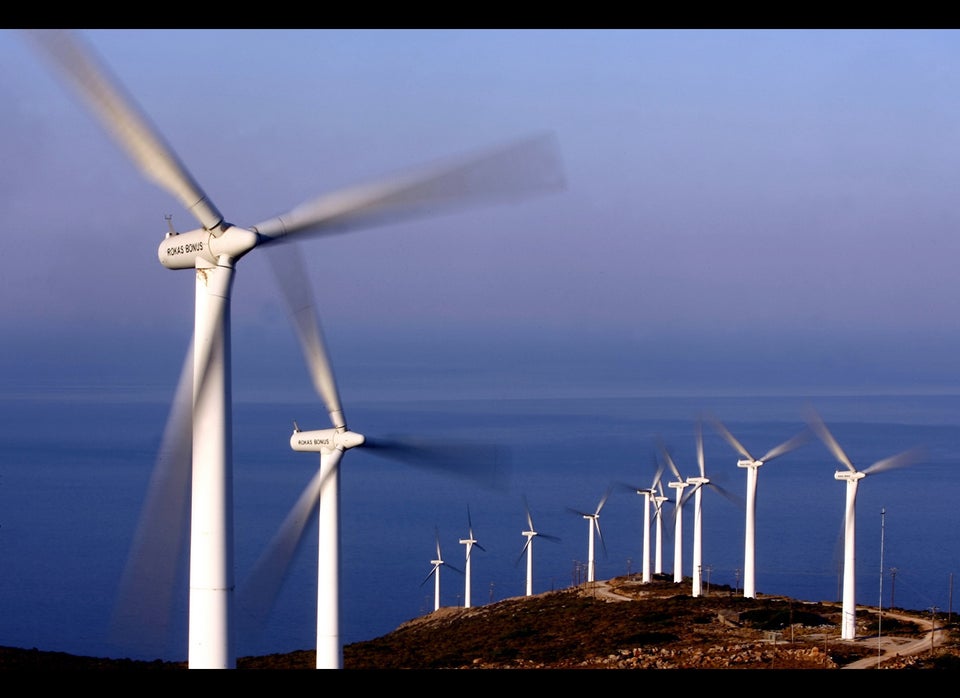 Wind Turbines Around The World
Popular in the Community