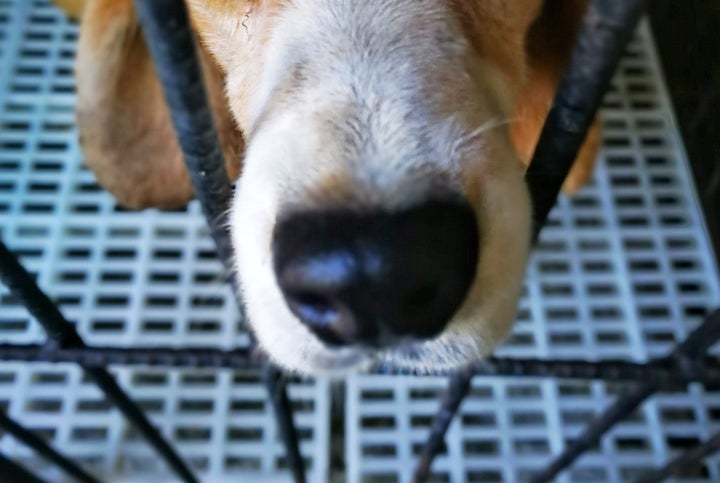 Robert Wilkie, secretary of the Department of Veterans Affairs, pledged Friday to continue allowing researchers to conduct ultimately lethal experiments on dogs, nearly eight months after Congress passed a measure to hinder the practice.
"I am going to do everything possible to make sure our veterans come first," Wilkie said at a National Press Club event in Washington, D.C.
The department is actively planning medical studies using dogs, USA Today reported earlier this month.
"I love canines," Wilkie said. "I was raised with them. I've seen them in my military life perform miracles. But we have the opportunity to change the lives of men and women who have been terribly hurt." 
Wilkie said he would continue to authorize animal testing "until somebody tells me that that research does not help" lead to medical advancements for humans.
Animal welfare groups and wide swaths of the general public oppose canine experimentation on grounds that it is extremely painful for the animals and excessively cruel. Experiments have been conducted on dogs as young as 6 months and involve surgeries to their brains, spines and hearts. 
The dogs are killed at the end of the studies.
"The VA has become a canine house of horrors," said Rep. Vern Buchanan (R-Fla.) in a statement provided to HuffPost. Buchanan, a military vet, was one of nearly 100 members of Congress to co-sponsor the PUPPERS Act, a measure introduced in 2017 that would have banned dog testing.
Rep. Brian Mast (R-Fla.), another co-sponsor and military vet, said his view on the treatment of dogs was shaped by his service.
"Having sustained catastrophic injuries on the battlefield, which included the loss of both my legs, I am acutely aware of the vital role dogs play in helping troops recover from war's physical and psychological tolls," Mast said in a statement to HuffPost.
Wilkie defended the research by emphasizing the role of dogs in developments such as liver transplants and the pacemaker. He also compared the number of animals experimented on by the Department of Veterans Affairs ― currently 92 dogs ― to the substantially higher number euthanized at American animal shelters on a daily basis.
Justin Goodman, vice president of advocacy at the animal welfare watchdog group White Coat Waste Project, called Wilkie's statements "shameful" and bashed canine research as "a failed and widely-criticized program that wastes public resources desperately needed for veterans' care and services."
The story has been updated with statements from Buchanan, Mast and Goodman.
REAL LIFE. REAL NEWS. REAL VOICES.
Help us tell more of the stories that matter from voices that too often remain unheard.