The holidays have past. Millions around the world feverishly dreamt of what awaited them on Christmas morning. Behind the scenes the true unsung heroes of the holiday were working tirelessly towards the big day. Their goal is to help fulfill the hopes and dreams of individuals around the globe.
No, I am not talking about Santa Claus and his elves; I'm talking about the men and women who selflessly provide goods and services to scores of organizations in need. I was fortunate to meet two such women, Reneé Jackson and Tara Shaw, who created Viacom's Give Back & Get Down holiday event in 2010. The event rallies their fellow employees through the Office of Global Inclusion to get engaged and give back to those in need.
"Each year, when I step back and really think about the positive social impact the event has on our communities, it makes the event and the experience that much more fulfilling," said Reneé Jackson, Co-Creator of Give Back & Get Down.
Give Back & Get Down is an employee-led annual event that partners with numerous nonprofits that focus on a specific cause. Each year the employees choose a new cause to champion. This year they chose literacy and education partnering with five different nonprofits.
This year's featured partners include:
The Chris Canty Foundation - dedicated to enhancing the total development of youth in our communities. Their goal is to utilize sports to affect positive change in the health and well being of children.
Books Through Bars - an all-volunteer run group that sends free, donated books to incarcerated individuals around the country. They send hundreds of paperback books a month and all proceeds go to postage needed to send them.
JumpStart - a national early education organization preparing children for kindergarten. Jumpstart provides language, literacy, and social-emotional programming for preschool children from under-resourced communities.
The Pajama Program - provides new pajamas and new books to children in need nationwide, many of which live in group homes, shelters, and temporary housing facilities.
Literacy, Inc - builds neighborhood networks that support young readers by working with schools, libraries, and community partners.
The 2015 event was a tremendous success collecting thousands of donated books from Viacom employees and Nickelodeon, in partnership with Random House, for the nonprofit organizations.
"We are truly grateful to our partners and the Viacom community for their generosity in donating over 15,000 books to support literacy and education," said Shaw.

Give Back & Get Down promotes a strong sense of unity among the employees while advocating charitable deeds and causes. Set against a festive backdrop, including an impressive performance by young breakout star Alessia Cara, attendees gleefully buzz around the room like the elves from countless Christmas movies. Being there however, one cannot deny the sincerity and kindness upon which this event was founded.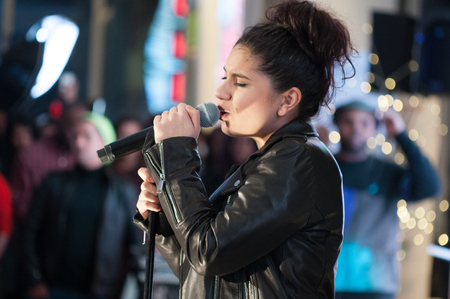 Alessia Cara, Photo Credit: Sterling Batson

"We cannot thank Viacom enough for helping us achieve our goal of donating over 2,000 books to NYC youth this holiday season through our Reading Buddies Initiative (The Holiday Giveaway). Being able to donate these books reinforces our goal to expose youth to positive role models in the community, educational resources, and potential career paths," said President of the Chris Canty Foundation.
Since its inception, Viacom employees collected more than 50 tons of canned food, warm winter clothing, and more for City Harvest, Covenant House and other local charities through the annual charity event. Previous years focused on helping the hungry, supporting United States Veterans and providing disaster relief for those impacted by Super Storm Sandy.
"Each one of us has a responsibility to better our world through positive social impact, "said Jackson. "Give Back & Get Down is my commitment to a better tomorrow." Shaw continued, "I look forward to this event every year because it demonstrates perfectly that giving and receiving are the same. There is no greater feeling than to be truly helpful to someone else."
It is my joy and privilege to spotlight worthy causes and incredible nonprofit organizations through Spotlight On TV. I'm thrilled to also spotlight Viacom, which has been spectacular in its openness to listen to employees while fully supporting volunteers and giving back. Viacom is a wonderful example of how a company encourages their employees to get involved in improving their communities.

As you are going over your resolutions, maybe while watching one of your favorite shows on MTV, Nickelodeon or BET, think about those around you that could use your help. We all can shine our spotlight on making a difference just like the members of the Viacom employee community.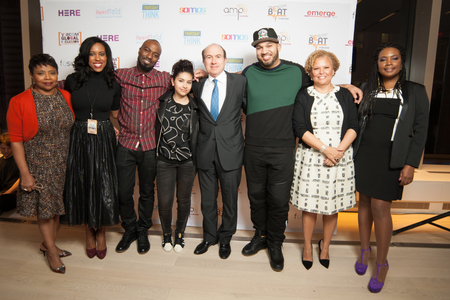 (L to R) Marva Smalls, EVP of Global Inclusion Strategy at Viacom, Reneé Jackson, MTV2's Desus Nice, Alessia Cara, Viacom CEO Philippe Dauman, MTV2's The Kid Mero, BET Networks CEO Debra Lee and Tara Shaw, Photo Credit: Sterling Batson
For more celebrities, causes, & incredible nonprofit organizations, please visit Spotlight On TV
For booking, spotlight suggestions, & inquiries email booking@spotlighton.nyc
What cause do you shine your spotlight on?
Related