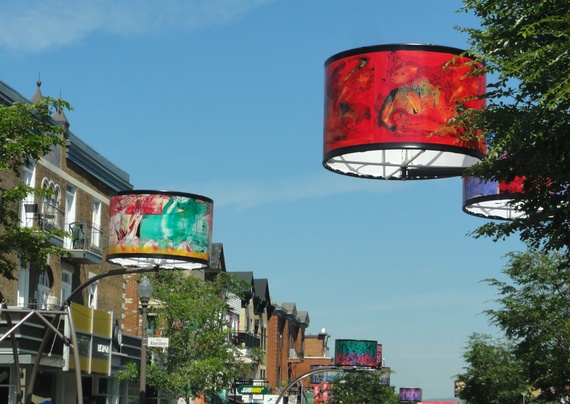 Canada is a big country like the U.S.A. but it has one thing we don't have -- a French speaking and culturally organized (state), province. I know some people think our regional dialects are similar to visiting another country, because they are so distinctive but overall, we still speak English here.
I have traveled to Montréal on several occasions and loved the city - vibrant, very European, and lots of good French food. But I'd never visited Québec City. My assumption had been that it would be pretty much like Montréal but boy was I wrong. My opportunity to visit this beautiful city came this July and a bonus for me was to be able to take my granddaughter
Alex. This would be her second trip out of the United States.
Québec City was founded in 1608, and is perched on very steep hills that overlook one of the narrowest parts of the St. Lawrence River. It's considered one of the oldest cities in all of North America. The "Citadelle of Québec," a fort and still a working military base, looms over the river and was important in defending the city. There is a museum and even a changing of the guards ritual at one of the entrances similar to the one at Buckingham Palace. The fort area is a great walking and biking experience and I could see spending at last a couple of hours exploring.
The Historic District of "Old Québec" is also a designated UNESCO World Heritage Site. There is so much history here that you need at least a week to see it all. We had only a few days and were lucky to have a driving tour of the city, and many of its neighborhoods. The architecture was outstanding and eclectic and the historic homes were well maintained. Many parks, museums, walking trails and even what I call "food trails" abound.
From our hotel, Hotel Roy ) al William, we were able to walk to the Marché du Vieux-Port - the Old Port Market (http://www.marchevieuxport.com/. Along the way, we stopped at a variety of small boutique stores - toys, furniture, food, clothes and other nic nacs.

Before we got to the market, we stopped for a meal at a wonderful restaurant that was right on the street. The Charbon Steakhouse had fresh salads and wonderful meat. (www.charbonsteakhouse.com) It was also a great place to people watch!
The city is filled with lots of public art and right outside of the market was a giant colorful, and fun piece! I'm not sure what it represented but it was fun to try and figure out.
As you entered the market, your senses were definitely awaken because it was filled with so many smells of tasty and fresh foods -- vegetables, local cheeses, hand made truffles, blueberry jam, stews, baked goods, fish, honey, fresh flowers, and of course soft serve ice cream! We ate from one end of the market to the other. It was just nice to hang out and be a part of the hustle and bustle.
We saw vibrant and colorful public art all over the place, and loved the commitment from the city to ensure it exists. Later we explored the Graffiti Park, a designated space under an overpass of two major road connections. Pretty startling and colorful art adorned the pillars and walls. We liked it a lot. We knew we missed more art and if we had additional time we would have continued our trek to many more public spaces and areas within this wonderful city. Did I say Québec City was one of the best cities to walk in?
There's a tourist guide everyone should have - Québec City Passport. It's a book filled with coupons, and discounts for some pretty neat things to do. The Passport usually covers two adults and two children 12-years or younger. It's really a guidebook of all the attractions in the city and can be purchased ahead of time. (http://www.citypassports.com/)
That's the beauty of Québec City -- it has art, food, history and culture. Québec City is a kid friendly place all year round, and caters to kids of all ages. Bottom line, my granddaughter and I are coming back to this fun city and hope you will make it a destination priority for you and your family too.
Granny Regina and Alex eating another soft serve ice cream cone and loving it!