There once was a time when the fashion industry's most significant runway was at 35,000-feet and enclosed in a metal tube. Pill hats, go-go boots, designer scarfs and dresses designed by haute couture fashion houses were just some of looks that graced the in-flight crew on board the nation's top jetliners. This was the "golden age" of air travel - when a passenger's fur coat was hung in the pilot's closet, bar carts rolled through the aisle, metal cutlery was served with in-flight meals, and everything from pillows to pretzels were free. While the rules have changed over the years and flying has become a bit more stringent, no one ever said in-flight fashion has to suffer.
"That was my era - the late 70s," said Doreen Lawrence, director of in-flight at Virgin America and a former flight attendant. "You felt good in your uniforms. You had a lot of confidence. We wanted to bring back that feeling."
And with the help of Banana Republic, Virgin America believes they have.
Later this summer Virgin America will debut a new look for their flight and ground crew, but we got the exclusive preview at what's to come.
With the help of Virgin America teammates (including cabin crew, pilots and gate agents), Banana Republic designed new uniforms that meet the requirements for a comfortable, functional and fashionable in-flight and on the ground wardrobe. The new uniforms are the result of an 18-month project between Virgin America and Banana Republic in which the retailer's top designers collaborated with the airline's creative and brand team to refit everyone from ground crew to pilots.
"Function and fashion were the two main driving forces of the project," said Simon Kneen, EVP of Design & Creative Director for Banana Republic. "In each part of the design process we had to think back to who would be wearing these uniforms, the long hours of wear, activity of walking, sitting, reaching in overhead bins, etc. We chose fabrics that would be wrinkle-free yet comfortable, even adding a bit of spandex to shirt, pants and skirts to provide a bit more elasticity for moving around, while also thinking to lengthen the shirts to prevent them from coming un-tucked."
The entire design process took 18 months from start to finish, and involved ongoing discussions with Banana Republic designers and members of the airline and focus groups, and included various fit sessions and functionality testing with crew.
"The uniform we have right now was a uniform that was designed prior to anyone from in-flight, flight ops or guest services having a lot of input," said Lawrence. "It looks good, but the functionality isn't wonderful."
Because in-flight crew, for example, spend a lot of time reaching, putting bags in overhead bins and rearranging cabin amenities in-flight, the new uniforms needed to include shirts that didn't untuck when a flight attendant reaches up, and fabric that would stand the test of dry-cleaning time.
The result: Every piece of the new uniforms for all Virgin America members have stretch in them, belts are reversible so you have the options to mix-and-match with airline-issued scarves, and the traditional white shirt has been replaced with a light grey.
"We really listened to our teammates, and we had them participate from start to finish," said Lawrence.
But it's not all about Virgin America employees. The new uniform has also inspired some travel collection pieces (luggage and women's wear) from Banana Republic.
"In addition the new flight crew uniforms, we wanted Virgin America travelers and Banana Republic customers to be able to join in and upgrade their style," Kneen told us.
If you want to sport some in-flight fashion, these items will be available for sale exclusively to flyers on Virgin America's Red's™ in-flight entertainment system Shop platform and in Banana Republic stores. The items available for purchase include stylish aviator sunglasses, a women's tote and a men's messenger bag, and men's and women's trench coats.
This new in-flight fashion line won't hit the skies until Aug. 8, which is also the airline's 5-year anniversary, but here's a sneak-peek at what's in store.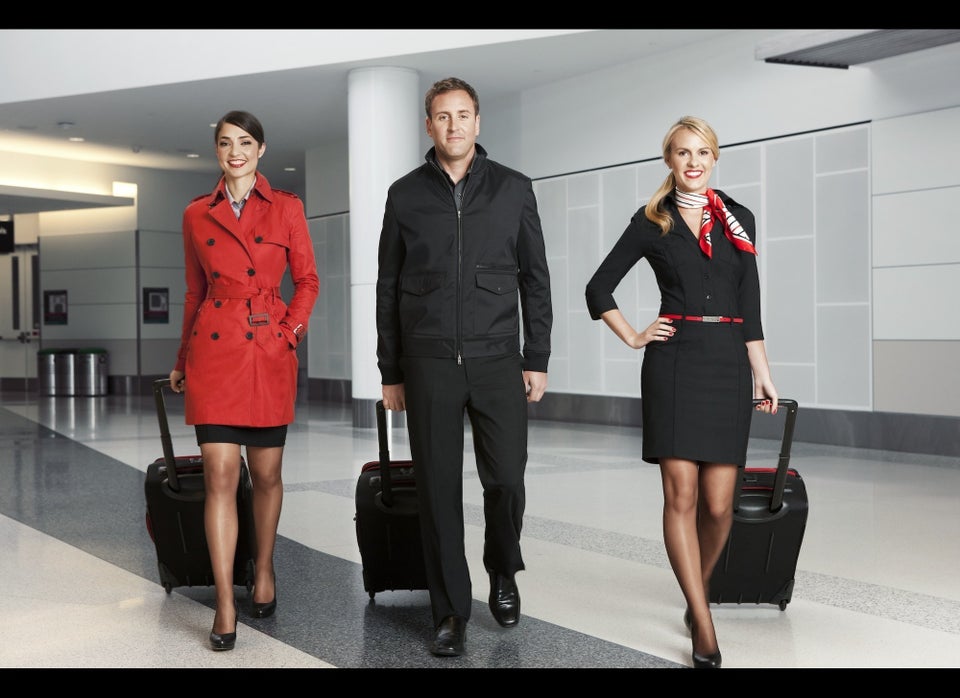 Virgin America's New Uniforms