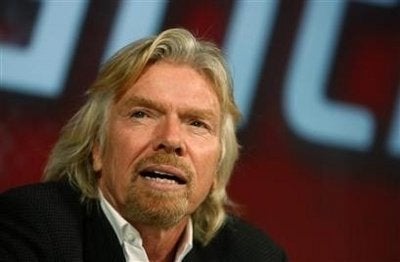 Virgin America Becomes First Commercial Passenger Airline to Join Program
When isn't Sir Richard Branson and his uber-brand making news? Whether it be a slick ad campaign for Virgin Airlines via some co-branding with the latest James Bond Film, or Sir Richard personally darning a wedding dress to launch a new cola product, or his futuristic company- Virgin Galactic sitting on the forefront of commercial space tourism. And most importantly for this mighty-man of aerospace, he feels you can't run a business with out taking into account the environment. And that includes his airlines.
So, in late February, a "vital breakthrough", as Branson calls it for the airline industry, happened on a test flight between London's Heathrow and Amsterdam with a Virgin Atlantic jumbo jet. The plane's one engine flew successfully using fuel derived from a mixture of Brazilian babassu nuts and coconuts. Critics of that flight aside, Branson pushed forward with his bio-fuel ideal, putting Rolls Royce in charge of converting his airplane engines to run on bio-fuel, a feat no other airline has yet to match.
Always one for setting "firsts", Virgin America, became the first commercial passenger airline to have been accepted into the U.S. Environmental Protection Agency's (EPA) Climate Leaders program, under which government and industry join forces to develop comprehensive climate change strategies.
With Virgin's inclusion in Climate Leaders, the airline has committed to reducing the airline's impact on the environment, beginning with an EPA-led inventory of the company's greenhouse gas emissions.
"As a both a Virgin-branded aviation company and the only California-based airline, it is in our DNA to make environmentally sustainable practices a core priority in our business model," said Virgin America President and CEO David Cush. "Without a viable alternative to jet fuel, we hope that this partnership will allow us and the industry to find new ways to reduce our collective impact on the environment."
This is where America needs to catch up!
Virgin will work with EPA to set carbon reduction goals and annually report all progress, and if anyone can cut through America's bureaucratic read tape to get things accomplished working with the EPA, it's Virgin America.
Although potentially daunting, Virgin America does have a leg up on its competition. The airline operates the newest fleet of commercial aircraft in the U.S. This means they run with 30 percent more fuel and carbon efficiency than an average fleet flying domestically. Not to mention, the airline has built sustainable practices into its training and operations since launching operations in August of 2007- a typical practice of most Branson companies.
The airline also practices that reduce fuel burn and emissions such as single engine taxiing, and here is where it gets techy--maximizing the use of airport ground power, idle reverse landings, and cost index flying -- the practice of regulating cruising speeds to reduce fuel burn and carbon emissions.
It also helps to have the support of the airline's minority investor, the Virgin Group, who has committed to reinvesting all profits from its transportation related business into the research of renewable fuels and other initiatives that combat climate change. They also have partnered with Ceres, a leading coalition of investors, environmental organizations, and public interest groups working with companies to address sustainability challenges.
However this all shakes out, we sure can applaud Sir Richard Branson for having the chutzpah to create change in the airline industry, and step up to the eco-challenges facing the aviation industry today.
Adventure Girl, Stefanie Michaels is an eco-travel and lifestyle expert and an advocate for the environment. Her site Adventuregirl.com offers tips for travelers on green locales around the globe, as well as granting monthly Adventure Girl Green Awards to hotels and resorts making good on their green initiatives.
You can reach Stefanie at www.adventuregirl.com
About Virgin America: Virgin America is a U.S.-controlled and operated airline and an entirely separate company from Virgin Atlantic. Sir Richard Branson's Virgin Group is a minority share investor in Virgin America. Launched in August 2007, Virgin America is a California-based airline that offers guests attractive fares and a host of innovative features aimed at reinventing air travel. In September 2008, Virgin America was rated the "Best Business Class" among U.S. carriers in Conde Nast Traveler's 2008 Business Travel Poll. In July 2008, Virgin America was named "Best Domestic Airline" in Travel + Leisure World's Best Awards. In Zagat's 2007 Global Airlines Survey, the airline was ranked #1 among U.S. carriers for quality in First/Business Class.
To learn more: www.virginamerica.com
About EPA Climate Leaders: http://www.epa.gov/climateleaders.
Related
Popular in the Community