Nowadays, I rarely have enough time to really sit down and enjoy my breakfast. On most days, it's sadly a very "grab and go" situation.
But if you're like me, you look forward to relaxing with a rich, wonderful breakfast on the weekends -- and thankfully, we've got some pretty decadent recipes ready for you, like these cream-cheese-glazed cinnamon roll pancakes!
In an exclusive video below, we share an amazing recipe for rainbow-colored waffles that are sure to start your day off with a smile.
The great thing about this recipe, as with any other breakfast item, is that you can totally customize it however you want to. We've topped our waffles with whipped cream and sprinkles -- but feel free to substitute in anything else!
Check out the recipe below, then watch the video to find out how you can color your breakfast waffles with vibrant hues.
Will you be trying this recipe out next time for breakfast? Let us know in the comments below!
Cook: 5 minutes | Prep: 20 minutes | Serves: 2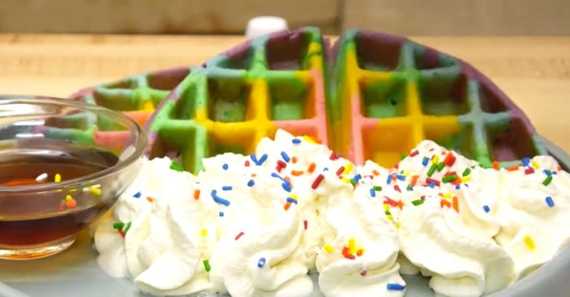 :
1 cup milk
2 eggs
1 cup all-purpose flour
1 tsp. baking powder
2 Tbsps. sugar
1/4 tsp. salt
4 Tbsps. unsalted butter, melted
5 to 7 different food colorings
Whipped cream, sprinkles, and syrup
:
In a bowl, combine milk and eggs. Whisk well.
In another bowl, add flour, baking powder, sugar, and salt. Mix well with fork.
Add in milk and egg mixture into flour bowl. Add in melted butter, and mix to form a batter.
Divide batter evenly into 5 to 7 jars.
Add a different food coloring to each jar. Mix well to dissolve, and transfer batter to Ziploc bags.
Pour each batter bag into waffle maker in a circular motion, or to make any other pattern you like.
Cover and cook until golden brown and slightly crisp, about 5 minutes.
Serve with syrup and sprinkle-topped whipped cream. Enjoy!
Make sure to watch the video below for the full tutorial, and to see how easy and straightforward the recipe is. Please SHARE if you love colorful, one-of-a-kind recipes!
More LittleThings Recipes
: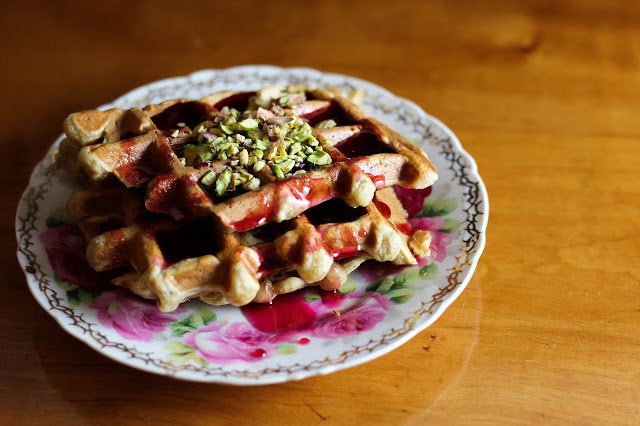 28 Waffle Recipes