(Adds county ordering the shop to close, 12 paragraph)
PARKLAND, Wash., March 5 (Reuters) - Sealed bags of marijuana dangle behind a counter, curved glass pipes glimmer on shelves, and a steady trickle of middle-aged customers gleefully buys cannabis strains nicknamed Charlie Sheen and Godzilla.
"The Gallery" is similar to more than 100 other lawful state-licensed marijuana retail shops and hundreds of medical dispensaries in Washington state, with one exception: It is operating in defiance of local law.
Its opening on Sunday set up a potential showdown with authorities in Pierce County, about an hour outside Seattle, which has effectively banned recreational pot shops in unincorporated areas so long as the drug remains illegal under federal law, even as medical pot businesses flourish virtually unregulated.
"We didn't do this to pick a fight with the county," said co-owner Tedd Wetherbee, 47, in between chatting up customers in his shop in Parkland, in unincorporated Pierce County.
"But at the same time we are state-licensed legitimate businessmen that want to do what the county seems to let other people do without any license."
Since Washington state legalized recreational marijuana in a landmark 2012 vote that ushered in licensed retail pot shops in July, scores of municipalities have passed laws curbing their operations, from constricted zoning to outright bans.
That has frustrated would-be pot entrepreneurs, such as Wetherbee, who are keen to capitalize on what they call a glut of recreational-use marijuana products with few stores licensed to sell them. Fifty-four percent of Pierce County voters backed marijuana legalization.
"This act of theater will either embolden a bunch of other people to do it, or it will create really great PR for him," said Dominic Corva, executive director at the Center for the Study of Cannabis and Social Policy.
Wetherbee has argued in lawsuits that local pot-business bans that scuttled his retail plans in two other towns violate state law, and says it makes little sense to ban tightly regulated retail establishments while allowing medicinal shops to operate unchecked.
State lawmakers are weighing proposals to license medical-use stores to, among other things, ensure their products are safe, a move entrepreneurs say would help level the regulatory playing field.

Amid that uncertain landscape, Pierce County authorities say they have visited The Gallery for several inspections and advised Wetherbee he lacked proper permitting.
On Thursday, Pierce County, which had objected to Wetherbee's application for a state retail pot license but failed to block it, ordered him to stop selling marijuana by March 19 and said it could impose daily fines of up to $1,000 or seek criminal charges. Wetherbee said he would appeal the order.
Washington state's top lawyer has said the recreational marijuana law does not prevent local governments from banning pot businesses. But state regulators who grant the licenses do not consider local laws in their review process.
"We have issued other state licenses in places where there are bans and moratoriums, though he is the only retailer that I have heard of, but there may be others," said Liquor Control Board spokesman Brian Smith.
There was no sign of controversy on Tuesday in Wetherbee's shop, where pot products are displayed beside sculptures and abstract art. Its nondescript entrance contrasts sharply with the bold signage of a gun shop next door.
A cut-out of former President Bill Clinton invites shoppers to "please feel free to inhale." A security guard checks that patrons are at least 21 years old. Sealed bags of cannabis strains sell for about $14 to $24 per gram.
Among the patrons was a construction worker who uses marijuana to "kick back" and a 29-year-old former U.S. Army medic battling insomnia and anxiety since returning from Afghanistan and Iraq.
"I was going to a store down in the city (Tacoma), but this is a lot closer to my house," said the former soldier, who gave his name only as Josh. "I like the environment a lot better too, the gallery feel." (Reporting by Eric M. Johnson in Parkland, Wash.; Editing by Cynthia Johnston, Mohammad Zargham, Clarence Fernandez and Eric Beech)

Before You Go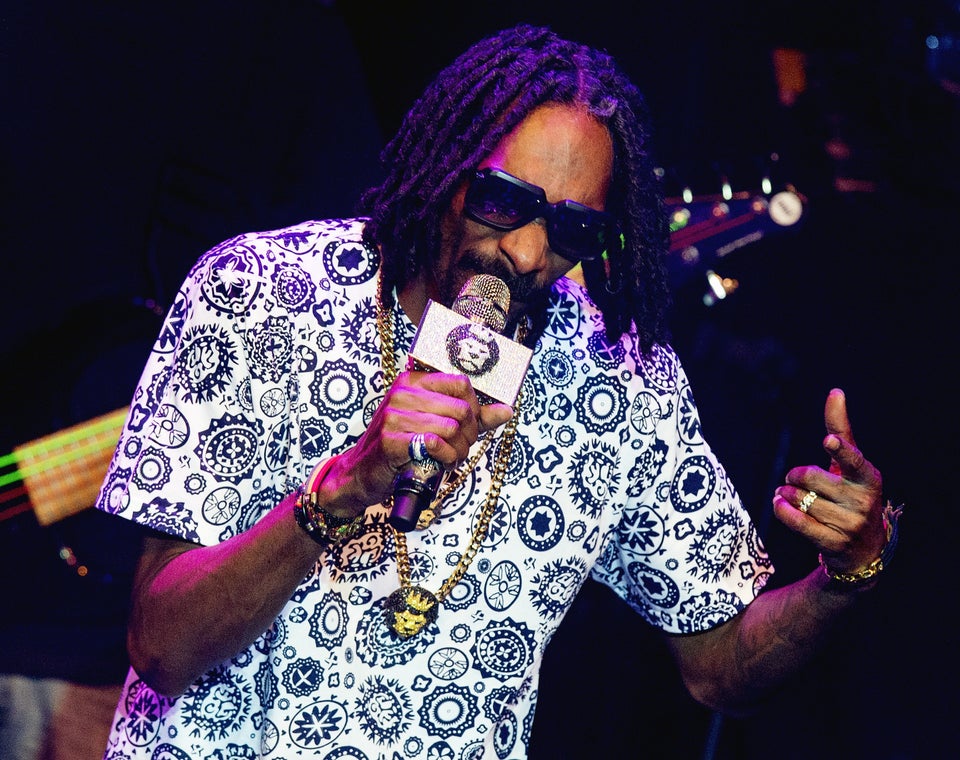 Most Influential People Who've Used Marijuana
Popular in the Community