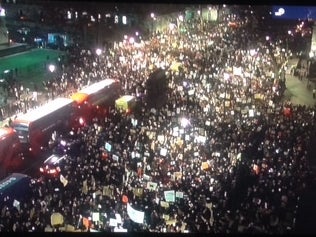 European governments and publics are reacting forcefully to the executive order signed by President Trump on Friday banning admission to the U.S. for people from seven Muslim-majority countries.
Thousands of people protested in U.K. cities against the ban yesterday, and senior figures across the EU have condemned the order.
"The necessary and decisive fight against terrorism in no way justifies a general suspicion against people of certain beliefs, in this case people of the Muslim faith or from a certain origin," said German Chancellor Angela Merkel. "These actions, according to my beliefs, are against the core idea of international aid for refugees and international cooperation, " she added. French Foreign Minister Jean-Marc Ayrault said that welcoming refugees was "a duty of solidarity," and that "Terrorism doesn't have a nationality; discrimination is not an answer".
In Britain, a petition on the official U.K. Government and Parliament website to prevent Trump from making a state visit to the U.K. has already reached over 1.5 million signatures. The petition easily gained the 100,000 names needed to precipitate a parliamentary debate.
It states that "Donald Trump should be allowed to enter the U.K. in his capacity as head of the U.S. Government, but he should not be invited to make an official State Visit because it would cause embarrassment to Her Majesty the Queen". This isn't just about saving Her Majesty from an awkward chat over tea, or saying that hosting Trump at Buckingham Palace would be as absurd as giving him having a cameo in Downtown Abbey, it's about British public anger at the visa ban.
U.K. Foreign and Commonwealth Minister Boris Johnson, who has called the ban "divisive and wrong," floundered in defending Trump's proposed summer visit, suggesting it might not be all that embarrassing after all because "We've had Nicolae Ceaușescu and Robert Mugabe over here on state visits".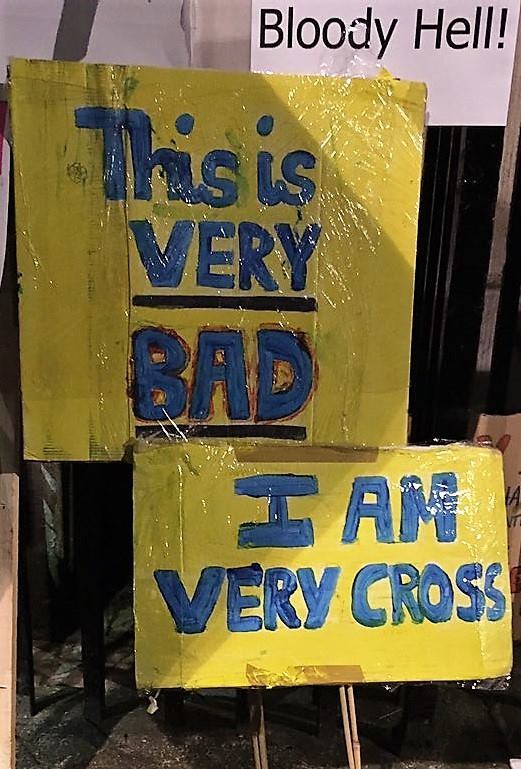 In Ireland, Taoiseach Enda Kenny has said he still intends to visit the White House as part of the traditional St. Patrick's Day celebrations in mid-March, despite calls for him to boycott this year's event. But he also said that "In respect of the policy introduced by the American government, I disagree with it...I will obviously say that to the [U.S.] president and vice-president when I meet with them."
More importantly, Kenny revealed he has ordered "a complete review now of the pre-clearance [U.S. immigration] facilities here in Ireland," as the Irish government confirmed that one person has been refused pre-clearance at Dublin Airport by US immigration staff since the executive order was introduced.
Not even two weeks into office, Trump is embarrassing key European allies and damaging U.S. credibility across the world.
But not everyone in Europe is unhappy at the ban. Geert Wilders, leader of the Dutch far right Party for Freedom, which is showing strongly in the run up to March elections, commended the move, saying "No more immigration from any Islamic country is exactly what we need. Also in The Netherlands. For Islam and freedom are incompatible".
The German neo-Nazi National Democratic Party, described by the German intelligence agency as "racist, anti-Semitic, and revisionist," welcomed the executive order, delighting in what it saw as "the massive restriction on the entry of pseudo-refugees and Muslims to the USA".
Popular in the Community