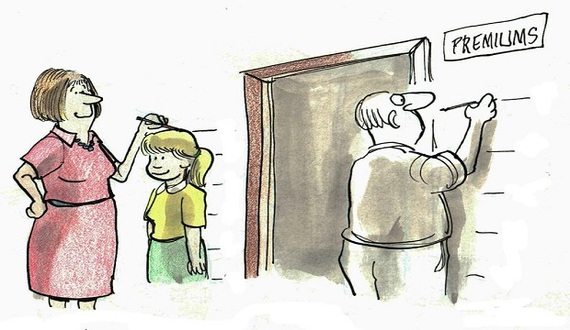 If you are a Medicare beneficiary who has your Part B premiums directly withheld from Social Security (SS) you are safe. Because if you are in this boat, you aren't required to pay any premium increases at all next year since you legally have a safe haven. You are "held harmless" against increases since you can only experience increases in your Medicare Part B premiums up to the SS Cost of Living Adjustment (COLA); and there was no COLA adjustment this year!
Consequently, this is greatly affecting people who are not collecting SS (and paying their Part B premiums directly to SS), because Medicare cannot absorb all the projected increases in 2016 Part B expenses. By law, Medicare must collect about 25 percent of Part B expenses from beneficiaries. Because it can't collect any more dollars from the beneficiaries who are "held harmless," it reaches the 25-percent ratio by collecting a lot more from people who aren't held harmless. Therefore, it is projected these people will have to pay much more in Part B premiums next year. Part B premiums are projected to go from $104.90 a month to $159.30 in 2016 - a 52% increase!
The people who will have to pay the higher premiums include new enrollees to Medicare in 2016, people with modified adjusted gross incomes (MAGI) above $85,000 ($170,000 on joint tax returns), and enrollees who do not receive a Social Security benefit. People with low-incomes who have their premiums paid by their state are also not held harmless, so state budgets would also take a hit next year.
For example, let's say you are you are among those who are currently considering different Social Security claiming strategies such as file-and-suspend, restricted application and delay to age 70 to take advantage of SS's delayed retirement credits of 8% per year. You are subject to this Medicare Part B increase in 2016 since you are not currently receiving benefits. With this in mind, it is very important for individuals and families to determine if the benefit of their Social Security claiming strategy is greater than the cost of the increased Medicare Part B premium.
To determine this, a cost-benefit analysis must be done to define your break-even age. Your break-even age is the age at which the cumulative benefits from staying with your current SS strategy overlaps with claiming SS benefits now to shelter from the increased Medicare Part B premium. In other words, what you are trying to figure out is over the long-run, does it make more sense to delay SS (and earn the delayed retirement credits) OR forgo this and claim SS now to shelter from this Medicare Part B increase?
After determining your break-even age, you can make the most educated decision possible.
As a final note, it is also important to mention that as a result of the Medicare Access and Children's Health Insurance Program (CHIP) Reauthorization Act of 2015 (the "Doc Fix" law), Medicare premiums for high-income clients will soon increase up to 15 percent for 2018 (based on 2016 modified adjusted gross income). More cost increases, hooray!
Medicare and Social Security planning are not decisions that should be taken lightly as it could mean the difference between hundreds of thousands of dollars over your lifetime. As always, if you do not have the time, energy, interest, or knowledge about this subject matter and how Medicare and Social Security planning are weaved into the overall creation of your financial plan, please consult an objective and credible financial professional to assist you.
About the Author: Gary Williams is President and Founder of Williams Asset Management located at 8850 Columbia 100 Parkway, Ste. 204, Columbia, MD 21045. (410) 740-0220. He offers securities and advisory services as an Investment Adviser Representative of Commonwealth Financial Network®, Member www.FINRA.org/www.SIPC.org, and a Registered Investment Adviser. In 1997, Gary undertook the in-depth study and examinations required to earn the CERTIFIED FINANCIAL PLANNER™ certification, which offers expertise in retirement, tax, financial and estate planning. In 2004, Gary earned the Chartered Retirement Planning Counselor™ designation to more formally hone his skills as a retirement planning specialist. Finally, in 2010, Gary earned his Accredited Investment Fiduciary® designation, which requires putting participant's needs first, which is the highest standard of care when working with retirement plans. Gary is also the author of The Art of Retirement (with Foreword by NFL Legend Ronnie Lott), visit www.theartofretirement.org to learn more. This communication is strictly intended for individuals residing in the states of AR, CA, CO, DE, FL, GA, IN, MA, MD, ME, MI, MO, NC, NH, NJ, OH, PA, SC, TN, TX, UT, VA, WV. No offers may be made or accepted from any resident outside these states due to various state requirements and registration requirements regarding investment products and services. Follow Gary on Twitter @ Retirement_Book
Calling all HuffPost superfans!
Sign up for membership to become a founding member and help shape HuffPost's next chapter