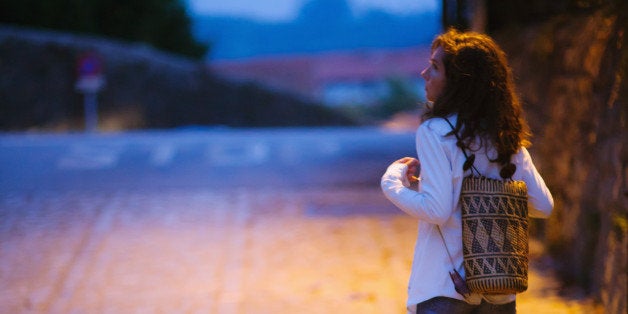 These past days, a video tracking an actress walking through selected New York City neighborhoods has gone semi-viral. The video depicts the many (many) times the actress is accosted, harassed and even stalked by men, and was commissioned and produced by the anti-street harassment organization Hollaback!
As advocacy, the approach has, rightly in my view, been celebrated for making street harassment visible to men. Some have tweeted about the irony that this kind of evidence even needs to be produced. Shouldn't it be enough that we, the women who experience street-harassment regularly, say that it exists? But since we all know that it is not enough, solid audio-visual evidence is never a bad thing.
However, the video left me with large question marks and quite a bit of discomfort about its unspoken racial bias. Though the editorializing comments note that the actress was harassed by men of all ethnic or racial backgrounds, most of the men shown on the final video are black, some Latino, and no one -- as far as I can tell -- white.
This racial bias in the video does not necessarily reflect reality.
While research shows that women of color are more likely to be affected by street harassment than white women, there is precious little actual research on who the harasser tends to be. Testimonials from women indicate that men of all colors harass, that maybe blue-collar workers are more likely to harass, and that street harassment can happen pretty much anywhere. My personal experience is of mostly white male harassers when in western Europe or the United States, and mostly Latino men in Latin America. In other words: I have been harassed mostly by whomever happened to be around.
And maybe geography is the key to the Hollaback! video's racial bias. The video seems to show the actress wandering mostly around communities with predominantly black or Latino populations. There is no footage from City Island, Greenpoint or Shepherd's Bush, all NYC neighborhoods with predominantly white populations, where street harassment -- I can assure you -- is frequent and loud.
Intentional or not, the racial bias strips the video not only of authenticity and therefore authority, but also of effectiveness. When we continue to convey to (white) women, through imagery, pop culture and literature, that black men are the main perpetrators of crime, we feed into the undeniable racial injustices in the United States crime processing system.
But we also indirectly teach women and girls to ignore the violence and harassment they might -- and often do -- face from the (white) men who according to the same cultural biases are supposed to be their protectors.
And this latter point is perhaps the biggest question mark for me. I obviously don't get why Hollaback! would want to portray almost exclusively black men as creepy and predatory. But I really don't get why an organization that prides itself on effective street harassment prevention would want to encourage myopic attention to only a fraction of it, however indirectly.
And I certainly don't understand why this problematic aspect of the video has not been universally highlighted by commentators along with its many strengths. Is it that we, as a society, are as blind to racial injustices as men, generally, are to street harassment?
Popular in the Community