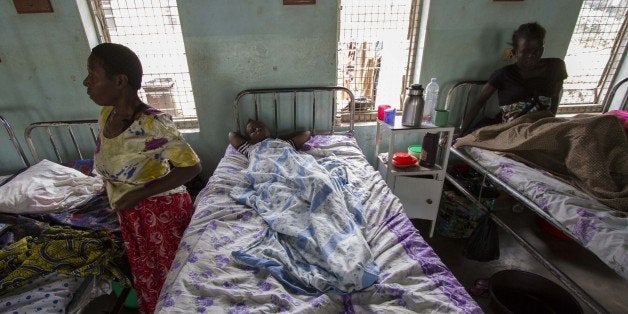 On International Day to End Obstetric Fistula, the global health community paused to stand with the more than two million women around the world who live with the untreated aftermath of this devastating childbirth injury -- and to advocate for a day when no woman suffers from this preventable and treatable condition.
Around the world, in places like Sierra Leone, Guinea, Congo and Madagascar, thousands of women continue to live in desperate need of obstetric care -- including women like Florine.
Florine was born in a village in northern Madagascar. She married very young and became pregnant with her first child when she was 15. Because of her age and lack of access to quality obstetric care, Florine's already difficult labor turned dangerous. When it came time for her to deliver, her hips were too narrow, and the nearest hospital was too far to reach. After a prolonged labor, she lost the child and was left incontinent from vesicovaginal fistula, a childbirth injury that can shatter women's lives.
Fistulas present physical and social adversities to the women who suffer from them. Physically, Florine leaked urine all of the time due to the hole between her bladder and birth canal. Along with discomfort and embarrassment, this caused her to smell. At first her husband was willing to stay and care for her, but when it became clear to him that Florine was unable to bring a baby to term, he left her and remarried. In a culture where a woman's value is synonymous with her value as a mother, Florine believed she was worthless. She felt isolated and alone.
But Florine is not alone, and her circumstances are not unique. The Campaign to End Fistula estimates that approximately 2,000 women suffer fistula in Madagascar each year, adding to the estimated 50,000 existing cases of women who need obstetric fistula repair. Thousands of women are suffering needlessly; with the right medical care, fistulas are both preventable and reparable.
Through a partnership between global charity Mercy Ships and Johnson & Johnson, more women in Madagascar are gaining access to the care and treatment they need. Onboard the Africa Mercy hospital ship, Mercy Ships' volunteer obstetric surgeons have provided free surgeries, counseling and physical therapy for fistula patients in Tamatave, Madagascar since August 2015. When the ship leaves in May 2016, more than 300 more will have had their fistulas repaired.
Efforts to treat those suffering from obstetric fistula include partnerships which provide sutures for the repair procedure and programs to train doctors on surgical techniques, which increase the global capacity for clinical treatment. Additional programs to train skilled birth attendants and midwives help ensure women receive the care and support they need during childbirth to prevent the injury from happening in the first place.
By training surgeons and midwives, outfitting health facilities, providing societal support, and always responding to the needs of those on the front lines, we can transform the lives of tens of thousands of women.
The good news is we know exactly what it takes to prevent and treat obstetric fistula. We have all the tools we need at our disposal, right now. We're not waiting for a new device or drug or some other silver bullet. But our global capacity for providing these effective interventions is woefully inadequate to the scope and scale of the need.
In honor of International Day to End Obstetric Fistula, we honor the brave women who struggle with the shame and burden of fistula, and we welcome partners from around the world to join us in helping to ensure their future is instead filled with hope and potential.
Editor's Note: Mercy Ships is a partner of Johnson & Johnson, which is a sponsor of The Huffington Post's Global Motherhood section.
Calling all HuffPost superfans!
Sign up for membership to become a founding member and help shape HuffPost's next chapter