The storm blared onto the news on Thursday with the fury of a thousands suns. All hell was breaking loose, and the East Coast was starting to panic as Hurricane Joaquin tore through the Bahamas. But by Sunday I was looking out on a crowd of thousands peacefully singing their anthem of recovery and smiling.
"This is the day when the truth will shine... On broken chains, we found peace of mind..."
Their lives too had been a raging hurricane. They had gathered on the national mall in the first event of its kind to celebrate the storm's passing, both literally and metaphorically. A hurricane had raged and passed through the ocean, much like their personal journey to recovery from drug and alcohol addiction.
Before the day started I walked the grounds and talked to dozens of people. Some of the best musical talent in the world was here, but this was not the vibe of a major rock concert. Most had on T-shirts with pictures of loved ones they had lost. They held signs with portraits of their children, their siblings. I would look at someone, and before we spoke I knew they needed a hug. They would tell me their stories of how their son, daughter, brother, sister and friends had been lost to a drug overdose. I was floored at the sheer volume of portraits. I was frozen by the collective mourning.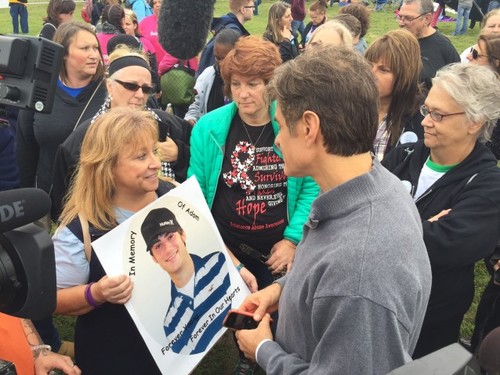 But my sadness at their stories was also tempered by the joy in other faces as smiling people shared their personal stories of recovery. Person after person would tell me they were in long-term recovery from addiction and were proud to stand with the thousands to end the silence that surrounds this fatal disease. It took an event like to today to start this national conversation, and it couldn't have come at a more crucial time.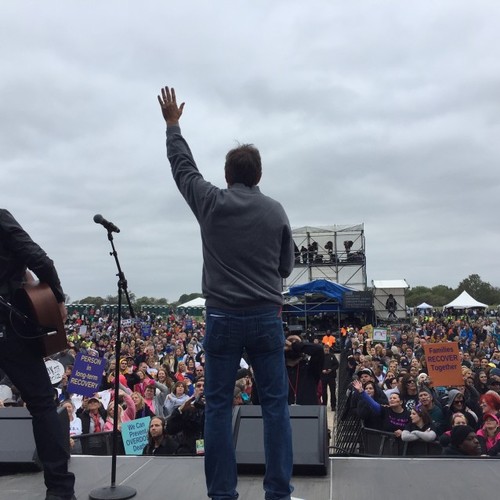 Soon it was time to take the stage and launch into the anthem that was written for the day. I spoke with the crowd and welcomed them, telling them how flattered and humbled I was to be in their company on such a special day at such a seminal turning point. I then turned and gave the stage to legendary composer Paul Williams who had written songs for everyone from the Carpenters to Barbara Streisand to Daft Punk. His classic song "Rainy Days and Mondays" is a poetic take on the depression and melancholy that takes root in our lives and wrecked havoc in his. His own personal battle with alcoholism had led him through despair, desperation but then 24 years of joyous sobriety, which he stood sharing through song with the audience.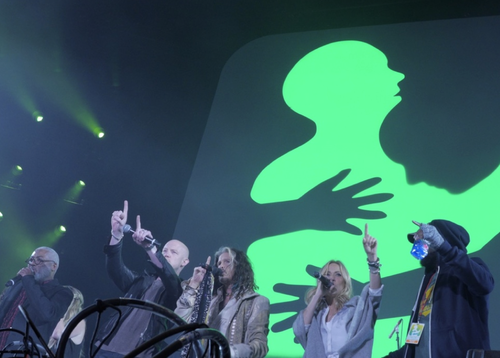 The faces backstage and on stage were a who's who of pop culture and our country's leadership. Steven Tyler stood with me, and we danced to Joe Walsh as he sang "Life's Been Good," his humorous take on the excesses of fame and active addiction. But he also sang his song "One Day At A time," which was one of the first songs he wrote after finding sobriety. He told me afterward that once he found sobriety 20 years ago, he struggled through writer's block and then this song emerged. That phrase is borrowed from the language of 12-step and has been a mantra for those living a life of sobriety. Walsh sang it loud and proud and the entire crowd sang along with him. It was a privilege to be part of it.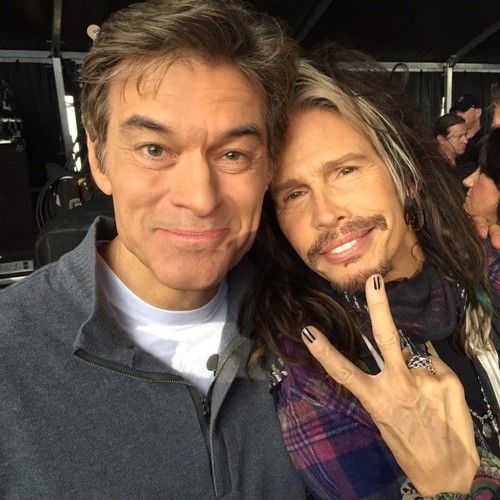 The United States Surgeon General, Dr. Vivek Murthy, was also there. Normally it's unusual to see a White House official member joking with a member of Aerosmith, but this day was a coupling of pop stars, government leadership and average people who have formed a cooperative trifecta -- the first organized national response to addiction in this country's history. The Surgeon General commissioned the first ever Surgeon General's report on alcoholism and addiction from the stage. This wasn't a policy speech in Congress. This wasn't a press release. This was the populist way that history is made.
The reason is obvious when you see the hundreds of portraits scroll on the Jumbotron -- overdose is now the leading cause of accidental death in people under 50 surpassing traffic accidents. Twenty-four million people are in the acute chronic stages of this fatal disease and desperately need help. There is help available, and treatments work. The thousands singing along to the anthem are proof -- so are the 20 million people in recovery in this country. We must bridge this gap between suffering and salvation. We must celebrate those that have found recovery so those suffering and their loved ones know good treatment is available and works. We must end the silence.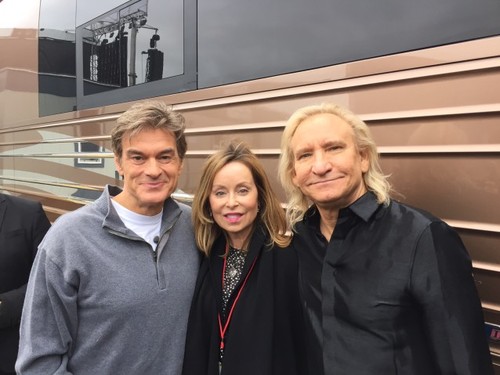 If you or your family has been touched by addiction, we want to hear your stories. Please email The Huffington Post blog team at ImpactBlogs@huffingtonpost.com or share them on social media with #UNITEtoFaceAddiction.
This post is part of a series produced by facingaddiction.org, in conjunction with their event Unite to Face Addiction (Sunday, Oct. 4, National Mall, Washington, D.C.). The blogs are also part of The Huffington Post's "What's Working" solutions-oriented journalism initiative. For more information on facing addition, visit www.facingaddiction.org.