It's easy to assume that most pediatric concussion cases are diagnosed in the emergency department (ED). However, new research, published this month in JAMA Pediatrics, reveals that this may not be the case. And, as a result, we could be drastically underestimating the number of pediatric concussions in the United States.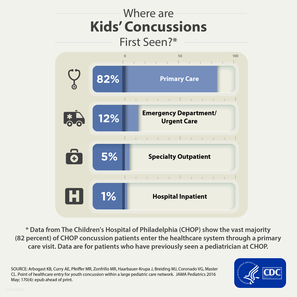 Researchers from The Children's Hospital of Philadelphia (CHOP) and CDC's Injury Center found that out of all CHOP concussion patients, the vast majority (82 percent) entered the healthcare system through a primary care visit. A much smaller number of patients - 12 percent - were diagnosed in the ED. This is important because: (1) by basing the number of pediatric concussions on ED visits, we are actually missing a very large part of the traumatic brain injury (TBI) picture, and (2) we need to make sure we're recognizing the importance of the primary care setting when it comes to diagnosing and treating concussions
CHOP researchers also found that more than one-third of these children who were diagnosed with a concussion were under the age of 12 years. This further indicates that concussions may often be a result of everyday, kid-related activities. Younger kids' concussions may actually go unaccounted for in our current surveillance systems. All of this underscores the importance of changing the way we keep track of pediatric TBIs.
Concussions are serious and can have a significant effect on a young, developing brain. They can cause short- and long-term problems that affect how a young person thinks, acts, learns, and feels.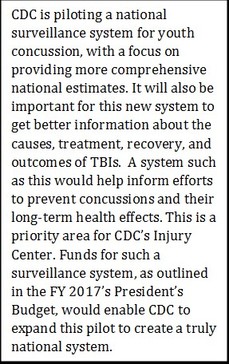 Most children recover from a concussion within a few weeks, but to ensure the best recovery possible, it is important for clinicians to know key actions when it comes to concussion diagnosis and treatment:
Take time to rest both the mind and body
Return to activities gradually and with supervision
Finally, whether you're a parent, physician, athlete or coach, there are many resources available. Here are just a few:
CDC's HEADS UP to Health Care Providers provides practical, easy-to-use clinical information and tools for physicians and their patients, including free online training that offers free continuing education credits.
The Children's Hospital of Philadelphia (CHOP) provides online resources for parents, coaches, school personnel and physicians. CHOP faculty also host an annual all-day CME on pediatric and adolescent concussion each spring that includes a multi-discipline, multi-institute course faculty.