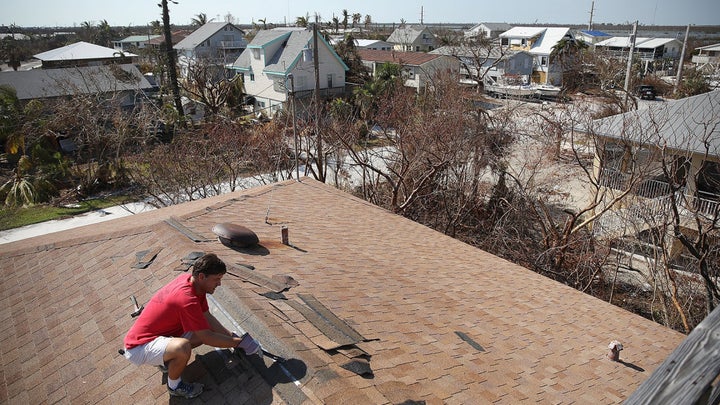 This story was originally published by Grist and appears here as part of the Climate Desk collaboration.
Texas, Florida, and Puerto Rico are still recovering from last year's devastating hurricane season, the most destructive in US history. And it looks like another rough hurricane season is just eight weeks away.
These early forecasts (sponsored in part by a few insurance companies) have shown decent skill in predicting whether a season is going to be more or less active. Last year's early forecast from Colorado State initially called for a slightly below average season but was revised up once the season began in June.
Here's a glance at three places in the United States hit hardest last year, and the mood in each as another hurricane season looms, according to local meteorologists, journalists, and one public official. (Their comments, from direct messages on Twitter, have been lightly edited for clarity and length.)
Houston, Texas
Braniff Davis, Harvey recovery analyst, City of Houston
Everyone's a little worried. There's still a sense of Harvey PTSD here — every time we get a minor flooding event (which is just part of life in Houston, let's be honest) people are afraid of what it means. So I would imagine that with every storm that forms, people will worry, no matter what the likelihood of landfall near here.
The different city departments have put a lot of thought into what they'll do if there's a next time. Making plans, simplifying any data sharing, etc.
Matt Lanza, meteorologist and managing editor of Space City Weather
I truly believe it's going to be a very long hurricane season for people here.
Every single word you choose in describing the forecast or impacts of an event matters to people, and they are going to all process every word choice really urgently. It's a big deal.
I can tell that there is heightened concern relative to a normal season. And I really do think that every detail of every storm is going to be hyper-analyzed by folks here, because while many are back to normal and recovered, the scars from Harvey are going to last a long time personally. Even for myself, every time it rains now, even when I know it's going to stop, I have issues sleeping, I have to check radar, etc.
We're back to business as usual in most neighborhoods. But there are many still grappling with recovery. It's a patchwork recovery out in a lot of neighborhoods outside the middle of the city.
There's urgency, but ultimately a lot of these projects will take years to implement, and we aren't entirely sure how good their benefits will be. It's a lot to grapple with, but we're managing.
South Florida
The recovery has been uneven in the aftermath of Hurricane Irma, with even adjacent cities taking wildly diverging paths. In the Keys, which got the brunt of Irma, housing is still very difficult to come by, and the rest of Florida is still processing the implications of a new study which showed FEMA flood maps vastly underestimate the current risk of flooding — an increasingly daily reality as sea-level rise continues to escalate.
Jeff Berardelli, meteorologist, CBS12 Palm Beach
I think the current mood is: Oh no, please no To be honest we have been lucky, at least that is how I feel. I think people know that we dodged a bullet with both Irma and Matthew.
I am not sure they grasp how much of a disaster we would have faced if Irma was as strong as it was near Barbuda. Words would not have done it justice. So we do not take anything for granted.
Yes, I think the "practice" we had the two last seasons was helpful in getting everyone back up to speed after the 11-year hurricane drought. Every year we need to be ready for the big one and just hope to be spared.
Craig Setzer, meteorologist, CBS4 Miami
The people I've spoken with have an uneasy sense of dread. Those I've heard from in the islands that were devastated seem especially worried. Some are still getting their homes/lives back together and feel particularly vulnerable. Everyone down here in South Florida senses it could have been much worse, notwithstanding the Keys where it was very bad.
Much like someone punched by a bully dreads seeing the bully again, the coming start of hurricane season reminds us in South Florida more bullies may be coming.
Puerto Rico
As the worst natural disaster in Puerto Rico's history, Hurricane Maria has transformed life across the US territory. More than 94 percent of people have had their power restored since Maria, but for the 6 percent of people who still don't — more than 150,000 people — last year's hurricane remains a humanitarian emergency. (The scene is similar in Barbuda, the Virgin Islands, and Dominica — hit just as hard as Puerto Rico, but with much less news coverage.)
John Morales, meteorologist, NBC6 Miami and former lead forecaster for NWS San Juan
I think there's a big difference in mood. For South Florida, it's resignation. For Puerto Rico, it's dismay.
Puerto Ricans are, and will still be, actively dealing with the aftermath of María when the 2018 season gets underway. It's nearly impossible to wrap your head around the possibility of a new hurricane strike on the island given what they've seen. There is a good deal of post-traumatic stress. Being forced to think about the upcoming season is borderline horrific.
Ivette Sosa, journalist, Telemundo Puerto Rico
Puerto Rico is not ready for another hurricane. We still have blue roofs on hundreds of houses all over the island. We have municipalities that still do not have electricity, and people in those areas are getting desperate.
Puerto Ricans (including myself) are soooo worried of what would happen here if another system comes along our way! I can't even tell you. Being a US territory, the government cannot understand why help is taking so long!
Support HuffPost
The Stakes Have Never Been Higher
Related
Popular in the Community