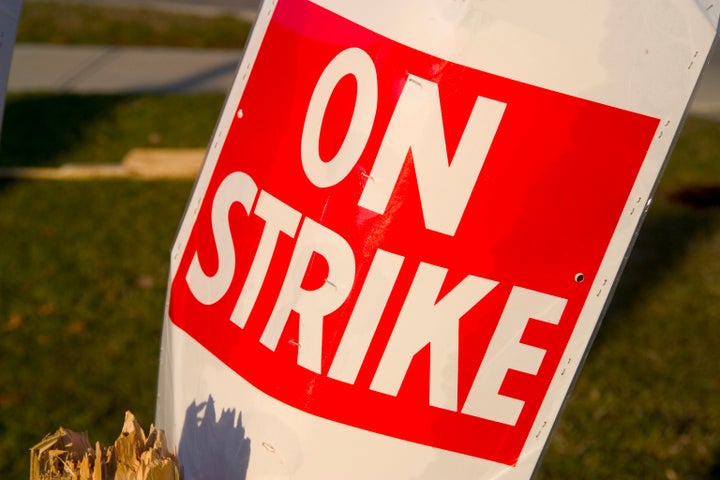 On weekdays, Rebecca Diamond teaches second grade at Kellogg Elementary School in Wayne County, West Virginia.
On weekends, she works a register at Hardee's.
"I never dreamed 19 years ago when I started teaching that I would have to work a second job to provide for my kids," explained the 42-year-old Diamond, who's married to a fellow public school teacher and has two teenagers. "I knew teaching wouldn't make [me] billions, but I thought it would be enough."
Diamond and her colleagues are so fed up with their stagnant pay and rising health care costs that they have decided to walk off the job later later this week. If the teachers and other public employees go on strike Thursday and Friday as expected, it will be the first statewide work stoppage to hit West Virginia schools in nearly 30 years.
The state's two teachers unions ― affiliates of the American Federation of Teachers and the National Education Association ― say workers in every county will take part in the strike, with most having voted in favor of it by overwhelming margins. They are hoping to send a strong message to the state legislature, which hasn't funded the public employees' health care program enough to curb rising premiums.
The last across-the-board raise for teachers and other public employees came in 2014. Coupled with increasing deductions for health premiums, that means some workers have actually seen their take-home pay go down in recent years, according to Christine Campbell, president of the American Federation of Teachers-West Virginia.
"I don't think people recognize how dire it is, and how it directly impacts students' learning," Campbell said. "Teacher vacancies are increasing. There are classrooms with no teacher of record. ... We've actually been educating teachers at our universities in West Virginia and they're not staying here."
West Virginia ranked 48th out of 50 states and the District of Columbia in average teacher salaries in 2016, ahead of only Mississippi, Oklahoma and South Dakota, according to data from the National Education Association. It was one of just five states where average pay dropped from the previous year, to $45,622.
The state's Republican governor, Jim Justice, proposed a 1 percent general increase in teacher pay each year for five years, a plan passed by the Republican-controlled state Senate. The Republican-controlled House of Delegates passed a plan that included a 2 percent raise followed by several 1 percent annual raises. The state's unions have been critical of both proposals.
"I never dreamed 19 years ago when I started teaching that I would have to work a second job."
Don Scalise, a government and history teacher at Cabell Midland High School, said rising health care costs are a bigger problem than the salaries. If the state doesn't fill a $39 million shortfall, premiums will rise again next year for workers on the state employee health plan. Scalise said the reasonable health care costs used to help make up for the low pay.
"In West Virginia, we know they weren't known for having high salaries, but they were known for good health insurance," he said. "That used to be something to attract people. Now that's eroding."
Scalise's county was one of a handful where teachers went out on a one-day walkout last week, before the statewide strike was organized. He said legislators have underestimated how willing public employees are to use work stoppages to make their demands.
"We feel like we've been backed into a corner," he said.
West Virginia public employees don't enjoy the same collective bargaining rights that public sector workers do elsewhere. In most states, a local teachers union will negotiate with the school district to secure a contract spelling out wages and benefits. But in West Virginia, the general pay scale is set by the state legislature, with counties left to supplement those salaries to varying degrees.
Unions essentially lobby lawmakers to pass legislation improving pay and benefits, rather than bargain directly on behalf of members. While they can't negotiate over wages, there's precedent for West Virginia teachers to go on strike ― even though they could face court injunctions to return to work. (The state superintendent of schools has asserted that a strike would be illegal.) The last time teachers walked off the job in West Virginia was 1990, when they protested low pay. During that strike, workers in 47 of the state's 55 counties participated.
Campbell said the state will continue to lose teachers in border areas where they can easily cross state lines for better pay. Virginia, Kentucky, Ohio, Pennsylvania and Maryland all have higher average wages than West Virginia. According to Campbell, a lot of teachers feel torn between needing more money and wanting to stay loyal to the state they have always lived in.
"We're not saying we want to be first in pay," Campbell said. "It's about actually having a living wage. We have to be able to survive. We have families. Our students are suffering because of the lack of an ability to attract and retain people."
West Virginia has been dealing with a growing teacher shortage in recent years, with 700 vacancies around the state as of last spring. The board of education has proposed watering down some teacher training requirements in order to plug the gaps, including waiving the need to pass a basic knowledge test if a candidate had a certain grade point average.
Diamond said boosting pay would be one way to address the problem. With 19 years of teaching experience, she earns a salary of about $39,000. Her husband earns slightly more, thanks to having a master's degree plus 30 credit hours. But even with two salaries, they live one paycheck to the next. She said her $8.75-per-hour shifts at Hardee's help cover the costs of their children's traveling sports teams.
She lives so close to Ohio that she shops for her groceries there. So far, she's resisted looking for a better-paying job teaching on the other side of the Ohio River.
"I have lived in West Virginia my whole life," she said. "I have two children who I don't want to leave the state. I don't want them to feel they can't be productive. What I'm fighting for is the future of West Virginia."
This story has been updated with details on the 1990 strike.
Popular in the Community