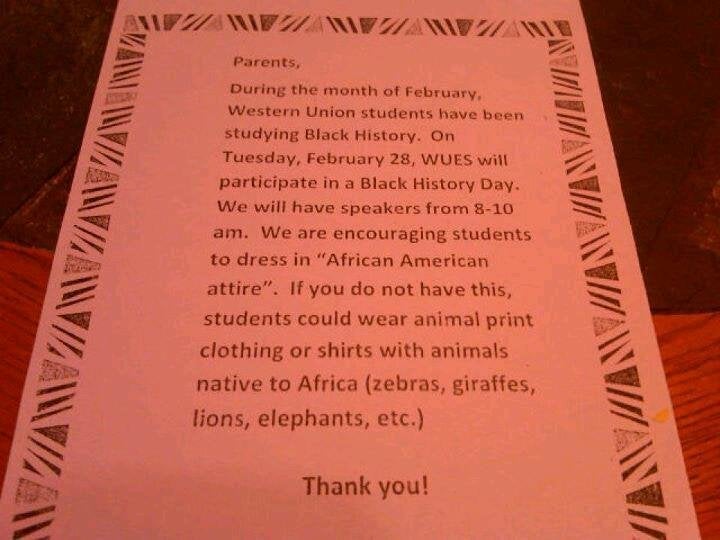 A letter sent home with students at Western Union Elementary School in North Carolina didn't sit well with parents.
The letter also suggests wearing "shirts with animals native to Africa," like zebras, lions, giraffes and elephants.
In a statement, Luan Ingram, the school's chief communications officer said the letter wasn't meant to be offensive.
"While it was well intended, it was poorly worded," Ingram said, according to the station. "We are reminding all of our principals to be very sensitive in word choices when communicating with parents concerning different ethnic groups and cultures that make up our world."
Bloggers responded more explicitly.
"What's the point of celebrating -– or hell, even learning about -– diversity if school administrators are unable to ascertain the difference between Black, African American, and African? Or for that matter, the difference between black people and African animals?"
In a separate attire-related controversy, a lawsuit filed against a Minnesota school district last August claimed that a Red Wing High School homecoming event called "Wigger Day" caused a black student "severe emotional distress including depression, loss of sleep, stress, crying, humiliation, anxiety, and shame."
"Wigger is a pejorative slang term for a white person who emulates the mannerisms, language and fashions associated with African-American culture," the complaint explained. Students were encouraged to dress in oversized sports jerseys, low-slung pants, baseball hats cocked to the side and doo-rags.
Tell us what you think below and in the comments.
Calling all HuffPost superfans!
Sign up for membership to become a founding member and help shape HuffPost's next chapter