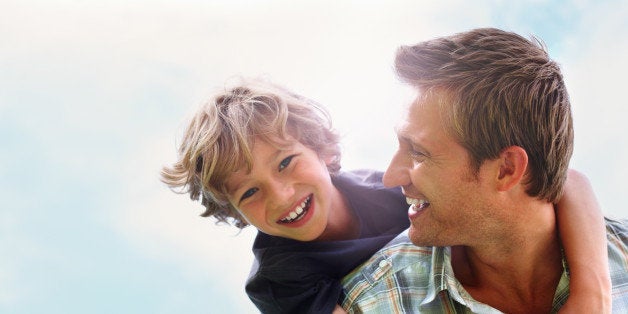 "Dallas just went ahead... and Cleveland's done for the year... Wow! Can't believe he scored on that..." This running commentary was spoken by a father on his phone scrolling through football highlights. His wife sat next to him on a park bench while their two daughters played nearby. The older daughter, about 6, sensed her father's preoccupation. She walked over to him, cupped his face in her hands, and said, "Daddy, look at us!" The father raised his head for a moment, and then went back to his phone.
Some would argue that fathers' obsessions with today's 24-7 sports infotainment are as American as apple pie. After all, the expression "football widow" dates back decades. And I can remember years ago in my work as a child and adolescent psychologist that kids would be saddened because their father was unavailable on Sundays during football season. Yet, looking back, those were the good old days.
The smartphone era has encouraged many fathers' complete immersion into the seductive world of sports entertainment. Moments that were once the domain of family -- outings, meals, and trips to the park or pool -- can be more about fantasy football standings than engaging with children. There has also been an exponential increase in sports content to feed an insatiable demand. The recent New York Times' article, "Brace for the Nonstop Football League," says that expansion plans by pro and college football may result in games being televised every day of the week. "Say 'Bye, bye' to Daddy."
In the U.S., far too many children have fathers who are physically absent. But there are also many children whose fathers live at home but who are checked out on sports, gaming, and other digital entertainment. A lot of kids in my practice tell me that their father is the guy who comes home around 5 or 6 p.m., watches TV or uses his phone, and they don't really know him beyond that. Years ago, my recommendation for such families was for dads and kids to get out of the home to spend time with one another. But the advent of the smartphone has rendered this advice far less useful. Fathers I meet with tell me that they do venture out with their kids. However, children sitting next to their fathers in my office will sometimes say, "But dad, you're on your phone, you're not with me."
The pain children experience from being raised by digitally-distracted fathers is profound. At least with physically absent fathers kids can do their best to block them out of their minds. But children with distracted fathers must witness their dads who--day in and day out--choose screens over them. The result is that kids grow up doubting themselves and question if they are good enough to be loved.
Considering my recommendation that fathers turn their attention away from digital sports, it may be surprising that I'm quite a sports fan. However, I'm an even bigger fan of having fathers take an active role in raising their children. That's because science shows that children raised with involved fathers have much better emotional and academic outcomes.
I therefore believe it's time to reconsider what it means to be a father in America. Sure, we could look for guidance to the pre-smartphone era. But many 80s and 90s fathers spent far too much time in front of the TV at the expense of their children. Instead, a model that embodies what children need is the nineteenth-century American frontier father. Like fathers today, frontier fathers were hardworking; yet, in contrast to today, they worked alongside their families. When a frontier father picked up one end of a log, it was likely that his son was picking up the other. Daughters worked with their fathers to care for livestock and the home. These fathers understood that they needed to teach their children life lessons if they were to one day survive on their own.
While the frontier life is impossible to fully recreate, frontier fathers represent a model that informs today's dads just how vital their family involvement is. That being said, engaging with kids can seem foreign or even scary for fathers used to spending their lives before screens. Some ask me, "What do I even say to my son (daughter)?" I suggest that fathers start simply: Ask children how their day went. Of course, kids may reply with a curt, "Fine." But the key element to fostering the father-child bond is what happens next. Fathers need to stay away from screens and phones. By doing so, they provide their children the opportunity to approach them, open up, to talk about their lives.
Because men are often about "doing," I also continue my longtime recommendation that fathers get their kids out of the home to engage in activities. Take kids to the park, a car show, or ice cream. But, as I mention to fathers in my practice, the father-child bond is best nurtured when dads do everything they can to keep their hands and minds off their phones.
For mothers who want to have fathers be more involved in children's lives, I suggest that they help their partners recognize just how much their kids look to them for direction. And to help fathers find the motivation to step away from their phones and TVs, mothers I work with have found success in talking with their partners about the idea of the frontier father. Dads I work with tell me this archetype resonates with them. It helps them envision a man who is tough but nurturing, hardworking but also a family man. Let's give our children the fathers they need.