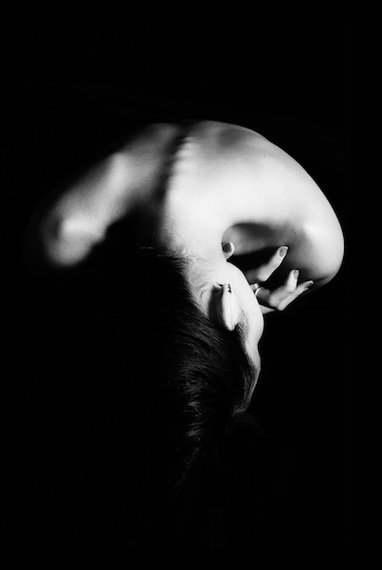 They all finally flew out the door on time. When I could hear the bus roll up the street, I felt some relief. They would be gone soon. I proceeded cautiously with some hesitation, so I wouldn't forget anything they needed before they left. But I didn't know how long I could mask my strain as I steeled myself impatiently waiting for the house to empty.
Cole had been trailing at my heels always in reach. I was desperate to escape the scrutiny of sensitive Lara. I didn't think I could elude her close examination. I know she detects something. Oh, not to be there for her when I can hardly be here for myself. But, okay now; they're gone. My jaws ache terribly on both sides, pressing inward. The prickling heat of my face keeps me ablaze, a heat that betrays that I'm all right. I try to relieve the pressure in my chest by holding my hand over my heart as if to slow it. I've felt this wretched pain for too many days. On and off. My upper body is under siege. I'm surprised I am able to walk, even run up the stairs.
How can I be both weary and tense?
I can't stop the feeling of threat. I glance in the mirror in the front hall. Delicate lines mark my cheeks and forehead. I'm strangely removed from the reflection, astonished to see a youthful face with clear, deep set, dark brown eyes. I recognize those eyes staring back at me recording my fears in a way that makes me turn away.
There's a knock at the door. Startled, I don't move so I'm not seen through the window. Only for my children can I hold up the charade today. Who's ever at the door can just go away. There. It's quiet again. The knocking rocked me though. I need many minutes to recover.
Oh, tell me, dear me, how to gather myself. Sitting very still, letting my shoulders rest--that helps.
There's no harm in taking advantage of this time alone. I can't always be productive. Thank goodness for the quiet. There's no shame in taking time to care for myself. No, no shame.

Laurie Hollman, Ph.D. is a psychoanalyst who works with many anxious mothers and wrote this article as a condensed version of experiences these mothers have.


Dr. Hollman is an author of a recent book, Unlocking Parental Intelligence: Finding Meaning in Your Child's Behavior found on Amazon, Barnes & Noble, Familius and wherever books are found.
Related