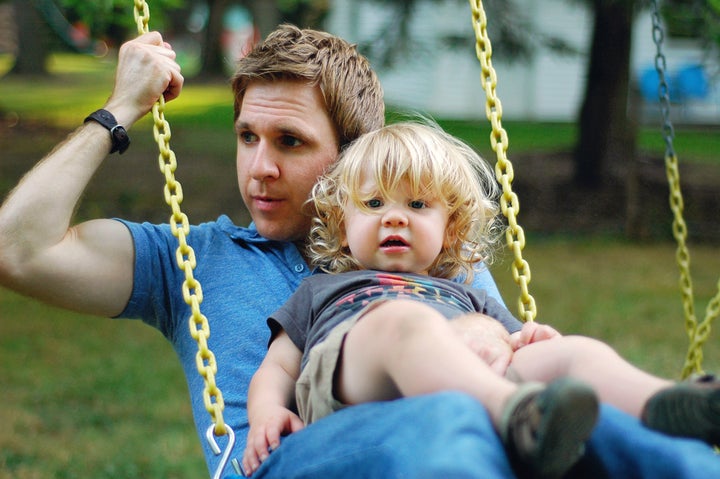 When my wife gave birth to our son five years ago, my knowledge of fatherhood consisted of a two-hour boot camp that taught me the proper technique for holding a newborn (support his head with one arm and his bottom with the other) and changing a diaper (use the clean diaper to shield yourself from incoming pee). But I soon discovered that a lot was left out in those two hours.
If birthdays celebrate another year of surviving life, then Father's Day celebrates another year of surviving fatherhood. The first five years of my son's life have been a learning experience for both of us. Here's what I learned by each milestone:
1. I will never have the bond that my son has with his mother, but that's OK.
By my first Father's Day, I had discovered that there is no connection like the deep bond between a mother and her baby.
My wife carried our son inside of her for 40 weeks, birthed him, and fed him by her breast. She wore him on her chest during the day and soothed him with a gentle sway of her hips at night.
It was beautiful to watch. But there were times when I was jealous. I felt left out.
My wife assured me that our father-son time would come. In the meantime, she'd hand him to me with that "your turn" look and I'd feed him a bottle or make silly faces while he glided back and forth in a swing.
I earned my first Father's Day by changing foul diapers, warming milk, scrubbing sour bottles, fishing through the couch for missing pacifiers, translating handwritten grocery lists, and making late-night runs to the drug store.
I often felt more like a gofer than a father, but I was a part of this parenting thing.
2. My son and I would bond through playtime.
By my second Father's Day, my toddler had made a discovery of his own: Daddy is fun. Finally, our time together involved something other than bottle-feeding, back-slapping, and butt-wiping.
He was ready to play and I was ready to take on that daddy duty. I may not have excelled at rocking him to sleep, but I could play. I'm basically a middle-aged child. I took my new role seriously.
I built block towers for him to knock over. We flipped couch cushions and turned the living room into a fort. We slipped Sesame Street puppets over our hands -– Cookie Monster and Elmo, mostly -– and talked gibberish. We pieced together wooden railroad tracks and then scattered them with hurricane hands. And sometimes I'd lay on the floor and let him pour a bucket of blocks over my head just to listen to his songlike laugh.
Playtime brought high-fives, bear hugs, and unprompted kisses. Before long, he wasn't only calling for Mama. She still got most of the cuddles, but when he wanted to sit on someone's face and bang blocks over their head, he came running for Daddy.
The father-son relationship that I had deeply desired was starting to form, and playtime was where it happened.
3. My son wants to be just like me.
By my third Father's Day, my precocious preschooler had become my shadow. He began mimicking the things he saw me do. He'd laugh when I laughed, pout when I seemed upset, furrow his eyebrows to impersonate my confused look, and repeat things I'd say.
I knew this was coming. "Kids are likes sponges," a friend had told me, "they absorb everything you say and do." Sure, I'd heard that before. But nothing can prepare you for the moment you hear your toddler say something inappropriate, straight from your own loose mouth. (A running "that's what she said" joke between me and my wife lost its punch when the 3-year-old started in on it.)
This act didn't just make me aware of how often I checked my phone, overreacted to stopped traffic, or used silly words like "geez." (Geez, I don't say it that often, do I?) It showed me that my son wanted to be like me. Even then, he was inching his way towards becoming a man. And I was his model.
Like most things parenting, this could be annoying. But I also felt the privilege of seeing the ways that he modeled and mimicked me as he began to interact with the world around him.
Responsibility. I knew I'd have to face it at some point. As he paid closer attention to what he heard and saw, I paid closer attention to what I said and did –- and what each of those actions were teaching him.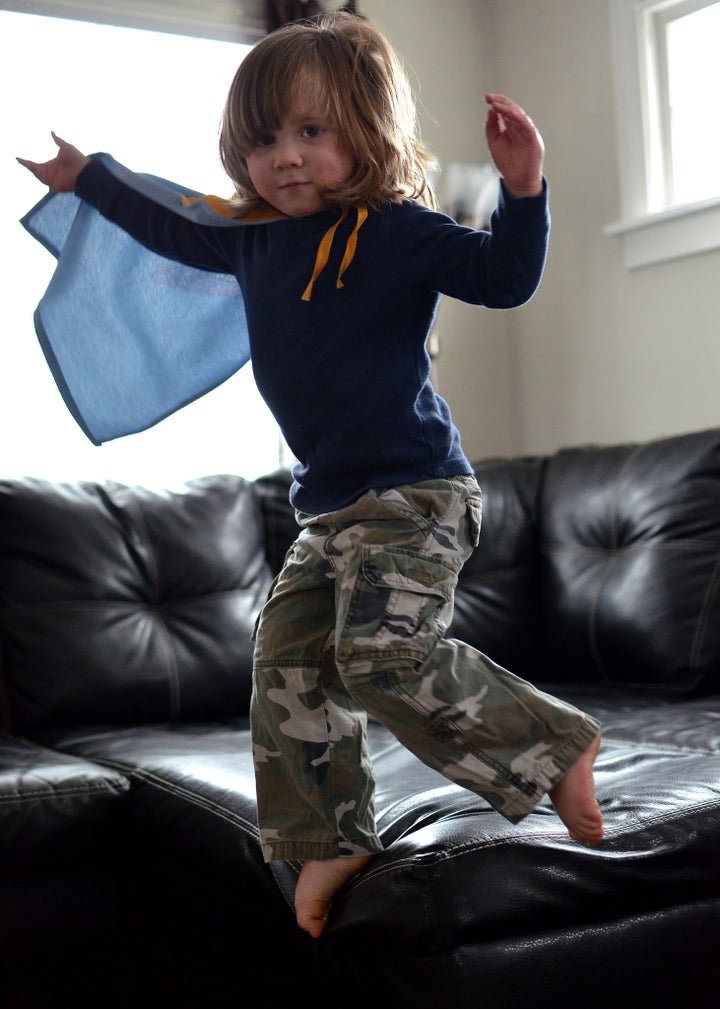 4. My son needs me to be proud of him.
By my fourth Father's Day, I was beginning to hear two words repeatedly: "Watch me! Watch me!" Leaping from the couch to the ottoman. Pulling himself up into a tree. Piecing together Legos to build a mega super spaceship (his words). Head-butting blocks to knock off Goombas in Super Mario Bros.
He wanted me to watch all of it. But what he truly wanted was for me to be proud of him.
Why is it more difficult for fathers to praise their children? For many, it's because that's how our fathers were with us. You would need to pull off something rather impressive to earn that recognition, if you were lucky enough to get it at all.
A boy has an innate need to be affirmed by his father. (And many grown men still do.) I wanted to fulfill that need and show him that he's loved and appreciated.
So I made a point of recognizing those things he wanted to show me – not just his accomplishments but his effort, whether successful or not. More importantly, I reminded him that I was proud of him and loved him because of who he is -– my son –- and not what he can do.
This doesn't mean constant praise. Sometimes it's just a matter of taking an interest in what he's doing to show him I care, even if that means watching him climb to the top of our backyard play set for the hundredth time.
5. Five years go by quickly, so I need to be present -– now.
For this Father's Day, I'm looking at a long-legged 5-year-old and trying to grasp just how fast this is all happening. The toddler I had carried on my shoulders just a few years ago is now chasing down tennis balls, arguing his case for screen time, and educating me on flying squirrels (they don't actually fly, they glide).
These days, he likes to ask, "Daddy, are you thinking what I'm thinking?" (I never seem to be thinking what he's thinking.) The question is followed by what he wants to do at that moment: ride bikes to the park, put on swimsuits and head to the pool, or go out for chocolate-peanut butter ice cream.
I often respond that we'll do that later –- tomorrow, this weekend, maybe next week. But what he hears is "not now." He's not interested in tomorrow or next week. He doesn't even care to look back on last summer's trip to the Outer Banks. He's excited about what we're doing today.
This is how my son thinks. While I'm often dwelling on the past or anticipating the future, the only thing that matters to him is what's happening in front of him.
My son has taught me how to be present: to tune out the disruptions and tune in to the moment that is taking place right here and now. If I don't make time for these moments, they won't happen.
Every moment we share together will be the last time we experience it in that way. The next time we go to the park, he might not need me to push him on the swing. At the pool, he may not want me to hold his hand in the deep end. At the ice cream shop, he'll soon move up to a cone, no longer dipping his nose in chocolate while finishing a kiddie cup.
The past five years have showed me that the greatest parenting moments happen when I allow myself to simply be present. I have this short time with my son –- to hold his hand, share experiences together, and teach him the things I want him to learn -– before he's off to become his own person.
I don't want to miss a moment.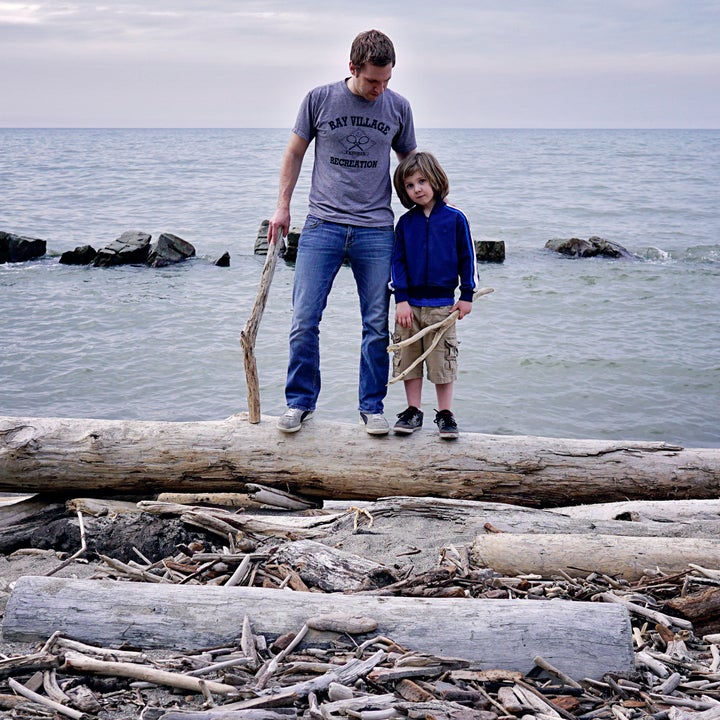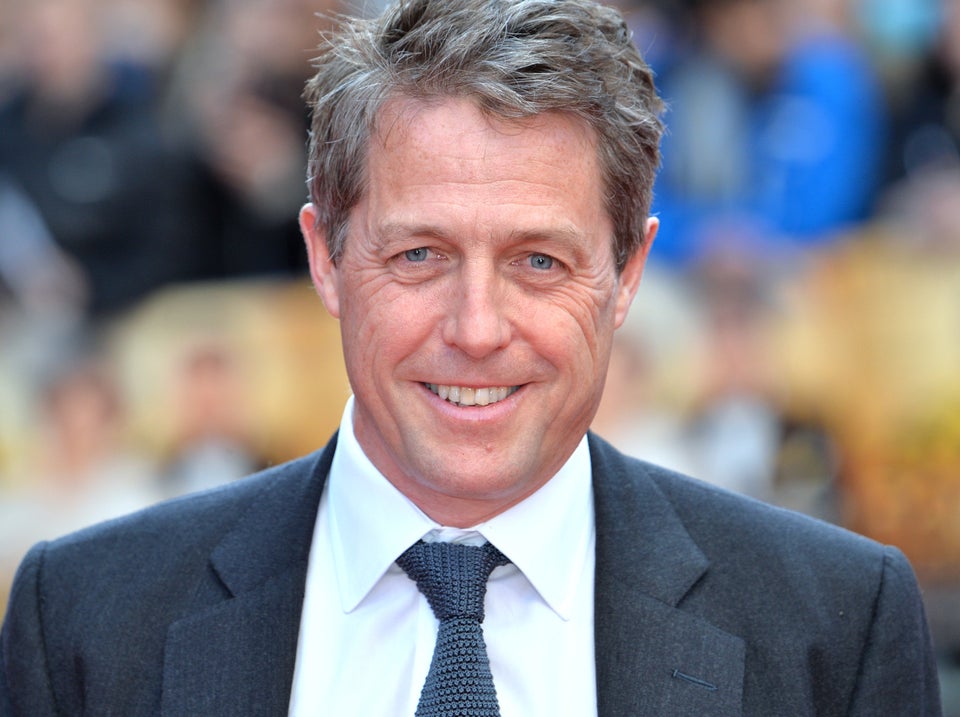 7 Celebrity Dads Who Embraced Fatherhood After 50