Last night, seven writers accepted an invitation from the First Person Plural Reading Series in Harlem to respond to the 2016 presidential election. We extended the invitation a month ago, imagining a night discussing Hillary Clinton's win, and the work necessary to keep the administration focused on the needs of people of color, immigrants, the LGBTQ community, religious minorities, the disabled, and all others who have felt targeted by the Republican party, especially by its nominee Donald Trump.
Then the horrible cable news blur of Steve Kornacki, John King, and red states on a screen. Trump declared winner, the gut punch that hasn't let up. The sense that we've been plunged into darkness and are only slowly beginning to see the landscape.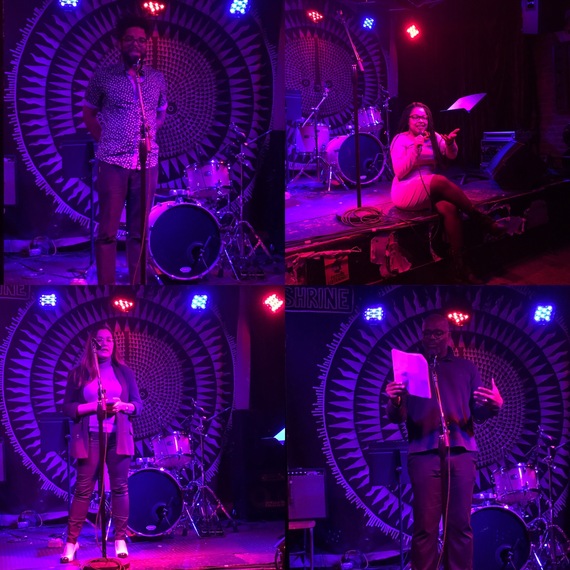 Writer Max S. Gordon pinpointed the catastrophic moment that made a Donald Trump presidency possible: the acquittal of George Zimmerman for the murder of Trayvon Martin. His poignant essay ended with these rallying truths:
"Because in the motley crew of freaks, fags, feminists, students, artists, negroes, outlaws, queers, blues women, dykes, homeless people, jigaboos, drag queens, the othered, and yo Mama - we're not just going to sit back and watch our reproductive rights taken away, our gay marriages overturned, our black children shot in the streets like dogs, and say, 'Business as usual.' We're going to fight. Welcome to the second Civil War. You have no idea how strong you are. But you're about to find out."
Professor Grace Aneiza Ali brought her meditative practice into class after Election Day. She asked her grieving students to create gratitude lists and heard students who were grateful that their bubbles had burst, and in their despondency they still shared sympathy and compassion. How they were grateful to "white friends who have been supportive and just as angry."
Poet Hafizah Geter made this painful point: anyone who thinks that racism will die away, take a closer look at election-related assaults this past week and notice how many were in schools. Young people are hurting one another. Donald Trump has signaled to those who didn't want to "get with the program" that no, they don't have to. How after pointed Facebook exchanges she felt loss immediately - a white friend. She implored us to love her "while it's still legal."
Author Ibrahim Abdul-Matin helped us remember a time before concrete and capitalism, when Manhattan was once a green paradise, the soundtrack along the Hudson River a "neverending chorus of birds." His essay encouraged us to break out of this political moment, extend ourselves to the natural world we allow our constructions to obscure, and do as Winona LaDuke says: renegotiate our relationship to the earth.
Afghan poet and student Hajar Husseini wryly noted that for the last year, she'd often note the #firstworldproblems in her new country, and now suddenly America is suffering from a glaring third world problem--a looming dictatorship, complete with threats of violence to minorities. As she read: "When the whole world agrees on democracy, America is the dealbreaker."
Writer Chris Prioleau shared an essay that began funny but by the end, devastated us - not unlike many Americans' experience of the campaign. The election result came as he was already deep in grief - an intimate friend, lover has been murdered by her roommate. The grief and guilt he feels bleeds into all as he refers to Trump only as Ivanka's Dad, how "I can't bring myself to name my killer lest his name sound like my own."
And writer Morgan Jerkins closed us out with a personal story of how she spent her Election Night. She, too, was in grief, recovering from an unexpected breakup and finding herself the only Black woman at an UWS watch party. As everyone around her fell apart, she walked out into a Manhattan silence so strange and eerie she thought the rapture had come. How she was afraid to go home because her roommate was a Trump supporter, and despite giving her situation to God, and blessing the room with anointed oil, she couldn't feel safe. Her anxiety only grew when she heard other Black people reassure each other with "we've been through this before" - she hadn't! She was born in 1992, and had been shielded from direct assaults by whites, though now she must worry every time she sees a white man in a red baseball cap. This is the new normal--for now.
Though all of our writers shared candid observations and raw emotions, I was heartened by the feeling in the room at program's end. I personally felt bolstered. Lifted even. There was something about coming together and sharing this artful work. We had two volunteers from the audience share their observations on stage. Then we had cake, with "My Shot" remixed by The Roots and Busta Rhymes playing on the sound system.
Days before the reading I felt so much dread. But today is different. Thank you writers, audience, community. This is what a shift feels like. We are not passive. We are co-creating this reality.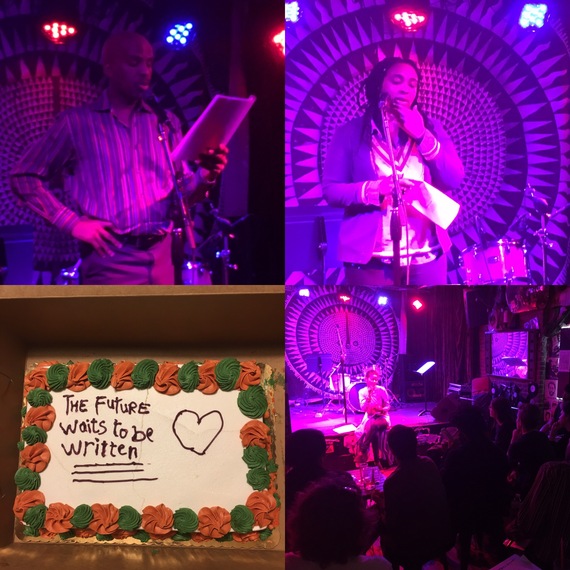 Calling all HuffPost superfans!
Sign up for membership to become a founding member and help shape HuffPost's next chapter