Florence Williams and her daughter discovered they had high levels of toxins in their bodies. Why are toxins missing from the breast cancer debates?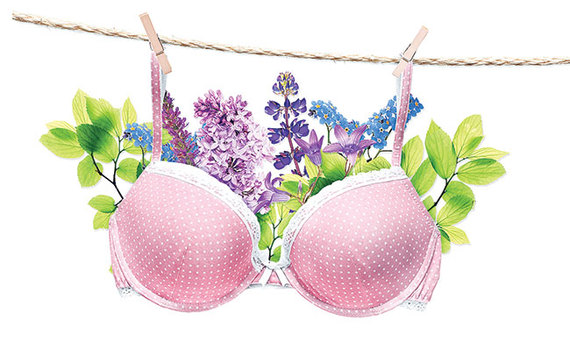 When Florence Williams was breastfeeding her infant daughter a decade ago, she started wondering about the chemicals she had heard were found in breast milk. Her investigation led her to a dramatic step: testing her own breast milk and, later, having both herself and her young daughter evaluated for chemicals in their bodies.
The result: higher than average levels of the kinds of substances found in common consumer products, such as phthalates, triclosan, and BPA (bisphenol A).
Williams and her daughter started a "detox diet," weaning themselves off perfumed soaps and other exposure risks.
I spoke to her about her research, which resulted in the award-winning book, Breasts: A Natural and Unnatural History.
Sarah van Gelder: Are there any other organs of the body that go through as many changes?
Florence Williams: There really aren't. And the reason for that is because breasts are really the last organs in our body to develop. They really don't develop until the last trimester of pregnancy in adulthood, and so because of that, they're sort of undifferentiated for a long time. They go through these incredible cellular changes every monthly cycle and then, of course, every pregnancy. They're these incredibly dynamic organs, and then because of that, they are very influenced by the environment.
Evolution designed breasts to be responsive to the environment. They're full of estrogen receptors, which are the body's way of communicating with the outside world. Circulating estrogen tells the breasts when to grow in puberty. Estrogen tells our breasts when we're pregnant and when they need to start building the mammary glands, so they're very hormonally sensitive. Our world is filled with hormones and substances that mimic hormones.
Our world is filled with hormones and substances that mimic hormones.
van Gelder: One of the things I found fascinating about your book is that you actually test yourself to find out what kind of chemical body burden you're carrying around and what's going on with your child, as well. Why did you choose to essentially experiment on yourself and your daughter?
Williams: Participatory journalism appeals to me. I think it makes the science a little bit more human. I found out that there were a handful of chemicals that government scientists were looking at to try and figure out why girls were going through puberty earlier. A number of those chemicals could be tested fairly cheaply in urine. My daughter [then around 6 or 7 years old] and I both were curious about our body burdens for those chemicals. We worked with a nonprofit near Boston, the Silent Spring Institute. Their toxicologists walked us through a little study of our own.
van Gelder: What did you find?
Williams: We tested for three or four of these hormonally active chemicals, including phthalates, which are commonly found in products like paint and plastics; and triclosan, which is an antibacterial compound frequently added to products like soaps and cutting boards. We also tested for BPA (bisphenol A). We found out that we had higher than the U.S. average levels for some of these chemicals.
We worked with the toxicologists to try to reduce our levels by doing a "detox diet" and trying to reduce our exposures by avoiding products like scented shampoos and soaps. For some of the chemicals, such as BPA, it was quite easy to reduce our bodies' chemical loads. But for other substances, like the phthalates, we couldn't budge our chemical loads very much. So even though we try to control our exposures, we can only have so much impact on our chemical load because we don't really know where these exposures are coming from.
For me, this brought home the necessity for manufacturers and the government to take responsibility for keeping hazardous substances out of the marketplace. We cannot be totally effective gatekeepers for our own families.