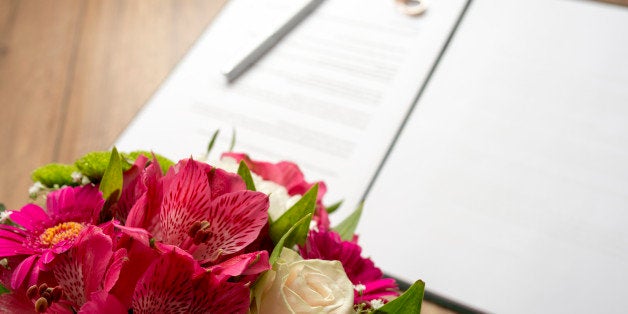 Typically, when looking for the perfect wedding planner, the first step is to ask around for referrals, check out some wedding blogs, and scour through magazines. The second step is to reach out and set up that consultation and get the very important face-to-face time. But before you show up and shake hands, it's best to prepare the right questions and information so that you get everything you need to know in that one hour meeting.
There are countless articles and PDF files that you can download to give you a script to use when interviewing wedding planners. Honestly, these lists could be better, and I know this because I've been asked these questions countless times. In fact, I can always tell when someone went onto a wedding website, printed off questions to ask, and then went down the list one by one. It's not good enough to ask the questions... you need to know why you're asking them.
So if you're ready to start shopping for a wedding planner (meaning set up a meeting, not price shop via a wedding website app), you need to know the right questions to ask and why the answers are important. Below is a list of the top 10 questions thrown at me during consultations and what clients should've asked me instead:
1.Instead of "What Do You Charge?" ask... "What packages would be best for me to consider?"
There might be packages for other vendors like photographers and DJs, but those vendors and many others also offer "ala carte" options allowing for customization. However, much like a florist would have a hard time answering this question because of the many variables, planners will have a hard time giving you a number as well. Plus, a "starting at" number is never a good example since the odds aren't great that you're shopping for what's even available at that number.
The best way to find out if you can afford the services of a planner is to know your own budget. This doesn't mean you need to come in prepared with what to spend in every area (though that would be nice), but just an overall budget for the entire wedding. Coupled with your budget information, you should have a general idea of the services you are looking for as well as what you are not looking for. Any seasoned planner will ask you what you are expecting your planner to do, and the more information you can give here, the better.
Many times I have been interviewed by clients that were looking for "Day Of" Coordination, yet by the time I finished asking them questions, almost all of them ended up booking a partial planning package. It's easy not to realize what you need for your wedding day, but you should have some idea of what brought you to the conclusion that a planner was essential. Whether it's just design and logistics, or finding the right venue and vendors, there is always a point before a couple meets with a planner when they realize that they need one. Know what that point was so that a planner can give you some package options and pricing ranges.
*Side note: sending an email with just "what do you charge?" is generally frowned upon. A planner knows nothing from that email other than the fact that you probably sent it to 40 other people. You're seen as a "price shopper" who's decision making process will solely be driven by the lowest price available, and that's a red flag for experienced planners aka the ones worth hiring.
2.Instead of "Can you get me deals?", ask.... "What is an example of a discount I would receive through you?"
Many times, clients expect us to be miracle workers. They may not know their budget or not want to tell a planner what it is, but in their mind they already have the numbers figured out. Those numbers are frequently planted there by their best friend that just got married, or the articles that they've read about what a "real wedding" costs according to The Gospel of Pinterest. Unfortunately, friends lie and so does the internet. It's best not to imagine what things cost until you meet with a planner who can tell you the real deal.
Of course, it's always tempting to believe something you want to believe....like how if you choose in season flowers, the cost of your floral bill will be 10 cents. Another popular tidbit found in wedding blogs is that the number one benefit of hiring a wedding planner is how much money you will save by using their vendors. While this is true and frequently you are saving enough money to make the planner fee worth it, too many people are already working with unrealistic numbers in their head that there is no way a planner could make those prices (or less) happen.
For instance, if you are interviewing planners and already have all of your details in mind including what you think they will cost, odds are you will think that number will go even lower when you bring a planner onto the team. But, when the numbers in your mind are so unrealistic, then no planner is ever going to help out here. The solution is to be as upfront as possible and communicate to these potential planners exactly what you're looking for and what numbers you're already thinking of. Remember, it's not your job to know what anything costs. It is, however, your planner's job to give you real information based on their real world experience. If it turns out that the wedding gown you want is truly out of your budget, let your wedding planner help you find another one that you will not only be happy with, but be able to afford.

3.Instead of "Have you ever worked at my venue before?", ask... "Have you ever worked at a venue with the same style/layout/details?"
You know why this question is bogus? Because it doesn't matter at all. There are hundreds of thousands of venues from banquet halls to barns and everything in between. Plenty of planners, myself included, will only take on a certain number of clients a year to make sure the right amount of time and attention can be devoted to those weddings. If a planner only takes a dozen events a year and has been in business for 10 years, that's quite possibly 120 venues out of a significant amount of venues in existence. If the planner does destination weddings as well, then there is even a greater chance that they've never worked at your venue.
Never rule out working with a planner because they haven't worked at your venue before. What is really important to consider is the style of your venue and how much work your planner really will have to do. If you're dreaming of a palace dripping in chandeliers with wall to wall marble floors, it's best to look for a planner that has similar pictures in their portfolio. Likewise, if your dream is to get married at the top of a hill and have a reception inside of a barn, you want the planner that has the experience in that environment and knows how to handle all of the rentals that you will need.
Keep in mind that the wedding industry is a very small one too, and just because a planner hasn't designed a wedding in your venue, that doesn't mean they haven't been there and it absolutely doesn't mean they don't know everyone that works there too. Planners are constantly at networking meetings and the ones that have been around for years can easily recommend the perfect venue for you, even if it's one they never worked at before. Always ask the planner if they would be willing to do a site visit once you book with them (never before unless you are willing to pay for that time), and as long as the answer is "yes", don't hesitate to book.
4.Instead of "Do we have to use your vendors?", ask... "Do you receive a commission?"
This is a question many potential clients have asked me and I've never quite understood why. When you hire a planner, you are gaining priceless insight into the wedding world and now have access to the best vendors for your wedding day. It's tough as a planner when clients ignore recommendations (that they are paying for) just to hire a vendor that their friend had for their wedding, aka one time ever. From the planner's point of view, it seems like a waste of money to pay a planner for their recommended vendor list, only to spend time getting different vendors on your own.
But anyway... the really important question to ask is regarding kick-backs and commission. There are many planners that, in addition to their flat fee, will be taking anywhere from 5-20% from the vendors that they are recommending to you. This means that not only are you not saving money and getting "good deals" by using the planner's contacts, but the recommendations are based on (at least in part) how much money the planner is now making. Ask yourself, do you want a planner or a politician?
Now, I know there are planners reading this that are getting irritated, but I couldn't care less. I don't accept commission because I like to sleep at night knowing that the vendors I am recommending are being recommended because they are talented and reliable, and not lining my pockets. I also want to save my clients money and I can easily do that by not forcing my vendors in my book to pay me for an endorsement. The bottom line is, you're hiring a planner to use their vendors, so a. make sure you use them and b. make sure their recommendations are honest.
5.Instead of "Are you certified?", ask... "Can you elaborate on your experience?"
Ever heard the saying "good on paper"? I say that about some of my former relationships. This paper, that document, those awards....they're fine and all and great if a planner has a wall decorated with them. However, real experience is what you want when your hydrangea catches on fire because the votive candles were pushed too far into the centerpiece. Again, this is not to discount the work it takes to get (some) of those certifications, but rather just a warning that a piece of paper shouldn't be your deciding factor between planners.
Currently, there are multiple professional organizations that planners can belong to, as well as courses they can take, retreats they can attend, and of course, the "best of" awards they can win (totally different subject). Now, if you are shopping for a lawyer or a doctor, then obviously you want to see those degrees (and what school they are from) hanging on the office walls. But what do those wedding planner certifications actually mean and why do wedding blogs insist that you ask what professional organizations the planners belong to? In fact, do you know the names of all of the different organizations and what it means to be a part of them? It's not likely that you would know this information (because why would you?) and if you don't know, then what does it matter what the answer is?
Consider the style of your wedding and what you are looking for in a planner. Ask them direct questions about their real-world experience and about weddings they have planned similar to yours. Find out how they got started in the planning industry and give extra points to those that interned or worked for another company to learn how everything works. If you're interviewing a planner that just decided to become a planner because planning her own wedding was just so much fun, then you are interviewing the wrong person. While it's great to give new planners a chance, and you can save some money that way, it's important to trust someone with experience to handle your wedding day, especially since there are no do-overs.
6.Instead of "Can you lower your price?", ask... "Is there a less expensive package available?"
Negotiating prices while wedding planning can be a draining task and can put you on edge. I see countless brides posting on social media looking for "affordable", "cheap" or "inexpensive" planners and other vendors. The problem is, those are words and not numbers, and what is "cheap" to one person could be expensive to another. Try not to get too wrapped up in what online articles tell you the average wedding costs are and how much a planner will charge you. Also ignore what your newly married friends tell you is a "reasonable" price for anything, much like you would (or should) ignore medical advice from Web MD. The best thing to do is to have your entire budget set before meeting with potential planners, and an idea of the services that you want.
During an initial consultation, be upfront with your numbers and explain why you are looking to hire a planner. The planner will be asking questions to get a better idea of who you are as a couple, what your wedding will be about, and how much work will be involved in the planning of your big day. At that point, either the planner will be able to give you a quote or at least a range of pricing to consider, or they will prepare a quote after the meeting is over and send it to you for review.
Whenever you receive the number, if it's much higher than you can afford, but you really like the planner, it's a good idea to work together and meet somewhere in the middle. Asking a planner to just lower the price, but do the same amount of work, isn't exactly fair. Likewise, telling a planner that you have the same package being offered to you by another planner but for less, isn't likely to result in that offer being matched. This isn't Walmart and I know of zero planners with the sign "We'll Beat Any Offer" hanging in their office.
The better approach is to let the planner know that the number quoted is outside what you were prepared to pay. Then, you have to really be honest, and tell the planner what you had in mind so that they can be honest with you. If the numbers are close, the planner might have suggestions such as less in person meetings, fewer site visits or a smaller package altogether. This is where it gets tricky though and clients start treating proposals like a take-out menu, asking to substitute items and frequently asking "what if I remove this service?" in the hopes of getting a reduction that way. Trust and believe that planners include certain items in their packages for a reason, and there will be things that you can't remove just to save money...I.e. less staff on the wedding day.

7.Instead of "What are some venues (or vendors) you recommend?", ask "Do you have the right venues (or vendors) for my wedding?"
Going back to one of the main reasons couples hire a planner, which is access to the best vendors, asking a planner for their Rolodex is never a good idea. I cannot tell you the amount of consultations where a bride has sat in my office, looking for full planning, and then asked me for venue and vendor suggestions, with notepad and pen in hand. Now, there is probably nothing more behind those questions other than trying to assess how connected the planner is, but if you sit across from me taking notes and then don't book with my company, I basically just gave you free information that my clients are paying for.
It's important to know that your planner will know the right venue and vendors for your wedding day. Frankly, I have seen countless "planners" posting on sites like Facebook asking other professionals for venue and vendor advice. I always shake my head at this (unless it's something completely out there like needing fire breathing koala bears that know how to limbo during the cocktail hour ) because a bride or groom could do exactly the same thing by visiting social media and wedding message boards. Your planner is supposed to be the ultimate resource and essentially will be the matchmaker between you and everything/everyone you are going to book.
The best way to feel at ease and know that the planner you are paying will come back with suggestions that will be better than anything you could've found via a search engine, is to give specifics as to what you are looking for. An example would be a destination wedding where you will need a hotel that is all-inclusive, on the beach, but offers a ceremony space not directly on the sand. Ask the planner to talk to you about other destination weddings they have done, and what their thoughts are. You will most likely get stories of other client requests similar to yours, how they were accommodated and other things that had to be kept in mind. Perhaps you'll get the venue name, but it's not reasonable to ask for this information for free. That's what Google is for.

8.Instead of "Can you do what I want within my budget?", ask "Will you be able to show me where I should increase my budget and where I can decrease as well?"
Budgets don't always stay the same and even the details of a wedding can change along the planning road. Guest counts go up and down, destination weddings become local, and color schemes flip when a bride gets inspired by a wedding she found on Pinterest. It's important to know all of this and to also have some flexibility in your budget, or at least a "cushion" for emergencies and other costs that aren't always predictable. During the consultation, while you will discuss the aspects of your wedding and what you want as well as your estimated budget, there is a strong possibility that the planner will ask you questions that you may not know the answer to because you didn't think of them yet. That is perfectly reasonable, but it's not possible for a planner after one hour of chit-chat to guarantee the budget will not be busted.
I know what you're thinking: Why bother hiring a planner if they aren't going to save me money? Again, a planner will save you money, but an experienced planner knows how things can change. I've seen guest counts go from 60 people to over 300, and a destination wedding four time zones away get pushed back to 20 miles from the bride's home. The point is, things change including your budget and your details. Now, of course, your budget isn't going to change by tens of thousands of dollars, but there needs to be some flexibility as you go through the planning process and make changes because you either a. changed your mind or b. had to make logistical changes. Giving the planner a range they can work within and allowing for the need to spend more where necessary is a better way to approach the whole "plan my dream wedding while staying under X dollars." A good planner will also be able to see where you are budgeting too much, and save that money for another category where you need more.
9.Instead of "What are some ideas you have for our wedding?", ask "Can you show me examples from your portfolio of weddings with a similar style to mine?"

This is so similar to asking a planner to hand over her vendor list, except it's worse. You are basically asking for inspiration and ideas from a designer that designs weddings for a living. Except you want this information for free. There really isn't any justification for asking this question either, because you should know the planner's style and should have viewed their portfolio before even reaching out in the first place. Plus, asking a planner in an hour long consultation to essentially brain storm and give you ideas you haven't already pinned, isn't a good use of anyone's time.
There are plenty of wedding magazines out there and twice as many online magazines and blogs to look through. Each magazine speaks to a certain "type" of couple and a particular niche of wedding. The group of brides looking through Style Me Pretty and 100 Layer Cake for inspiration are not the same brides with stacks of Grace Ormonde on their nightstand. There are the brides that want bling everywhere, the brides that want a barn and then everyone else in between. Even if you don't know your favorite color, you will probably know what "type" of bride (or groom) you are, and that's important to understand before planner shopping.
Knowing your style and if you're glitter and glam or garland and lace, start looking for planners that have portfolios that you cannot stop pinning. You look at their work and can't decide what you like more. That is the planner you meet with. And when you meet with that planner (or those planners), be honest about what you know you want and ask to see something similar from their portfolio. The bonus to asking this question is being shown examples that you maybe didn't see on their website (because they weren't posted) and it's those examples that will make you lean one way or the other. Plus, the examples they show you will prove if you are on the same page or never going to see eye to eye.

10.Instead of "Will we work well together?", ask "Who is your ideal client?"
I am a firm believer in "clicking" with your wedding vendors, but especially having a solid relationship with your planner. There is no other person that will be there with you and for you and most importantly, without any ulterior motives. Say what you want about your fabulous wedding party and those incredibly supportive parents, but at the end of the day, your planner is the person in your corner and no one else's. Why? Because there isn't even the smallest part of them that has to decide if your needs and wants are more important than their own.
Sounds cynical, I'm sure, but let's be honest here and all agree that we've heard the horror stories of the mom that wants to also wear a white gown, the brother that wants to propose at his sister's wedding, and the best man that gets the groom drunk before the ceremony. The lines get blurred and many times those closest to you can cause chaos while you are planning and even on your wedding day. However, the person that keeps it all together and the one that you can lean on without any fear, is your planner.
But how do you know if this is your planning soulmate? Instead of putting the pressure on your potential planner and asking if they think you'll be a match (and of course they will say "totes"), ask what their "ideal" client is. The answer could include anything from what budgets they normally work with to best guest count, the priorities of a couple and more. If you are fishing for a certain answer and don't get it, then come right out and ask the question. Trust me, we want to answer your questions because we know that if we don't, there is no chance of booking your wedding. And, if we do book your wedding and you didn't ask the question, the whole planning relationship is built on a foundation of sand...kinda like the one with your "BFF but not really" that is a bridesmaid.
So there you have it: The ten real questions you should be asking the planners that you interview. Above all, make sure to do your homework and learn as much as you can about these planners before you reach out to set up an appointment. In addition to that, make the time to set up that face to face meeting instead of just sending out mass requests for packages and pricing. Yes, it's time consuming, and no you won't be able to hide behind a computer or iPhone text, but an in person consultation is the only way to find the right wedding planner for you. At least now you have the (real) questions you'll need answers to instead of the fake checklist provided by all of those blogs you've been pinning.
Happy searching and may you be just as excited about the planner that you choose as you are about the person you're choosing to spend the rest of your life with.
Related