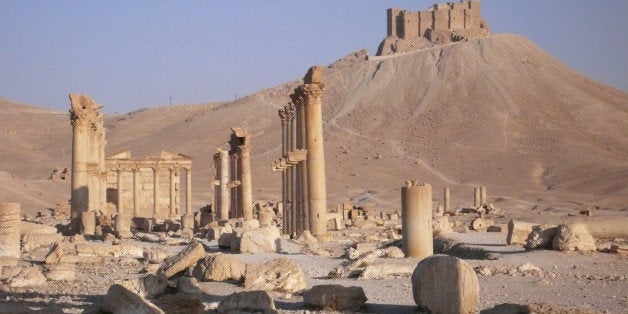 Never in recent history has the heritage of humanity known such devastation as now in Iraq and the Syrian Arab Republic.
The deliberate destruction of the heritage is a war crime -- it has become a tactic of war and propaganda.
In Syria, two thirds of the Ancient City of Aleppo has been bombed out and burnt down. The sites of Dura-Europos and Apamea are being dismantled by industrial-scale trafficking in cultural property.
Archaeological sites are caught in the crossfire between land troops and air forces, and used as military bases. Palmyra, inadequately protected for years, experienced absolute horror for over one year.
There are a very large number of people responsible for this cultural and human chaos, and UNESCO condemns all destruction, no matter who the instigator. The main victim is the Syrian people. And in the midst of widespread impotence, it is the people of Syria who show the face of dignity and the meaning of the universal values conveyed by the heritage.
I am thinking here of the work of Syria's Directorate General of Antiquities and Museums, which has taken thousands of objects into safekeeping and protects the heritage as a bastion against disintegration.
I am thinking of the activities of Syrian civil society, members of organizations such as the Association for the Protection of Syrian Archaeology (APSA), ASOR, Shirīn International, the Syrian Heritage Archive Project, Heritage for Peace, and many others, who are risking their lives to document and save the country's memory and future.UNESCO is infinitely grateful, and stands alongside them.
This means something other than saving stones. Syrians, like the archaeologist Khaled Al Assad, murdered in the ruins of Palmyra, remind us that we are not only flesh and blood - we also embody values to be passed on, and many have died to defend them.
The heritage exemplifies the founding values of civilization without which there can be no human society. Syria is a crossroads rich with the heritage of Assyria, Greece, Rome, Persia and Islam and it shows that cultures are enhanced by mutual influence. They are not "museum pieces", but living proof of the freedom and dignity of a people.
Worldwide mobilization proves that culture can serve as a common denominator for dialogue and peace, above and beyond political differences. Dozens of countries, the United States, Germany, Switzerland, China, have reinforced border controls on antiquities, which are trafficked to finance terrorism. British, Swedish and Turkish customs officers have seized suspicious objects. France and Japan provide expertise and support young researchers. The European Union, Austria, Flanders and others have contributed funding. Italy has set up a task force of experts and Carabinieri. The Russian Federation, whose action was decisive in driving out the extremists from Palmyra, is providing assistance to salvage the devastated museum. The most recent decision of UNESCO's Executive Board on the protection of the Syrian heritage was adopted unanimously.
Despite the delays and the lack of resources, this mobilization represents hope, which can grow on the basis of clear principles.
First, destruction of the heritage is part of the humanitarian crisis, and its safeguarding is inseparable from the protection of human lives.
Second, Syria's heritage is indivisible: we cannot try to save Palmyra and abandon Aleppo to be demolished; we cannot fear for the Crac des Chevaliers and forget Mari.
This world heritage is the heritage of all Syrians without distinction, and nobody may dispose of it as they please. That is why UNESCO rejects rushed or unilateral restoration projects, and calls for prudence, responsibility and respect for priorities in a country where conflict is raging.
The priority is to act without delay to document and safeguard what is possible, wherever possible, as shown by the activities that have been going on for more than five years now - emergency measures, training, tons of equipment sent to professionals on the ground, and the damage assessment mission to Palmyra on 25 April last.
That we need to do more and better is clear. Nobody, including UNESCO, has any lessons to give. All that counts is the desire to work with everyone, focusing on the heritage, refusing to let it be exploited. It in this spirit that UNESCO is bringing together Syrian archaeological missions, and experts from Syria and the rest of the world, in Berlin, from 2 to 4 June 2016.
Establishing this constructive dialogue is a challenge in itself. And yet it is one of the prerequisites for ensuring that tomorrow, culture recovers in Syria, as it has done in Timbuktu, Bamiyan in the valley of the Buddhas, Mostar in Bosnia and Herzegovina, Warsaw after 1945. Whenever culture is reborn, a people rise to their feet with it.
Calling all HuffPost superfans!
Sign up for membership to become a founding member and help shape HuffPost's next chapter