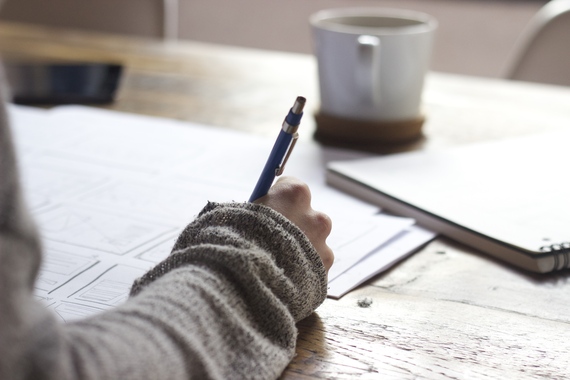 Ok, a few years ago, if you had asked me to fill out a gratitude journal every day because it would be good for me, I would have laughed. I probably would have told you that there would be no point in it. I probably would have told you that I didn't have much to be grateful for so it would be a waste of time. I probably would have told you that some people just seem to be lucky in life and I wasn't one of those people. I probably would have told you to keep your nose out of my business because I was just doing the best I could and things were as fine as they were ever going to be.
I've been into self-development and the law of attraction for as long as I can remember. I watched The Secret in awe, wondering how someone like me could master it. I tried, I failed.
I'd never really understood the term 'practice gratitude'. I just thought that gratitude was an excuse, something that you said to people that were moaning about their situation, "You should be more grateful because some people are worse off than you" kind of thing.
A couple of months after my life had fallen apart (very long story), I decided to sit up and start paying attention to the message that all the great teachers and leaders were saying. A common thread between the many great law of attraction authors and new thought leaders was to practice gratitude.
I still wasn't even sure that I would have anything to write; things were that bad, but I decided then and there to commit to a daily practice of gratitude. I started out with one simple exercise; I'd wake up, place my hands together and say the words "Thank you, thank you, thank you". Before long, I started to think of some things to be thankful for every morning.
Writing these things down was the next step. I looked forward to it. I would sit and read my gratitude list and feel really good. The list grew bigger over the next few weeks and, being a designer at the time, I decided that I wanted to have something 'official' to use as a gratitude journal. This is how the first edition of my book Gratitude Journal: 100 Days Of Gratitude Will Change Your Life came about.
A crazy thought popped into my head....I should publish the book. My gratitude journal was helping me feel better inside and things were starting to turn around outside too. Perhaps I could help others by providing them with a tool.
So I did it. I published my first gratitude journal. I set up a Facebook page and people slowly started liking the page from all over the world. I got some feedback from readers. One lady had suffered from a stroke and a heart attack. She was partially blinded. The book was helping her to feel good about her life again. One lady liked the gratitude journal so much she bought thirty-odd copies for her friends and staff. Receiving feedback like this was so humbling and gave me he motivation to go on and published a larger, more improved second edition.
I think that practicing gratitude has completely changed my life. I wish I'd listened to the hype earlier, before things took a turn for the worse. I managed to free myself from anxiety, do what I love for a living and repair a very broken relationship. The best thing of all is the satisfaction in knowing that anyone can be helped by practicing gratitude and anyone can turn their life around.
You can have all the therapy in the world, forgive until you are blue in the face, read every self-development book going, attend every seminar and workshop offered, but until you start to focus on the positive aspects of your life, nothing will change for you.
Using a gratitude journal opens up a wonderful new world for you, a world that has been there all along, a world that has just been out of sight and out of reach. You start to appreciate yourself and your strengths, you start to appreciate the people around you and the relationships in your life, you start to appreciate your body and most importantly you realise that you get to choose how you feel, instead of being subject to the conditions and events going on around you. When you are in that good place emotionally, the good stuff just flows towards you.
I'm happier, healthier and fulfilled.
So even if you can just sit quietly for a moment and think of one thing to be grateful for right now, that will be enough to start.
Natalie Fox is the author of Gratitude Journal: 100 Days Of Gratitude Will Change Your Life and a new series of Affirmation Journals on Self-Love & Confidence, Health & Fitness and Wealth, that help you to change and master your mindset. The books are available on Amazon and other leading retailers worldwide. You can find out more about her work by visiting her blog www.natalielouisefox.com