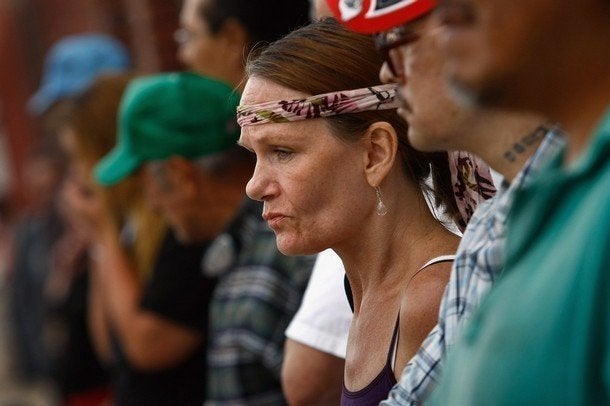 With the White House zeroing in on the insurance-industry practice of discriminating against clients based on pre-existing conditions, administration allies are calling attention to how broadly insurers interpret the term to maximize profits.
It turns out that in eight states, plus the District of Columbia, getting beaten up by your spouse is a pre-existing condition.
Under the cold logic of the insurance industry, it makes perfect sense: If you are in a marriage with someone who has beaten you in the past, you're more likely to get beaten again than the average person and are therefore more expensive to insure.
In human terms, it's a second punishment for a victim of domestic violence.
In 2006, Democrats tried to end the practice. An amendment introduced by Sen. Patty Murray (D-Wash.), now a member of leadership, split the Health Education Labor & Pensions Committee 10-10. The tie meant that the measure failed.
All ten no votes were Republicans, including Sen. Mike Enzi (R-Wyoming), a member of the "Gang of Six" on the Finance Committee who are hashing out a bipartisan bill. A spokesman for Enzi didn't immediately return a call from Huffington Post.
At the time, Enzi defended his vote by saying that such regulations could increase the price of insurance and make it out of reach for more people. "If you have no insurance, it doesn't matter what services are mandated by the state," he said, according to a CQ Today item from March 15th, 2006.
Robert Zirkelbach, a spokesman for an insurance industry trade group, America's Health Insurance Plans (AHIP), said that the National Association of Insurance Commissioners (NAIC) has proposed ending the discrimination. "The NAIC has a model on this that we strongly supported. That model bans the use of a person's status as a victim of domestic violence in making a decision on coverage," he said.
During the last health care reform push, in 1993 and 1994, the industry similarly promised to end discrimination against people with pre-existing conditions.
Murray pushed to include the domestic violence concern in this year's comprehensive health care bill. "Senator Murray continues to believe that victims of domestic violence should not be punished for the crimes of their abusers. That is why she worked to include language in the Senate HELP Committee's health insurance reform bill that would ban this discriminatory and harmful insurance company practice," said spokesman Eli Zupnick.
In 1994, then-Rep. Charles Schumer (D-N.Y.), now a member of Senate leadership, had his staff survey 16 insurance companies. He found that eight would not write health, life or disability policies for women who have been abused. In 1995, the Boston Globe found that Nationwide, Allstate, State Farm, Aetna, Metropolitan Life, The Equitable Companies, First Colony Life, The Prudential and the Principal Financial Group had all either canceled or denied coverage to women who'd been beaten.
The Service Employees International Union asked members to write letters to Congress regarding the exclusion and have quickly generated hundreds, says an SEIU spokeswoman.
SEC. 2706. PROHIBITING DISCRIMINATION AGAINST INDIVIDUAL PARTICIPANTS AND BENEFICIARIES BASED ON HEALTH STATUS.
'(a) IN GENERAL.--A group health plan and a health insurance issuer offering group or individual health insurance coverage may not establish rules for eligibility (including continued eligibility) of any individual to enroll under the terms of the plan or coverage based on any of the following health status-related factors in relation to the individual or a dependent of the individual:
(2) Medical condition (including both physical and mental illnesses).
(4) Receipt of health care.
(7) Evidence of insurability (including conditions arising out of acts of domestic violence).
(9) Any other health status-related factor determined appropriate by the Secretary.
UPDATE: The eight states that still allow it are Idaho, Mississippi, North Carolina, North Dakota, Oklahoma, South Carolina, South Dakota and Wyoming, according to a report by the National Women's Law Center.
UPDATE II: North Carolina insurance commissioner Wayne Goodwin had his staff research the state's law and his attorneys concluded that insurers in that state would not be allowed to use domestic violence as a pre-existing condition. Group plans were specifically forbidden from using it thanks to a 1997 law, he said. For individuals and non-group plans, it's more complicated.
"Though there is not a specific statute for individual plans or non-group plans, there is another statute that our attorneys here tell us addresses this issue. For example, North Carolina law defines what a preexisting condition is. Now, here in North Carolina, it says a preexisting condition means - quote - those conditions for which medical advice, diagnosis, care or treatment was received or recommended within a one year period immediately preceding the effective date of the person's coverage." Domestic violence, he said, doesn't met the state's definition of a medical condition and so can't be used as a pre-existing condition.
Wyoming Department of Insurance staff attorney James Mitchell said the state's insurance laws do not ban insurers from using domestic violence as a pre-existing condition, but his staffers were unable to find cases of insurers having done so and he said they had not received any complaints. "We are not aware of any policies that have been submitted to us that addressed domestic violence as a pre-existing condition," he said. The remaining six states have yet to respond.
UPDATE TO UPDATE II: A few readers have noted that the ambiguity of North Carolina's law regarding individual and non-group plans could still leave domestic violence victims vulnerable to discrimination. And Commissioner Goodwin himself, in a Facebook note summarizing my conversation with him, does say "that North Carolina's law on this subject vis-a-vis individual/non-group plans could be clarified and made more direct, and that we should also consider the NAIC national model law on the subject, too. The legislature doesn't return until May 2010, so there is time to work on the best way to clarify this issue for folks while educating them in the meanwhile."
He posted his response on the FB page of journalist Christine Tatum, who had posted a link to this story and asked her friends to contact him. Goodwin noted on her wall that allowing insurance companies to discriminate against domestic violence victims is a tragedy and something he wouldn't allow in his state.
North Carolina, however, given the fuzziness of the law, still belongs on a list of states whose laws could be clarified to assure that domestic violence victims aren't denied coverage or charged higher premiums. Forty-two states have made that specific clarification and the Senate health committee bill would do so nationally.
If you're an attorney with experience in this field and want to weigh in, write me at ryan@huffingtonpost.com.
UPDATE III: Mississippi Insurance Commissioner Mike Chaney provided the following statement through a spokeswoman:

Mississippi does not at this time have a law which bans insurance companies from considering domestic violence as a pre-existing condition. However, the reason there is not such a law is that there has not been a problem with insurance companies denying coverage or refusing to pay the claims of domestic violence victims in this state. If it were an issue, the Legislature and the Department would have addressed it by now.

The Mississippi Department of Insurance is unaware of any insurance company operating in this state that would deny coverage if the applicant had been a victim of domestic violence. Nor have we received any complaint from a consumer stating their insurance company refused to pay their medical bills incurred from domestic violence. Such action by an insurance company would not be tolerated by the Department.

It is the position of the Department that if an insurance company denied payment of a claim incurred in an act of domestic violence, such action would be a violation of the Unfair Trade Practices Act, as promulgated in Miss. Code Ann. §§ 83-5-29 through 83-5-51, and the Department would take the appropriate action.

Should the Mississippi Legislature choose to enact legislation addressing this issue, the Mississippi Insurance Department would be very supportive of the passage of such legislation.
UPDATE TO UPDATE III: Mississippi Insurance Commissioner Mike Chaney was much blunter in an interview with the Jackson Free Press:
"The truth is we've got eight states in the union that count domestic abuse as a pre-existing condition, and Mississippi is one of them," Chaney told the Jackson Free Press. "I've got to get some of my lawyers to do some research on this, but we have only six mandated (conditions that must be covered) in our state statues, and we have 25 or more optional coverages, but domestic abuse doesn't seem to be one of them."
Chaney said all insurance companies in the state can take advantage of the state's limited coverage mandate, and that he would prefer the state to change its law to force insurance companies to cover victims of domestic abuse.
"Would I do something about it? Hell, yeah, I'd do something about it, but I'm a regulator, not a legislator. I have to come to terms with that every week," Chaney said. "The whole situation is bad. Let's say a woman works with a company that had Blue Cross/Blue Shield, and she gets beat up in her house and Blue Cross says 'we're not covering you because getting beat up is your pre-existing condition.' That's terrible."
Read the whole story here.
UPDATE IV: North Dakota Insurance Commissioner Adam Hamm, a former violent-crimes prosecutor, told the Huffington Post that he and Gov. John Hoeven (R) are working to change the standing policy in their state. "To put it mildly, Wayne and I are on the same page," he said, referring to the North Carolina insurance commissioner.
After a consumer alerted him Tuesday via e-mail, Hamm said, "Quite frankly, I was stunned and I couldn't believe it." His office then contacted Blue Cross-Blue Shield, Medica, John Alden and American Family, who together account for 98 percent of the state's health insurance policies, and none of the four companies treat domestic violence as a preexisting condition, he said. Nor has the state insurance department recorded any complaints of being denied care on those grounds.
"We have no record of any of that ever occurring in our state," Hamm said. "So we're obviously happy about that."
To keep it from happening in the future, the state insurance department will push legislation as soon as possible, Hamm said. Since the North Dakota legislature only meets every other year, he projected a 2011 vote.
In the meantime, Hamm said he wants to know why North Dakota never joined the 42 other states who passed bans years ago. Agents are combing legislative files going back to the mid-1990s to see if such a measure was ever introduced, he said.
UPDATE V: State Farm writes in to note that it has changed its policy since that 1995 Boston Globe story and no longer discriminates against victims of domestic violence.
A follow-up Globe item reported that "recent 'media attention,' and the company's own research, caused the company to revise its policy, [spokeswoman K.C.] Eynatten said. State Farm no longer 'rates or denies life or health insurance to battered women, even if there's a history of domestic violence.'
It went on: "'We realized our position was based on gut feelings, not hard numbers,' Eynatten said, explaining the change. 'And we became aware that we were part of the reason a woman and her children might not leave an abuser. They were afraid they'd lose their insurance. And we wanted no part of that.'"

Popular in the Community