I have been haunted by a deathbed promise I made 24 years ago. But now with the Aid in Dying movement growing, it's time to break my silence and lend a voice to help terminally ill people control their end of life.
In 1991, I was a young reporter in Virginia and I had gone to interview someone dying of cancer, someone who had checked himself into a hotel and was waiting to die. But instead of writing a newspaper story about this person, William T. McInenly, I quickly became his friend, his caregiver, and ultimately, he asked me to help him kill himself. I refused, but in the end, I agreed to stay with him as he ended his life.
William was 58 when I met him. He had spent the first half of his life as a self-described "angel of death" after finding his mother dead in the rubble of London following a Luftwafte blitz during the Battle of Britain, then watching his father succumb from wounds suffered as a Japanese prisoner of war during World War Two.

As soon as he turned 18 he enlisted in the U.S. Marine Corps and served in Korea, earning three Purple Hearts and a Bronze Star for valor. Next, he joined the French Foreign Legion and fought in the Algerian War before signing up with the Royal Air Force. By his estimates he had killed more than 100 enemy soldiers in Korea and Algeria, felling dozens and dozens of them with a samurai sword in the trenches of Inchon.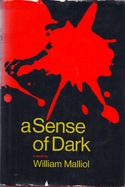 It's trite to write this, but it was the love of a young woman and four years at Oxford University that changed William, and helped him to see the futility of his violence. He discovered a talent for writing and painting, publishing two novels under the pseudonym William Malliol: A Sense of Dark (1968) and Slave (1986), selling his paintings in New York galleries, and then finding happiness from a relatively normal, if not conventional, existence. There's a lot more to say about him, and about our relationship: I loved him as a friend, mentor, and father figure. Before he died, William made me promise I would tell our story.


It's taken me more than 20 years to summon the courage to honor that vow because of the intensely intimate nature of what happened and because of the media circus back then involving anything related to terminally ill people and suicide. (Thank you, Dr. Jack Kevorkian.) Two years ago I described the event at TEDxDanubia in Budapest and eventually, just yesterday, in fact, the video was published here.


Today, five states: Oregon, Washington, Montana, Vermont and New Mexico have laws permitting aid in dying, and legislation is pending in New York and California. With brave voices like the late Brittany Maynard and actress and author Annabelle Gurwitch helping to focus the debate, it's time for me to share William's story and fulfill my promise.
Popular in the Community